2006 Barr Trail Mountain Race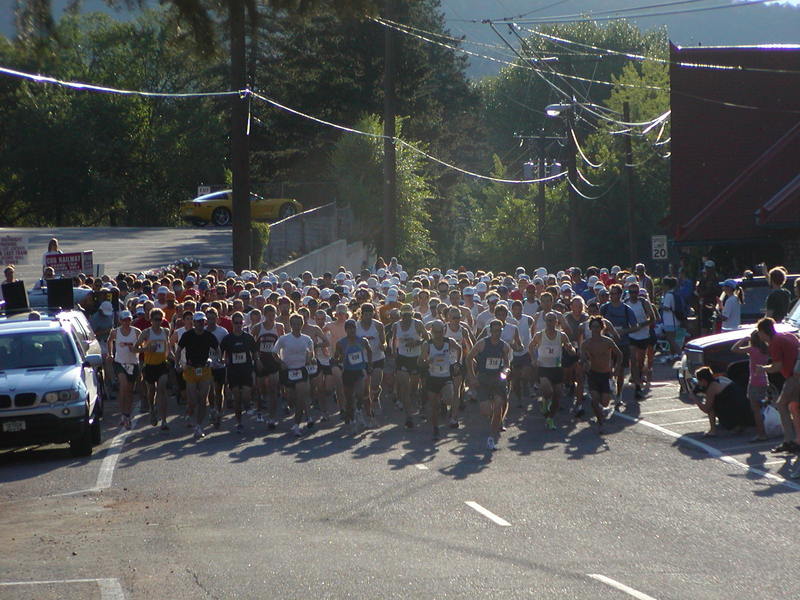 "Half as long as the Pikes Peak Marathon, but twice as much fun!"
All photos by Carol Turk. Used with permission.
July 16, 2006
(Race report posted August 15, 2006)
---
Introduction
The Barr Trail Mountain Race (race website) is a 12 mile race that follows the historic Barr Trail from the Cog Railway Depot (6600 feet) up to Barr Camp (10,200 ft) and back (click for course info). It includes 3630 feet of vertical on the uphill, and a small amount on the return as well.
My main reason for running this race (besides the fact that it's twice as much fun as the Pikes Peak Marathon in half the distance) was to get a check-up on my summer training before the big race (BTMR is always 5 weeks before the PPM). Since this was my third year in a row of running this race (click for 2004 and 2005 race reports), I had some specific goals in mind. First, I wanted to take 10 minutes off my time from last year (2:17:50). I also wanted to run the downhill in less than 42 minutes (last year's downhill time was 0:48:10).
---
Training
This year I've been debating whether I should focus on 'quality' hill training workouts (like speed hill intervals, 1-min hard/1-min easy, and tempo runs) vs. volume aerobic hill training. In reality, a good training program should focus on all of these, but it was getting to be a challenge to fit it all into a weekly training cycle. My typical training schedule this summer has been nearly all hill running and high altitude hiking.
Here's my typical weekly cycle:
Sunday Long hill run (12 - 26 miles, 3000-6000+ vertical feet) or a 14'er run/hike
Monday Bike to work, complete rest, or a gentle, flat social run every two weeks)
Tuesday Speed hill intervals (8 miles, 1500 vertical feet) or tempo hill run (7-9 miles, 2000 vertical feet)
Wednesday Bike to work or track work (once a month)
Thursday Intermediate hill run either at PPM race pace (9-11 miles, 2000-3300 vertical feet) or 1-min Easy/1-min Hard (7 miles, 1700 vertical feet)
Friday Bike to work, complete rest day, or short, hard hill run (5 miles, 1500 vertical feet)
Saturday Hike or complete rest day
Overall, I've incrementally increased my training volume over last year's volume, but the quality is probably about the same. This June worked out to be 120 miles of hill running and 47,440 feet of vertical (including some hikes). My total mileage for the month was 169 miles (including hiking). For July, I am shooting for 161 miles of hill running, 220 total miles, and 60,000 vertical feet. As of race day, I was nearly on track to meet this goal (the taper for this race means I have some make-up to do during the rest of July).
---
Pre-race
Although this was not my main race of the season, I decided to do a mini-taper and practice carboloading for Pikes. The week before the race, I ran a grueling 2.5 laps of Mount Bierstadt (in the rain). This obviously doesn't count as a taper! I did a short, flat run on Monday, speed hill intervals in Tuesday, a bike ride on Wednesday, and then a short, moderately hard hill run on Thursday. I took Friday completely off and then did a short 2 mile jog with 4 100-m striders on Saturday. I didn't cut myself short on calories, and in fact had a high calorie day on Friday. This put me in the by-now recognizable carboloaded lethargic state by Saturday. I used to think I was getting sick, but now I've realized this is just how you feel when you switch from high training/calorie negative to low training/calorie positive.
Mike Smith and I drove down from Fort Collins Saturday evening and stayed at a hotel on the north side of Colorado Springs. We figured that the benefit of an extra couple hours of sleep would be worth the cost. Jotham, Eric, and Dan drove down in the morning from Jotham's apartment in Denver. Although it wasn't the best 7 hrs of sleep I ever got, it was a fair amount of rest, and I felt pretty decent when I woke up. I downed a breakfast of a banana and a bowl of Honey Oh's and Eighth Continent Vanilla Soymilk. After arriving to Soda Springs Park, I took my inhaler medicine (to prevent exercise-induced asthma) and jogged up the 3/4 mile hill to the Cog Railway Depot and picked up my race bib. I decided to not waste too much energy on the warmup and just did a few jogs up the hill and back. I made one last visit to the restroom and downed an energy gel and some endurolytes. The temperature at the race start was probably close to 74 degrees and the first few miles are up switchbacks on an east-facing sunlit hill - it was going to be a warm race.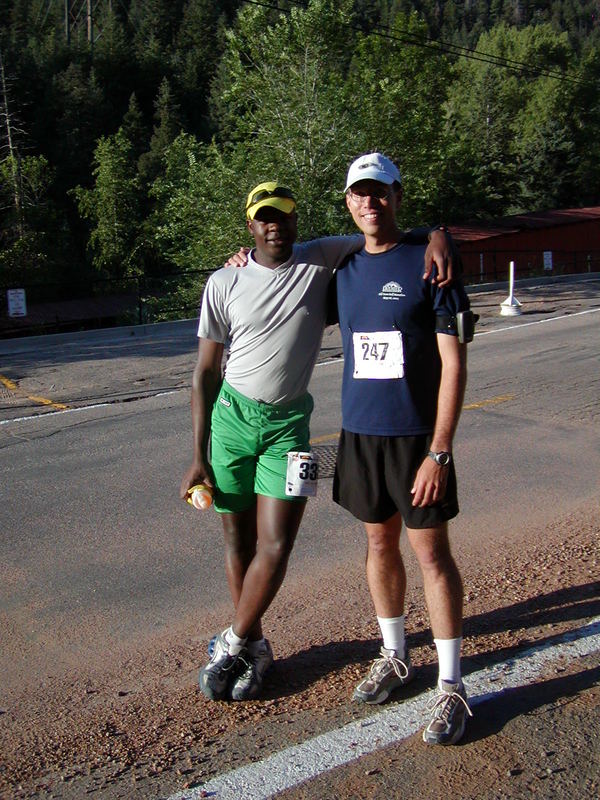 Jotham Matabi and Jonathan Vigh a few minutes before the race.
Jonathan runs past in the wave (L). Dan, Jotham, and Eric (R).
---
Uphill Race
With a blast of the Cog Railway horn, we were off. I started near the front to avoid getting too far behind the congo line, but perhaps a hundred people still ended up in front of me by the time we got to the first switch back on the trail. This was okay - I knew that I wanted to run conservatively and finish strong, and it was likely that many of these people were starting too hard. For the first few minutes, even I got a little ahead of myself - my HR spiked up into the high 170's so I forced myself to slow down, even walking when necessary. This helped me run a strong and smart uphill race, keeping up a steady and even effort rather than focusing on pace. I tried to keep my heart rate between 168 and 170 beats per minute. This felt reasonable and sustainable. Within the first mile, Mike Smith, then Eric passed me and pulled away. Dan ran with me for maybe a half mile or so, then also pulled ahead. This left me back with the age group-placing women where I would remain through the top of the W's. Most people around me were running, even on the steep stretches. I am a strong hiker, and was delighted to discover that even at a pace faster than last year, I could still make decent time still power walking on the steep stretches, and in some cases, passing people who were still running! This will definitely work to my advantage in PPM this year.
As I cleared the W's, the grade lessened and the temperature decreased to more comfortable levels. I picked up the pace a bit and started gradually picking off people. Very few people passed me from this point on. The crowds had really thinned out by this time and it was quite an enjoyable run. I walked through just about every aid station and usually went for the Gatorade. I took one Carboom energy gel at the 3-mile aid station. Time started passing quickly and I was heartened to see that I had climbed the first 2000 feet in 0:44:35. At about mile 4, the eventual winner, Matt Carpenter came whizzing past, looking smooth and determined, probably running at a sub-5 minute pace! The next runner was a couple minutes behind. So at this point, I had gone about 4 miles and the winner had already gone 8 miles! I soon came upon Eric, chatted for a minute, then pulled away. It was encouraging to see more and more runners coming down the hill, because that meant I was getting closer to the top! There were a few downhill and flat stretches, so my mile-5 split was pretty decent. Mike Smith ran by with Dan close behind. Finally, I could hear the hubub of the Barr Camp aid station!

Some spectators take in the race (Greg Hurley on the left, unknown future runner on the right).
---
Downhill Race
I was elated to finally arrive at the turnaround point, as the downhill is where I really have the potential to excel. After watching several people nearly careening out of control around corners, I decided to ease into the downhill. I started picking up speed and had fun dodging uphill runners. But less than a mile from the top, my potentially very fast downhill race was marred by a sprained ankle. It was a painful sprain - the type of twist that you know is not just something to shrug off. I can't even remember where or why I twisted it - my shoe twisted over in a way I didn't expect - or maybe I was distracted by looking at my watch. Running in road shoes was probably my downfall. I've run down much more technical trails with no troubles in my trail shoes, but just this past week, I actually tripped and fell running Horsetooth in the road shoes. Anyway, the damage was done. I kept on running, but it was somewhat painful. I twisted it again a few minutes later - now I really had to run conservatively. I stopped for a few seconds and tightened my shoe laces. After the rough part below Barr Camp, the trail widens, but keeps a nice downhill grade. I was running as fast as a 5:20 pace for a little while, even on my bum ankle. I slowed to a jog on the uphill stretches, and then found myself behind some runners. I gradually caught and overtook a girl, then a guy. I was still holding back and running fairly conservatively though, especially on the steep downhills. After I passed through Rock Arch, I came upon another group of guys and gradually overtook them. From this point on, my calf muscles felt on the verge of cramping. I was paranoid that these runners would catch me, but I kept up a good pace through the W's and saw hardly anyone. Indeed, it was a rather lonely run with not many rabbits to chase. My GPS conked out, so I'm not sure of my pace through here, but a few times I thought I might be going as slow as 8 min miles. With the rapid descent, the temperature was probably warming close to a degree per minute! It was getting quite hot. I overtook another runner or two in the last mile, but then experienced some actual cramps as I ran down the last steep stretch of trail. I tried stretching out my stride, which helped a bit. I tried speeding up my stride, especially on the steep downhill part - I picked up a little speed and nearly caught a runner. But then I rounded the corner and had 200 yards of steep uphill to the finish - with each step, my calves cramped harder, forcing me to take shorter and shorter steps until I was almost running on my tip toes. Trying to smile (which probably looked like a grimace), I clogged up the hill and through the finish. Finally, I was done!
Each year in this race, I always wonder if I run the uphill too hard to be able to take advantage of my above-average downhill running skills. I think this year I struck a fair balance. Without the cramping and ankle problems, I think I could run considerably faster in many spots on this course. Nevertheless, my downhill time was nearly 4 min faster than last year, contributing to an overall improvement of 11 min over last year's time!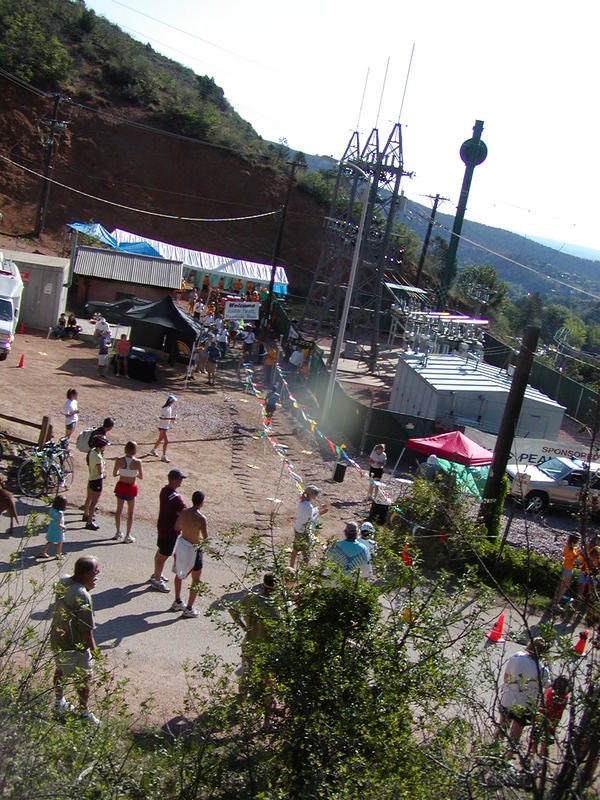 The finish line (at the end of a steep uphill!).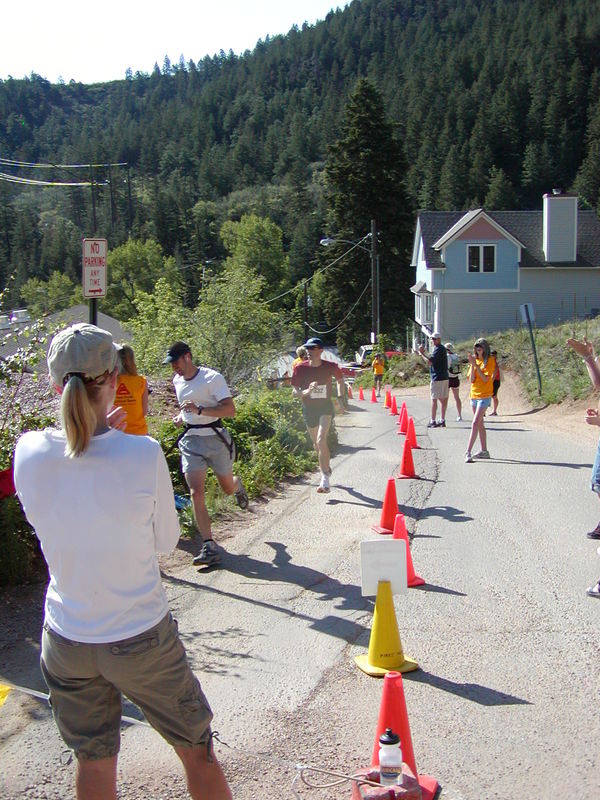 Dan Turk about to pass another runner at the finish. His time of 1:59:48 is good enough to win his age group!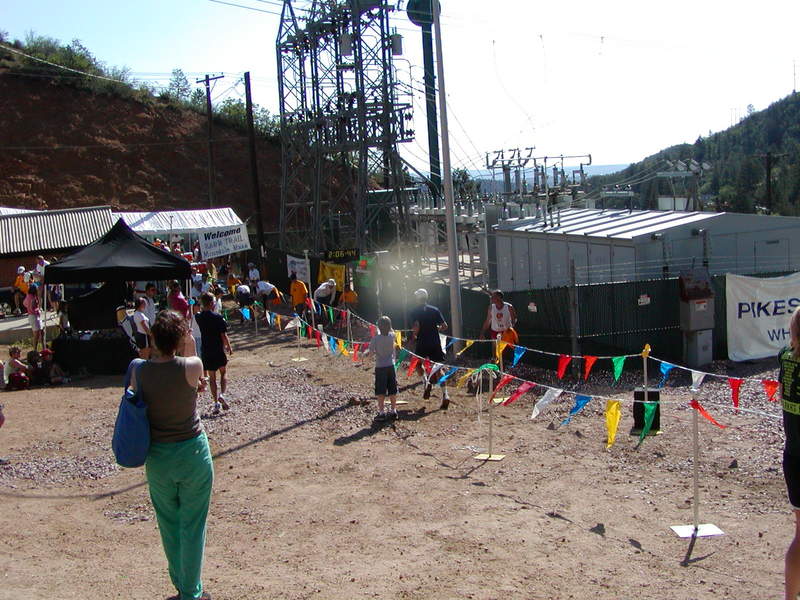 Jonathan Vigh crosses the finish line in 2:06:48.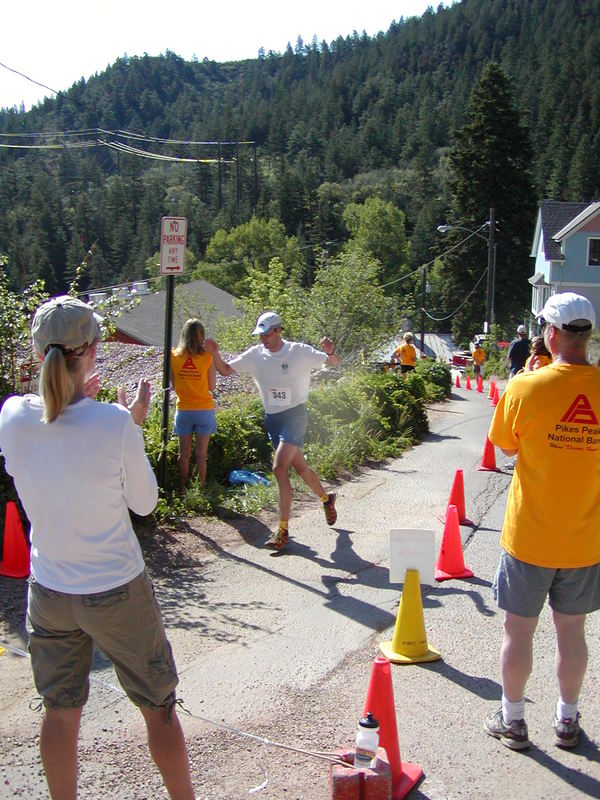 Eric Sigler finishes in 2:08:34.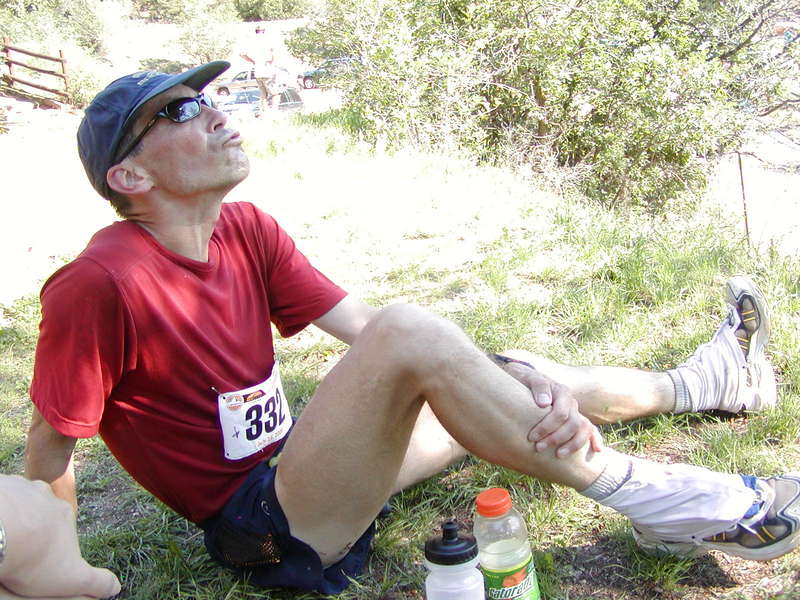 Dan Turk enjoys resting after the race - but then a leg cramp strikes!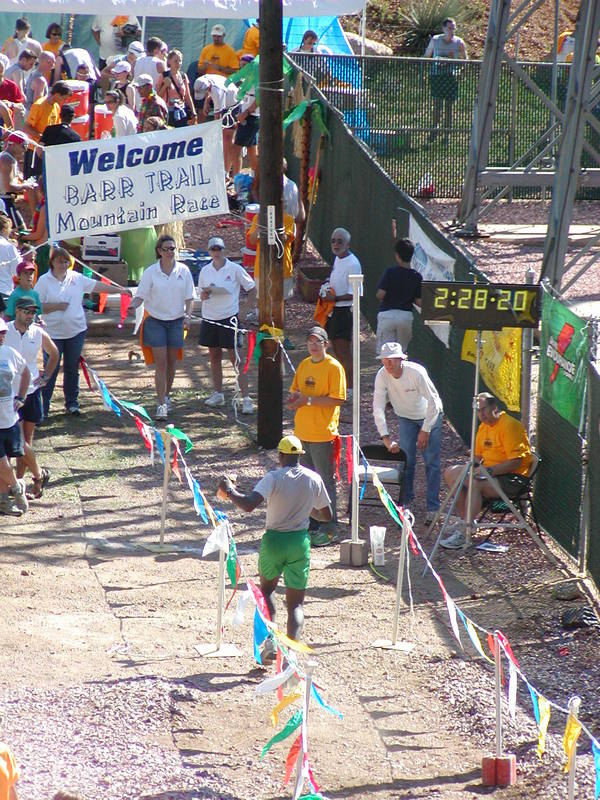 Jotham Matabi finishes in 2:28:22.
---
Post-race
I was relieved and glad to finally cross the finish line. Matt Carpenter was there shaking hands with the finishers - he had finished more than 35 minutes before me with a time of 1:30:53 (only 0:00:47 off the race record). I downed a bunch of Gatorade, ate half a banana, a couple orange slices, and some grapes. I felt pretty beat, and my cramped muscles were needing some stretching and rest. Eric came in just a couple minutes later, then Raquel and Jotham. We picked up our snazzy finisher shirts and headed down Ruxton Avenue to the park. After a dip in the creek, I changed into clean clothes and enjoyed a free massage by the Colorado Institute of Massage! I really felt pampered at this race! Then I rehydrated lots of watermelon and enjoyed 4 slices of Dominoes pizza at the awards ceremony. This is a real quality race, and all the entry fees were donated to local high school running programs and organization related to the trail and community. All the age-group winners received a free pair of La Sportiva trail running shoes and there was prize money for the winners. We cheered Dan on as he collected his age group award (1st in his age group!). Raquel also got an award with 4th in her age group. At the end, there was a raffle and I won I free subscription to Marathon and Beyond magazine. Finally, I even caught one of the hats that were thrown out to the crowd. Mike and I headed back up to Fort Collins and arrived back in town by 2:30 PM.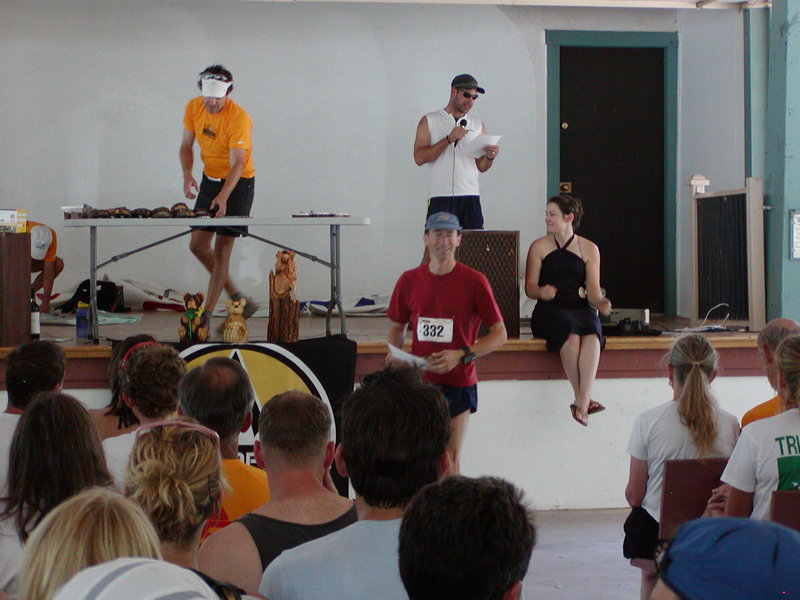 Dan Turk receives his age group prize - a certificate for a free pair of La Sportiva shoes!
---
Things done right
I trained smart and hard this year, and it paid off. I ran a fairly conservatively-paced race and ended up performing well both for the uphill and downhill.
---
Things done wrong
I sprained my ankle and got leg cramps. Since Brooks discontinued the Addiction ASR trail shoe, I've been searching for a replacement shoe. For the first half of the summer, I've been using the Addiction road shoe with mixed results. It is fine for gently sloped trails that aren't too rough. It seems to be good for the toe-jamming issues I had been having, and also I've had less of the heat friction I was experiencing previously during very fast downhill runs. However, it doesn't have enough traction for a trail like Barr Trail - I was slipping and sliding around the corners - I wasn't in good control, as the tread just didn't bite on the small pebbles. Also, I feel that the shoe likely contributed to my ankle sprain. I definitely need to find a different shoe before Pikes.
Also, I didn't carry anything this year - I relied completely on aid stations and only took one energy gel during the race. I probably didn't get sufficient electrolytes given the heat, which may explain my cramping issues on the downhill. Maybe I just need to do more hard training runs that mimic these conditions.
---
Results
I ran the uphill in 1:22:20 (0:07:20 faster than last year). This works out to an average uphill pace of 13:43 min/mile and ascent rate of 2623 ft/hr.
Despite a few challenges (sprained ankle, leg cramps), I managed to run the downhill in 0:44:28 (0:03:42 faster than last year), at an average pace of 7:25 min/mile and descent rate of 4858 ft/hr.
Overall, I took 0:11:02 off of last year's time with a finish of 2:06:48. I averaged a 10:34 min/mile pace overall, which works out to be 5.7 mph. I placed 9th out of 25 in my age group (25-29 males) and 59th out of 250 males. Five female runners finished ahead of me as well, so I was 64th overall out of 333 runners. Strangely, although I finished 11 minutes faster than last year, I placed further down in my age group (last year I was 7th out of 16 in my age group). Apparently, fluctuations in the number of runners in each age group can change your relative position from year to year.
In conclusion, I ran a fairly conservative and smart race. I didn't push myself hard, because my main goal is the Pikes Peak Marathon and I was hoping not to destroy my muscles and have that affect my training during the next week. I only spent 0:11:30 in my zone 5 heart rate (>85% by Karvonen method), compared to 0:32:22 last year and 1:16:38 in 2004. I'm not sure if this means that I'm in better shape and can now go faster for a lower heart rate, or if I really should have pushed harder. Anyway, I can't argue with the substantial time improvements. Maybe less is more :)
Here is a comparison of my results for all three years that I've run this race:
| | | | | | | | | | | | |
| --- | --- | --- | --- | --- | --- | --- | --- | --- | --- | --- | --- |
| Year | Rank (males) | Class rank | Name | Age | City | Top W s | No Name | 7.8 Sign | Barr Camp | Down | Finish |
| 2004 | 124 | 14/21 | Jonathan L Vigh | 26 | Fort Collins CO | 0:30:46 | 0:51:27 | 1:12:49 | 1:38:17 | 0:54:00 | 2:32:17 |
| 2005 | 64 | 7/16 | Jonathan L Vigh | 27 | Fort Collins CO | 0:27:26 | 0:45:53 | 1:06:41 | 1:29:40 | 0:48:10 | 2:17:50 |
| 2006 | 59 | 9/25 | Jonathan L Vigh | 28 | Fort Collins CO | 0:26:02 | 0:43:27 | 1:02:10 | 1:22:20 | 0:44:28 | 2:06:48 |
And here are the results of all the FortCollinsTrailRunners who ran this race (2006):
| | | | | | | | | | | |
| --- | --- | --- | --- | --- | --- | --- | --- | --- | --- | --- |
| Rank (in gender) | Class rank | Name | Age | City | Top W s | No Name | 7.8 Sign | Barr Camp | Down | Finish |
| 34 | 7/25 | Mike A Smith | 27 | Fort Collins, CO | 0:23:37 | 0:39:30 | 0:57:20 | 1:16:06 | 0:42:54 | 1:59:00 |
| 35 | 1/33 | Dan Turk | 45 | Fort Collins, CO | 0:24:43 | 0:40:45 | 0:57:55 | 1:17:08 | 0:42:40 | 1:59:48 |
| 59 | 9/25 | Jonathan L Vigh | 28 | Fort Collins, CO | 0:26:02 | 0:43:27 | 1:02:10 | 1:22:20 | 0:44:28 | 2:06:48 |
| 65 | 11/33 | Eric M Sigler | 30 | Boulder, CO | 0:25:00 | 0:42:40 | 1:02:33 | 1:23:58 | 0:44:36 | 2:08:34 |
| 12 | 4/13 | Raquel Harper | 27 | Boulder, CO | 0:28:12 | 0:47:10 | 1:09:10 | 1:32:53 | 0:51:19 | 2:24:12 |
| 135 | 18/25 | Jotham K Matabi | 29 | Denver, CO | 0:30:03 | 0:50:50 | 1:13:07 | 1:37:37 | 0:50:45 | 2:28:22 |
Raquel also placed 4th in her age group and received an award. Way to go FortCollinsTrailRunners!
---
Statistics and Graphs
| | | | | | | | | |
| --- | --- | --- | --- | --- | --- | --- | --- | --- |
| | | | | | | | | |
| | 2006 Barr Mountain Trail Race Statistics | Jonathan Vigh | Unofficial Splits | indicates estimated split times | | | | |
| | | | | | | | | |
| | 2006 BMTR Official Splits | split time | split distance | split pace (min/mile) | split speed (mph) | total time | | |
| | Top of W's | 0:26:02 | 1.6 | 0:16:16 | 3.7 | 0:26:02 | | |
| | No Name Creek | 0:17:25 | 1.2 | 0:14:31 | 4.1 | 0:43:27 | | |
| | 7.8 to go | 0:18:43 | 1.5 | 0:12:29 | 4.8 | 1:02:10 | | |
| | Barr Camp | 0:20:10 | 1.7 | 0:11:52 | 5.1 | 1:22:20 | | |
| | Down | 0:44:28 | 6.0 | 0:07:25 | 8.1 | 2:06:48 | | |
| | | | | | | | | |
| | Overall Results | | | | | | | |
| | to top | 1:22:20 | 6.0 | 0:13:43 | 4.4 | | | |
| | to bottom | 0:44:28 | 6.0 | 0:07:25 | 8.1 | | | |
| | | | | | | | | |
| | Total Time | 2:06:48 | 12.0 | 0:10:34 | 5.7 | 2:06:48 | | |
| | | | | | | | | |
| | | | | | | | | |
| | 2006 BMTR Splits by Distance | split time | split distance | split pace (min/mile) | split speed (mph) | split heart rate | total time | |
| | Mile 1 | 0:12:11 | 1 | 0:12:11 | 4.9 | 173 | 0:15:14 | |
| | Mile 2 | 0:15:14 | 1 | 0:15:14 | 3.9 | 171 | 0:30:28 | |
| | Mile 3 | 0:14:03 | 1 | 0:14:03 | 4.3 | 171 | 0:44:31 | |
| | Mile 4 | 0:13:45 | 1 | 0:13:45 | 4.4 | 168 | 0:58:16 | |
| | Mile 5 | 0:10:45 | 1 | 0:10:45 | 5.6 | 164 | 1:09:01 | |
| | Mile 5.8 | 0:11:08 | 1 | 0:11:08 | 5.4 | 167 | 1:20:09 | |
| | Mile 5.8 to top and back down | 0:46:39 | 6 | 0:07:46 | 7.7 | 162 | 2:06:48 | |
| | | 1:17:06 | | | | | | |
| | Splits by Vertical Climb | Split Time | Total Time | Vertical rise (ft) | Average climb rate (ft/hr) | | | |
| | to 8700 feet | 0:44:35 | 0:44:35 | 2100 | 2826 | | | |
| | to 9750 feet | 0:29:41 | 1:14:16 | 1100 | 2223 | | | |
| | to 10,200 feet | 0:07:59 | 1:22:15 | 400 | 3006 | | | |
| | to Finish | 0:44:28 | 2:06:43 | -3600 | -4858 | | | |
| | | | | | | | | |