Multiday Backpack and Climb of Crestone Peak
El. 14,294 ft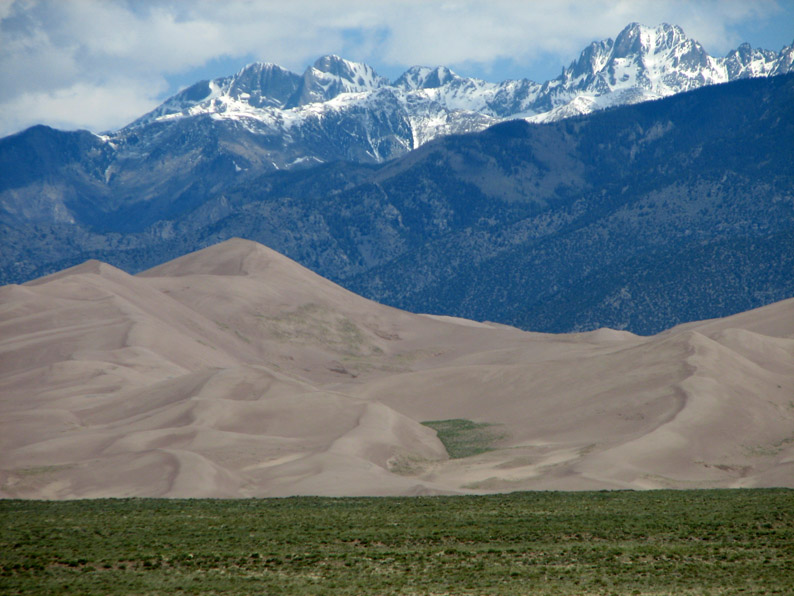 Crestone Peak (on right) as seen from Great Sand Dunes National Park on May 27, 2007.
Trip Dates: May 24-28, 2007
Fellow Adventurers: Eric Sigler and Alison Ordelheide
Author: Jonathan Vigh
Date last modified: 10:00 PM on July 19, 2009 (posted part III)
---
About the Mountain
Located in the majestic Sangre de Cristo range, Crestone Peak is Colorado's 7th highest peak at 14,294 feet. Four other 14'ers are clustered in the Crestone Group: Challenger Point and Kit Carson Peak, Crestone Needle, and Humboldt Peak. I had climbed these other peaks over three previous trips. On this trip my goal was to finish off the group by nabbing Crestone Peak and climbing Challenger Point again (to satisfy the 3000 foot rule).
Our plan was to climb Crestone Peak (and possibly Humboldt Peak) on Friday after an overnight backpack from the Spanish Creek approach. If we were successful in summiting on Friday, we planned to pack out and drive the few miles over to the Willow Lake approach, and pack into Willow Lake that evening to be in position to climb Challenger Point on Saturday morning. Then we were planning to meet up with some other friends for a more night camping in the Great Sand Dunes. If all was going well, we planned to do a snow climb/ski descent on Mount Shavano or Mount Yale on Sunday, then perhaps hit another peak (Mount Antero?) on our way back on Monday! Needless to say, this was an ambitious plan.
This trip report covers just Crestone Peak and is broken in two parts:
Part I: Approach and summit attempt, May 24-25, 2007 Trip report posted June 5, 2007

Part II: Summit Attempt #2 and hike out, May 26, 2007 Trip report posted January 11, 2009

Part III: Backpacking in the Great Sand Dunes, May 26-27, 2007 Trip report posted July 19, 2009

Part IV: Approach and summit of Challenger Point, May 27-28, 2007 Upcoming trip report