Backpacking in Great Sand Dunes National Park
May 26-27, 2007
People in this trip report: Alison Ordelheide, Jonathan Vigh, Eric Sigler, Todd Rivas and Veronica Van Gills (at the time, now Rivas)
This is the Part III of a four-part trip report of a multiday backpack and climb of Crestone Peak and Challenger Point. This part of the trip report covers our rest day in between our climbs of Crestone Peak and Challenger Point. After an absolutely grueling day on Crestone Peak, we headed over to the Sand Dunes for a little rest and relaxation. To read the other parts of the trip report, go to the expedition summary.
This trip report was posted July 19, 2009.
---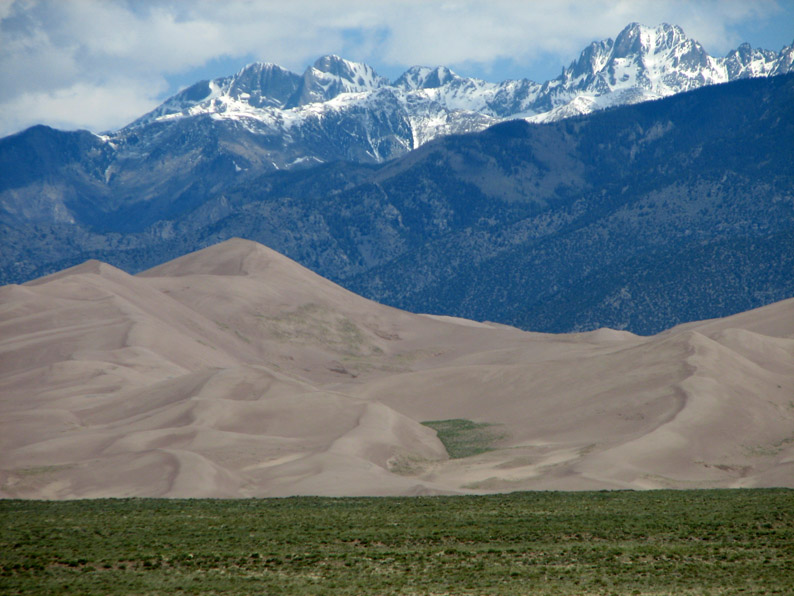 Having completed our quest to summit Crestone Peak (which took 3 days!! - the snow-capped peak to the right in the picture above), Eric, Alison, and I headed down to the Great Sand Dunes National Park for some much needed rest before our next climb. After having camped in the snow and veritable winter conditions for a couple nights, it was almost refreshing to get back down to the high desert heat of the San Luis Valley. Except it was a bit too hot . . .
---
We were planning to meet up with Todd and Veronica Saturday evening. Since it was Memorial Day weekend, we had little illusion of scoring a campsite in the park, so we concocted a plan to head out a short ways into the dune field for an easy overnight "backpack". After securing the requisite permit (we were just in time, as the office was about to close), we stopped at the picnic area for some much-needed sustenance, then headed out across the sand with maybe an hour of daylight left.
---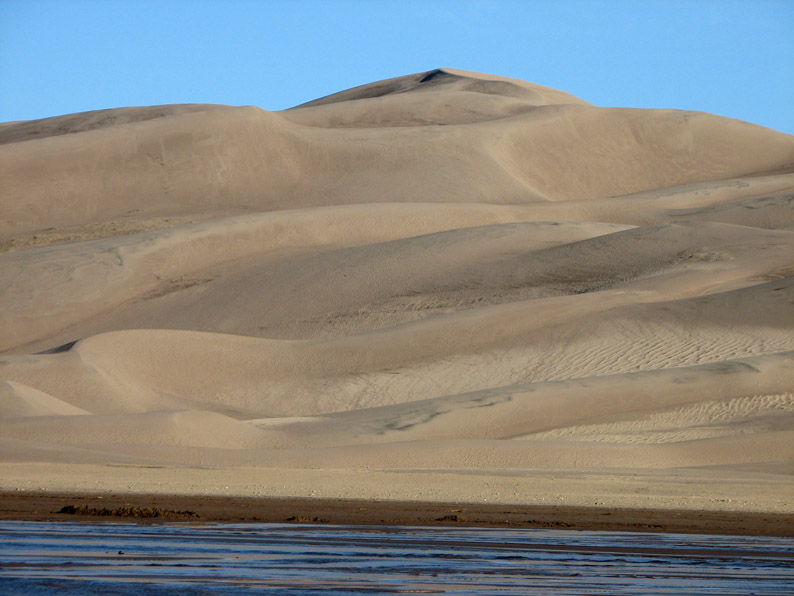 First, we must cross the chilly waters of Medano Creek . . . (picture taken the next morning). The high dune in the park is the highest dune in North America, at roughly 700 feet above the valley floor (and at 8400 feet above sea level, it will take your breath away!).
---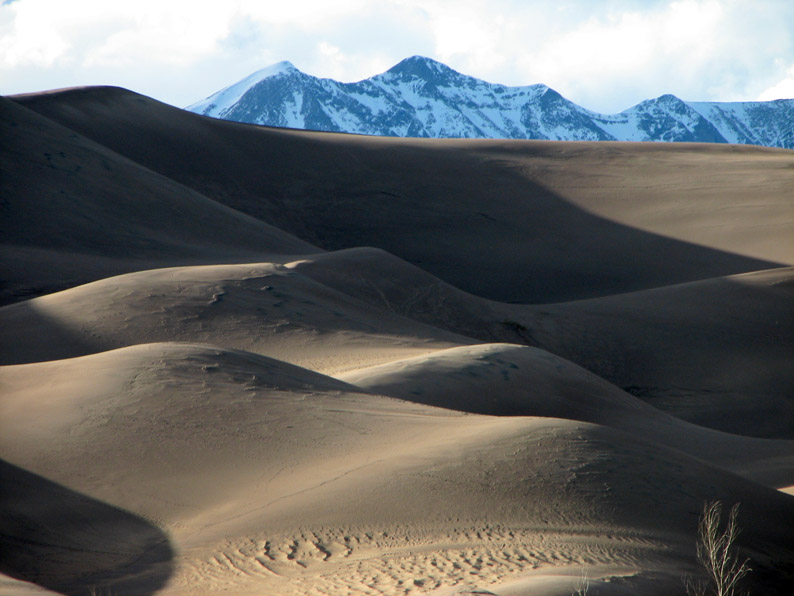 After having been on snow for the past several days, sometimes in quite precarious positions, it was very relaxing to walk barefoot across the sand. The surface was still warm from the sun, but it was quite cool just below the surface. The dry sand soothed (and exfoliated) our tired feet. The Great Sand Dunes actually get quite a bit of wind much of the year, so some of the ridgelines were quite hard packed. It was fairly easy walking, although as we started to climb, our tired muscles reminded us that this was in addition to the 10+ hours we had already been on our feet.
---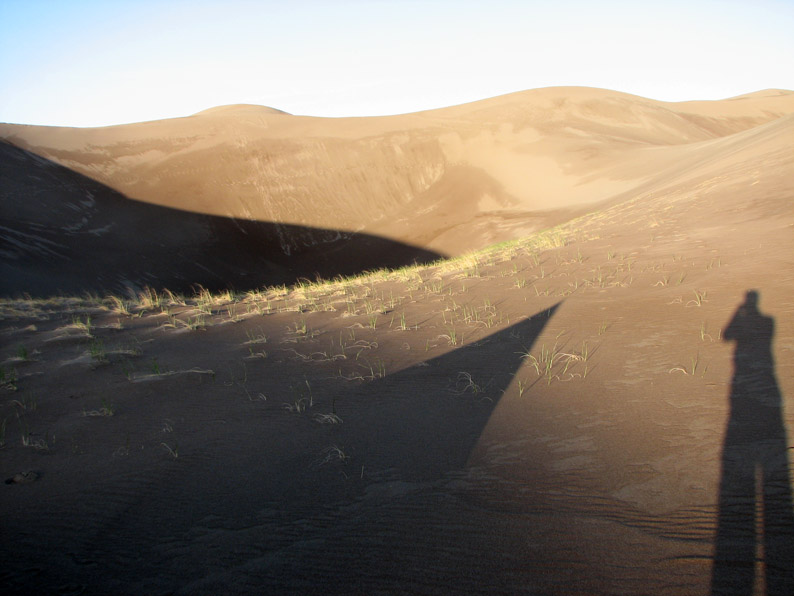 After about a mile and a half into the dunes, and perhaps up about 450 feet, we found a sheltered spot nestled in between the dunes. Park regulations require you to be out of site from the view of the main park area. We complied.
---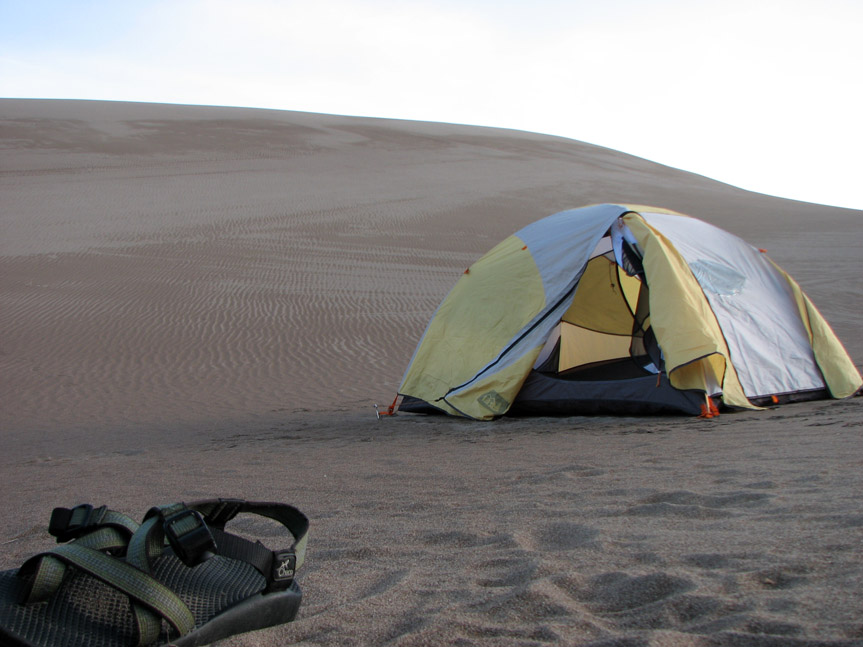 This is Todd and Veronica's tent. Photo by Eric Sigler.
---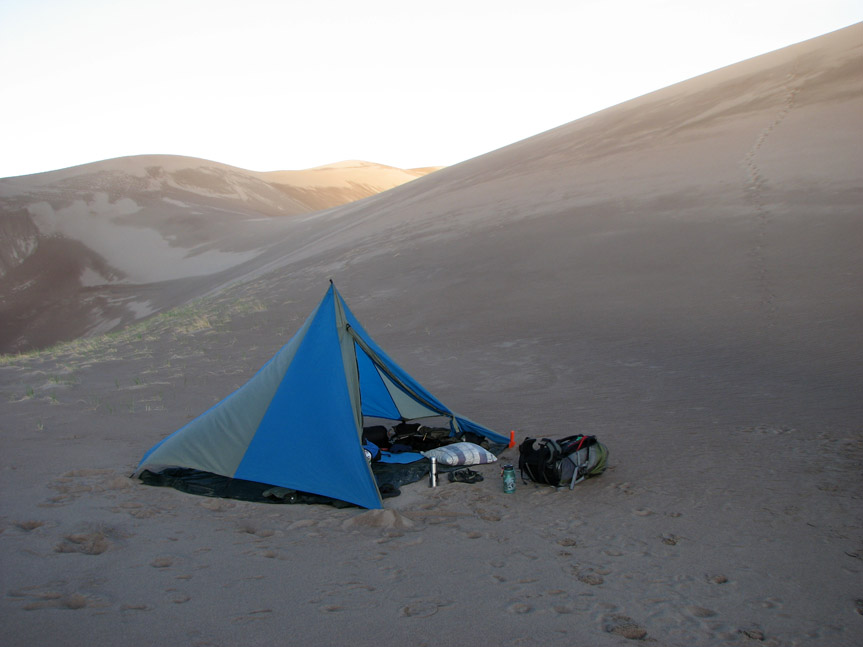 And this is Eric's spacious tarp shelter, where Ali, Eric, and I slept. Being a tarp shelter and not an actual tent, we didn't have complete protection from the sand. In the middle of the night, it got quite windy and we had sand blowing at us! Photo by Eric Sigler.
---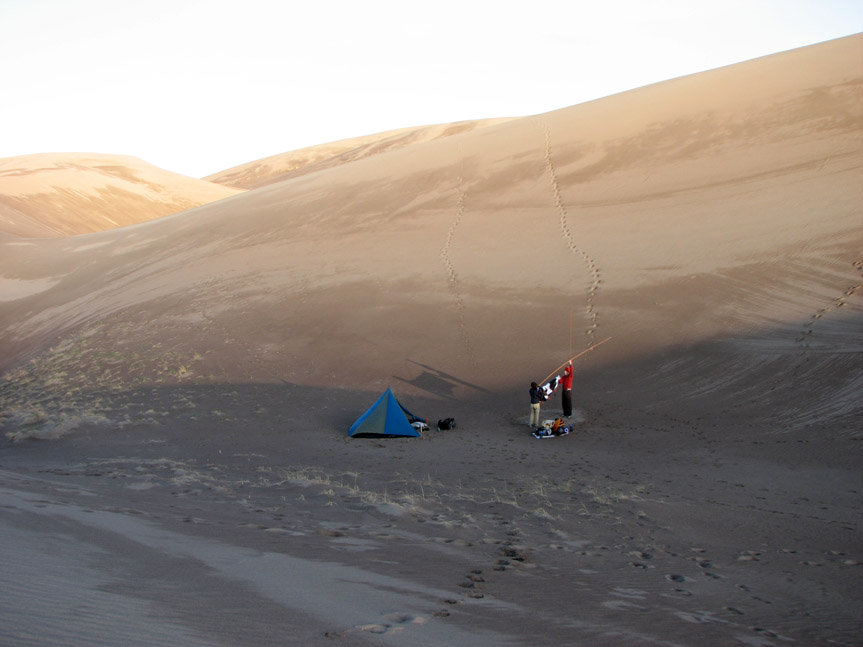 Breaking camp the next morning - there was really not much to do out there except enjoy the views. We broke camp as soon as the sun came up and headed back to the cars for food and bathrooms. Photo by Eric Sigler.
---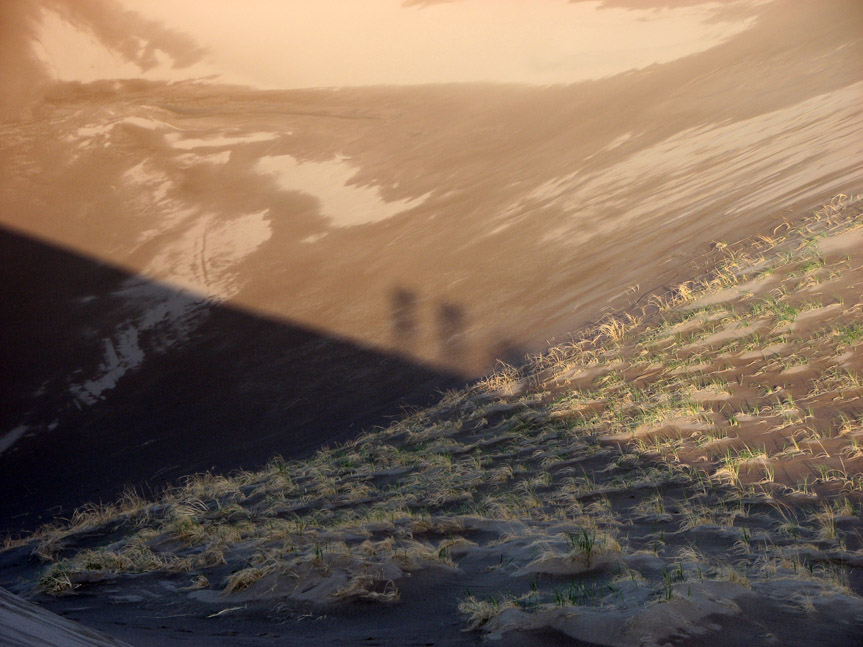 The light was really amazing out in the dunes this morning. Photo by Eric Sigler.
---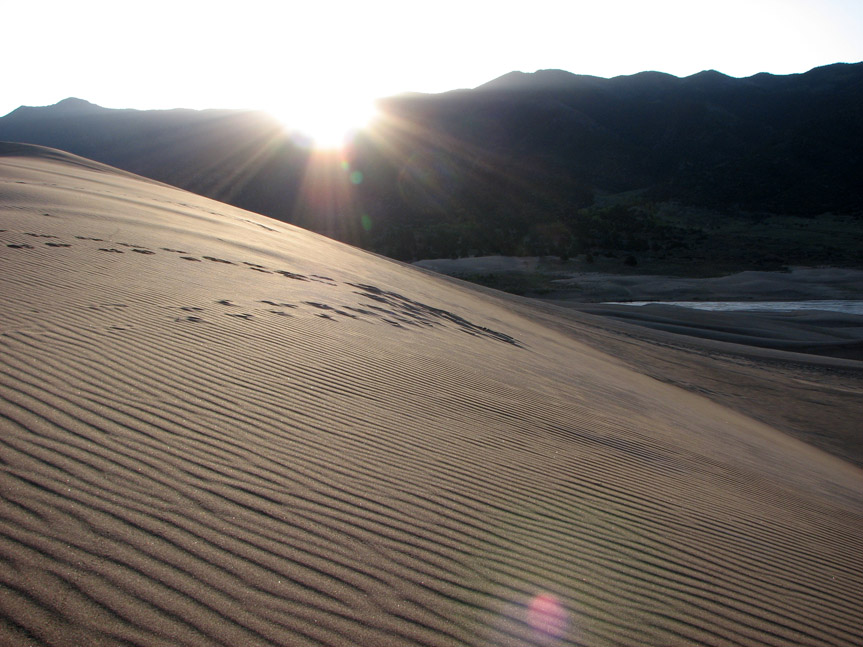 Textured ripples left by the wind . . .
---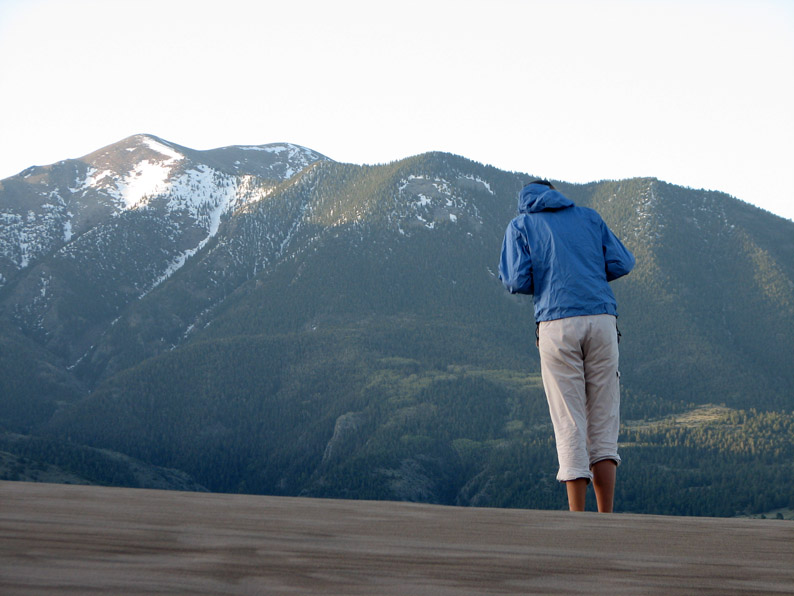 Ali is doing something - not sure what - but let's say she was brushing her teeth.
---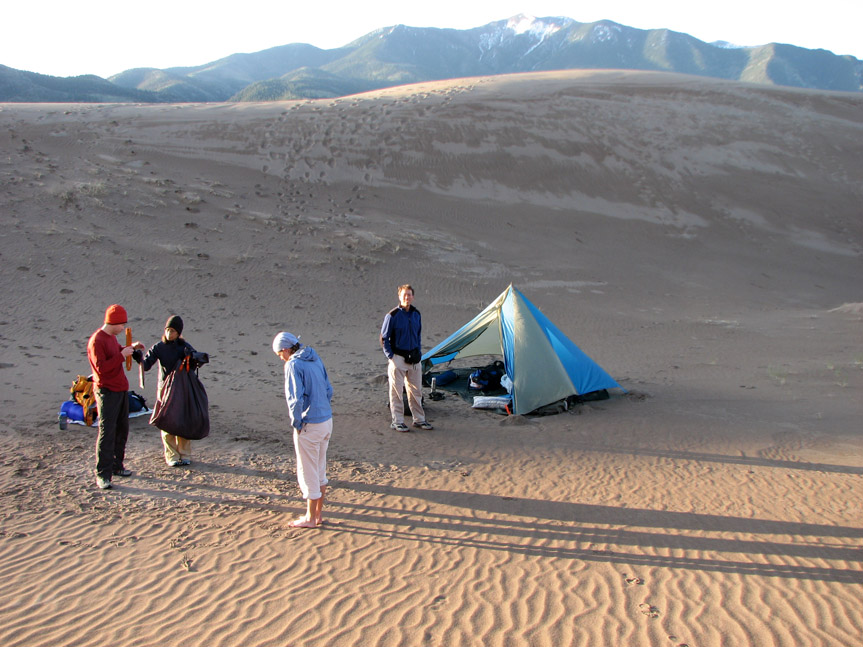 When you camp in the dunes, well, there's just not a whole lot to do, so we stood around taking pictures :) I guess next time I might take some playing cards or a book to enjoy. Photo by Eric Sigler.
---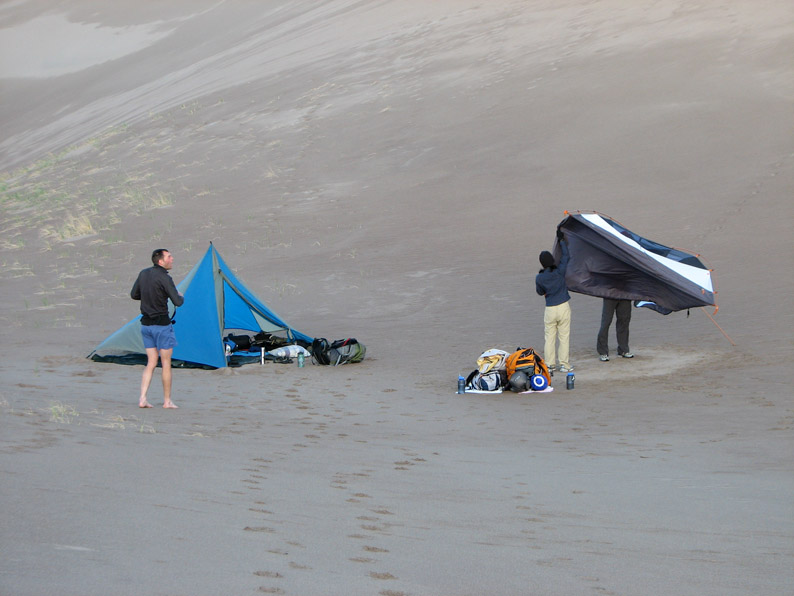 Breaking camp - we tried to leave no trace.
---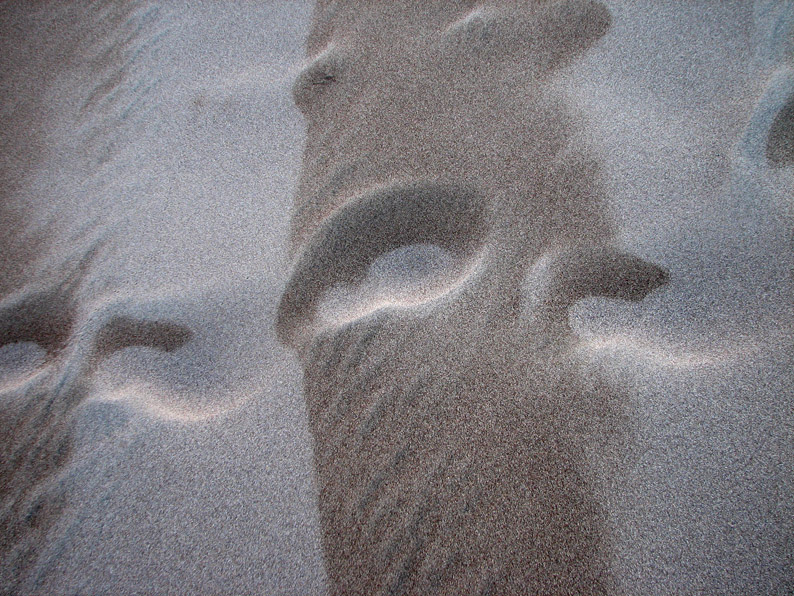 Except our footprints . . .
---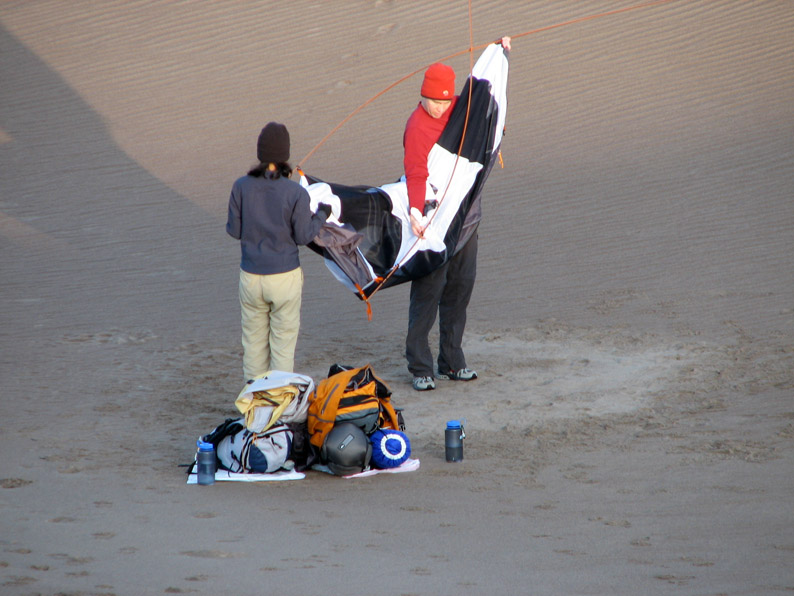 Todd and Veronica look very organized as they dismantle the tent.
---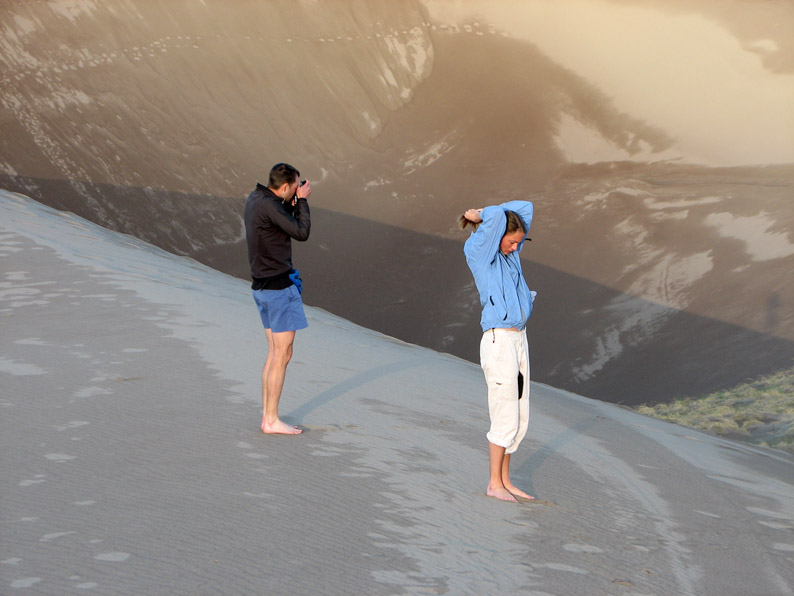 Eric snaps pictures while Ali fixes her hair.
---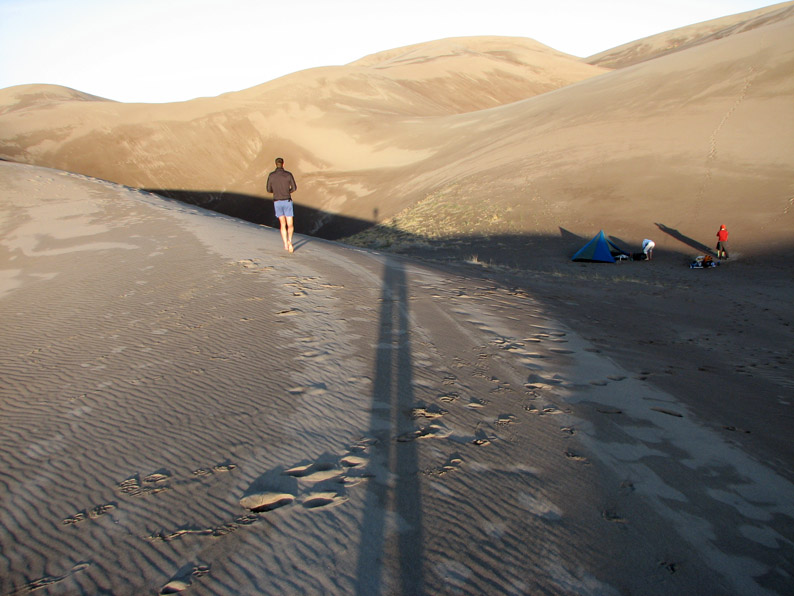 Cool shadows make me feel much taller than I actually am!
---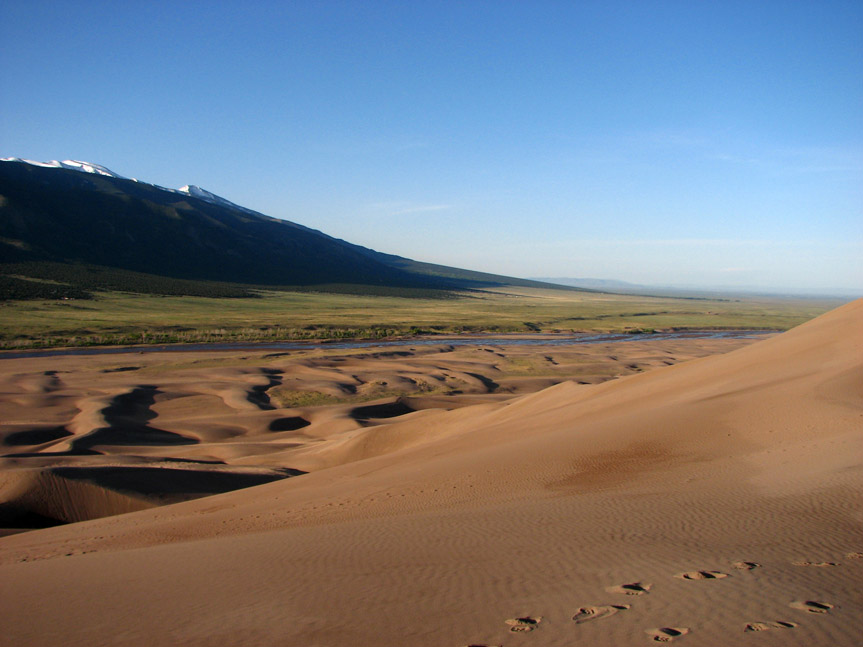 Coming back over the ridge, we were greeted with these amazing colors. Photo by Eric Sigler.
---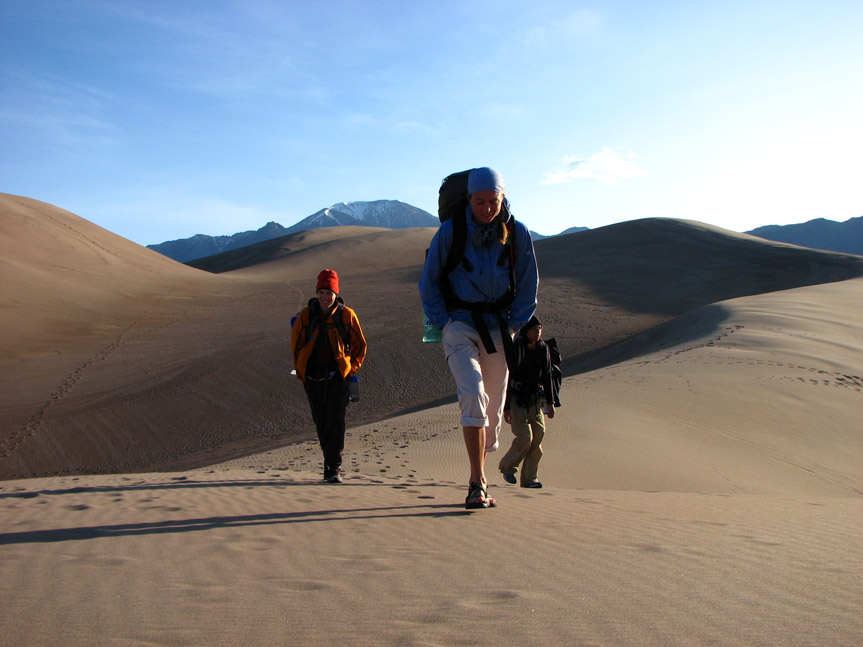 The walk back out was very easy, almost effortless, as we descended with nearly empty packs. Photo by Eric Sigler.
---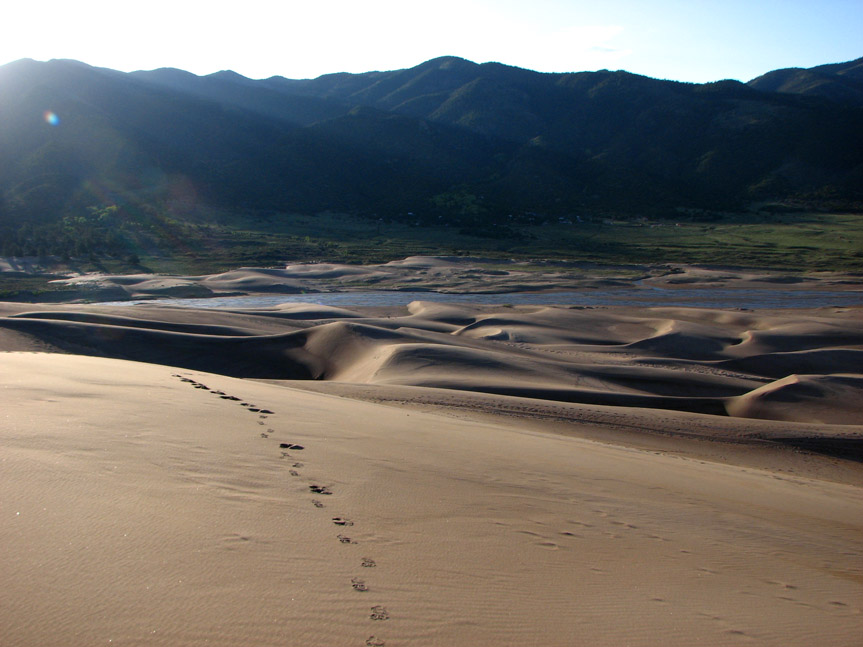 No words needed. Photo by Eric Sigler.
---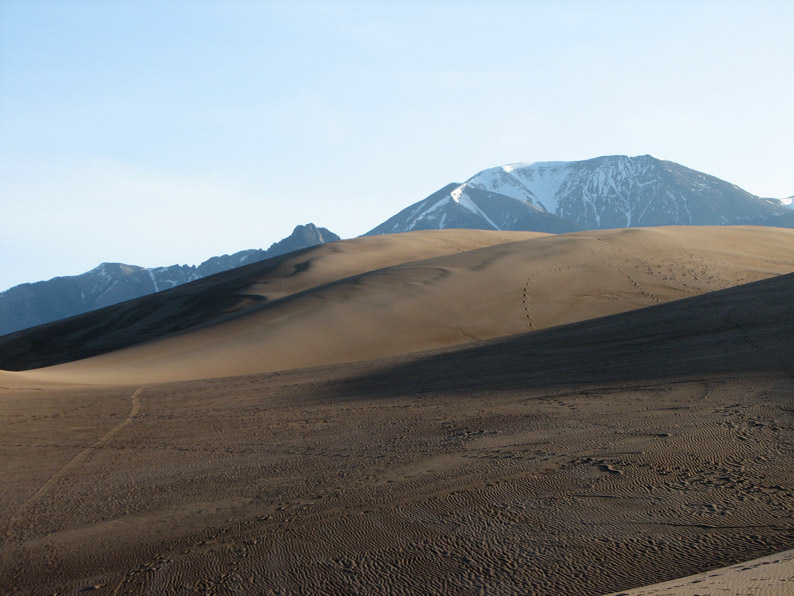 ---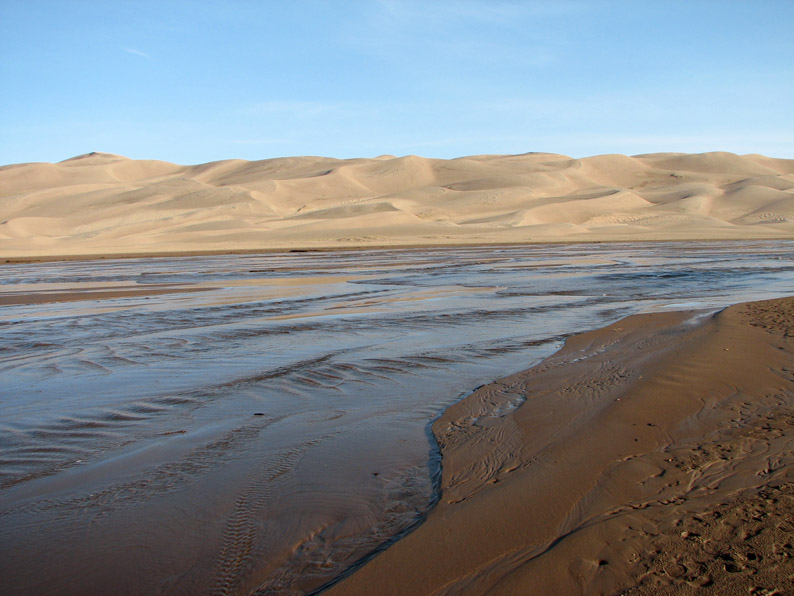 Medano Creek is a very unique creek as it flows through the dune field, which leads to some very interesting hydraulic effects. As the creek flows over the sand bed, it shifts the sand around in its boundary layer. The sand forms ripples which interact with the waves. Eventually, the boundary layer deepens and the water surges downstream in a bore. If you look carefully, you can see one coming.
---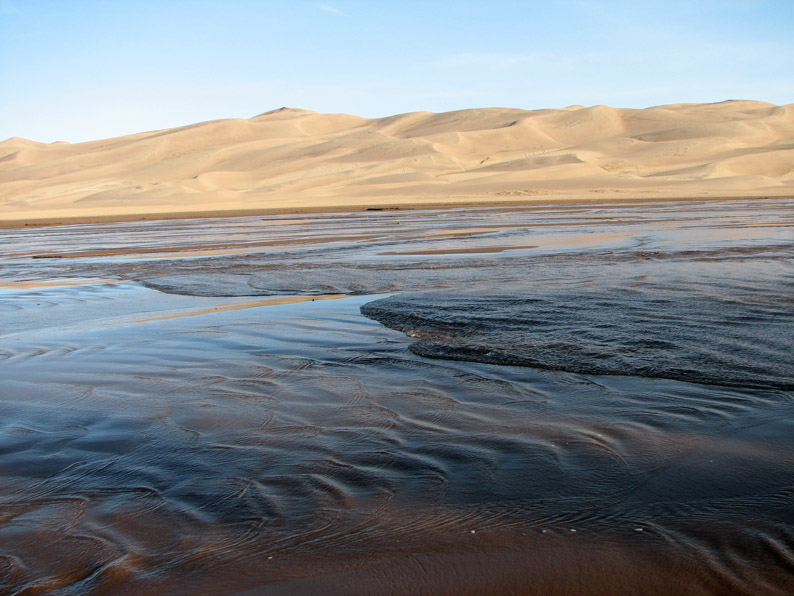 Here's a close up of the surge. It is quite fun to walk across and have these pulses hit you and make the water several inches deeper.
---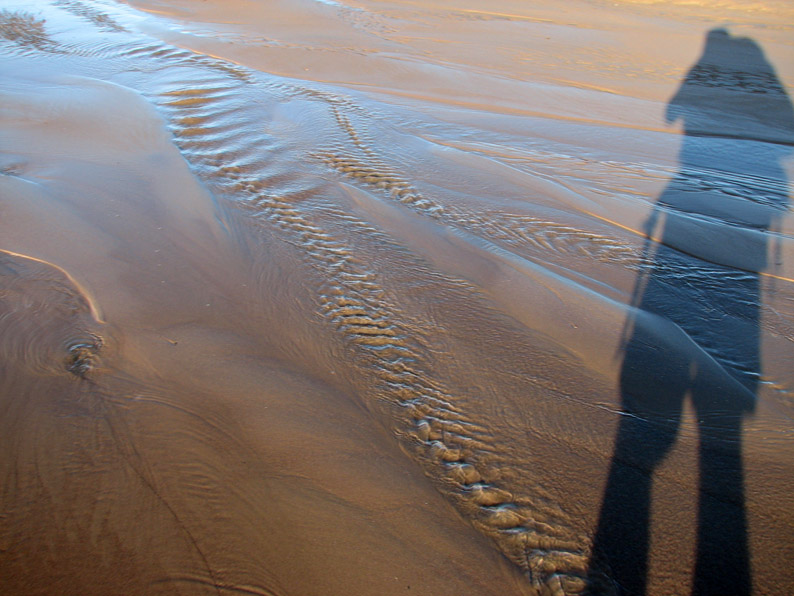 More ripples.
---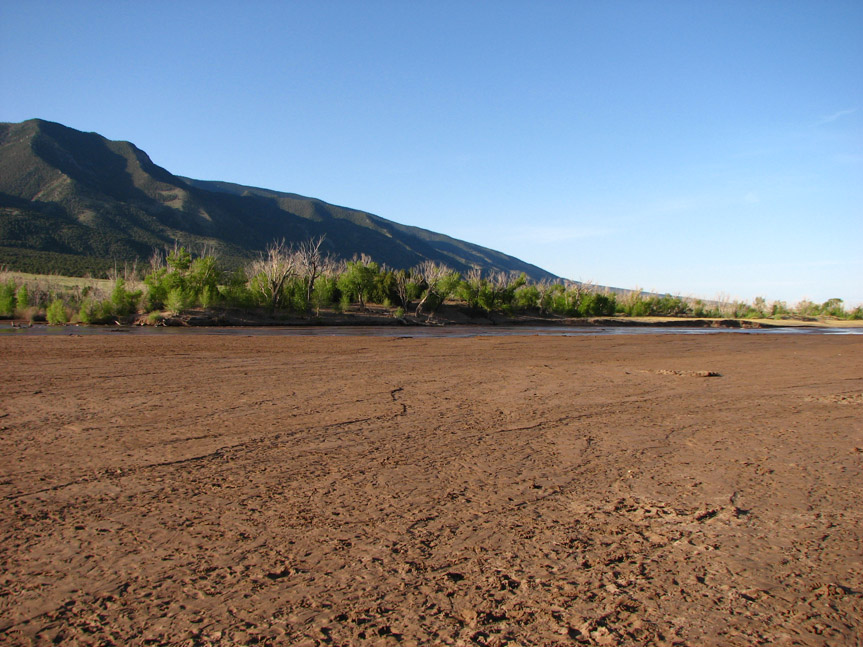 Photo by Eric Sigler.
---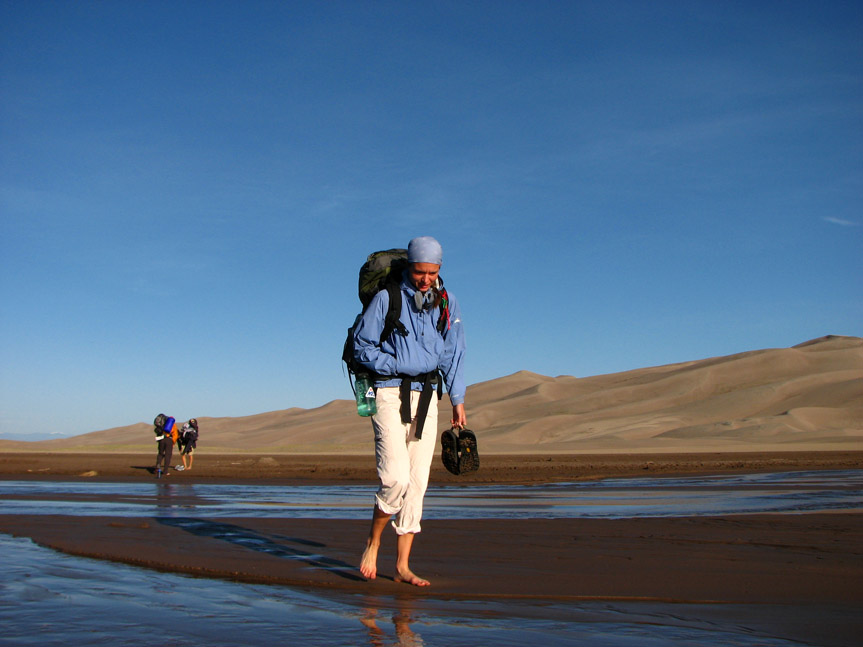 Ali ventures across the creek. Photo by Eric Sigler.
---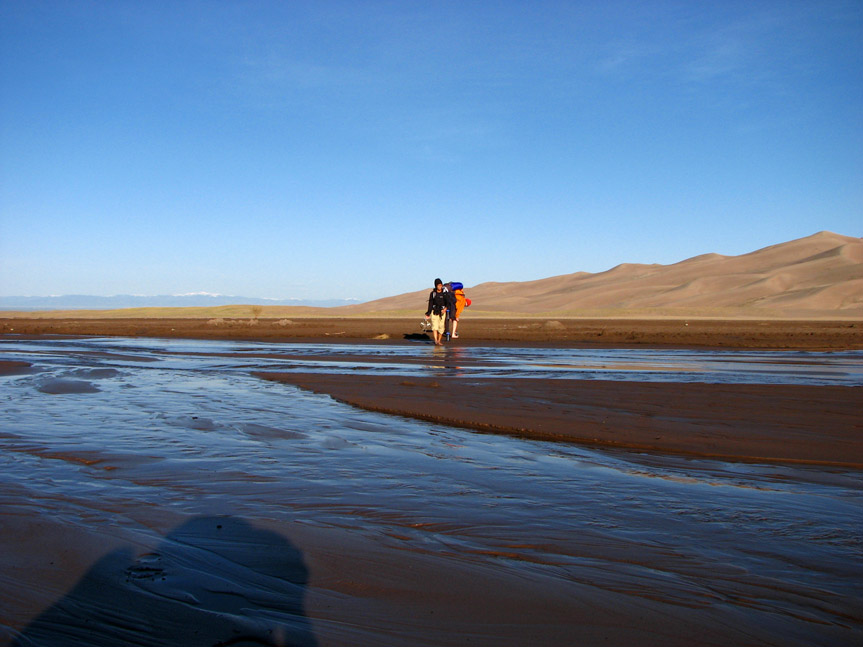 Todd and Veronica brought up the rear. Photo by Eric Sigler.
---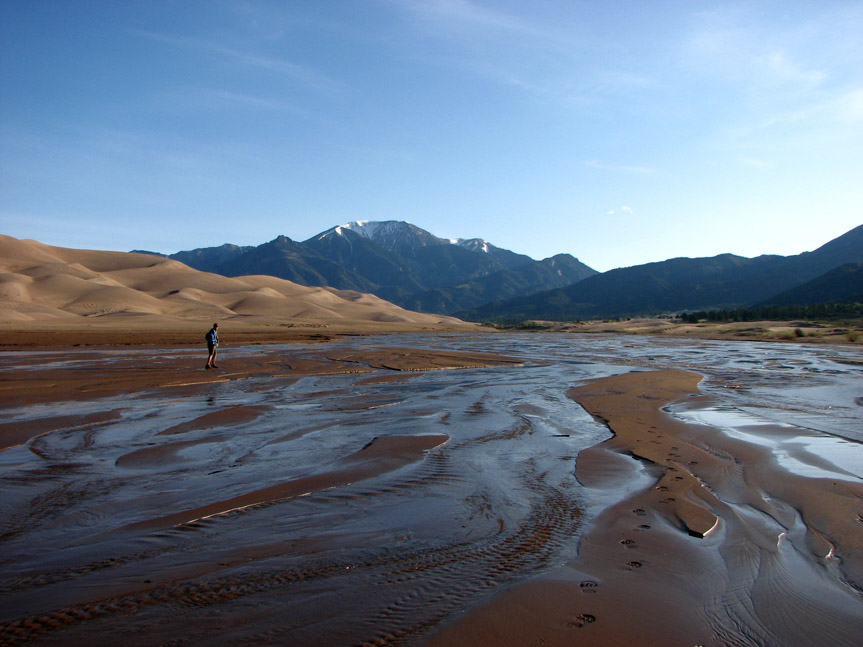 Photo by Eric Sigler.
---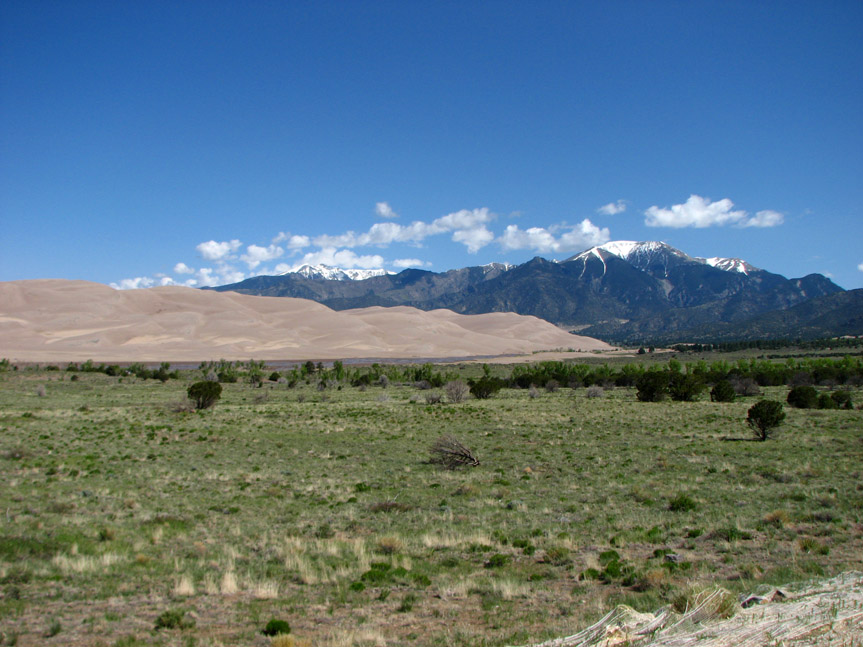 We stopped at the visitor center for a few minutes - might as well, whenever you're in a national park. Photo by Eric Sigler.
---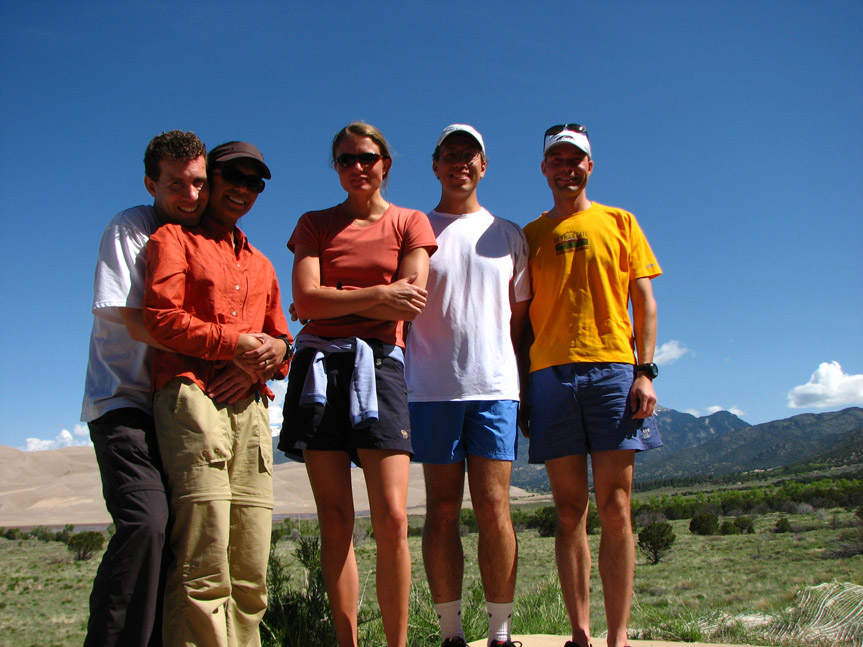 Time for a group photo (left to right): Todd and Veronica, Ali, Jonathan, and Eric. Photo by Eric Sigler.
---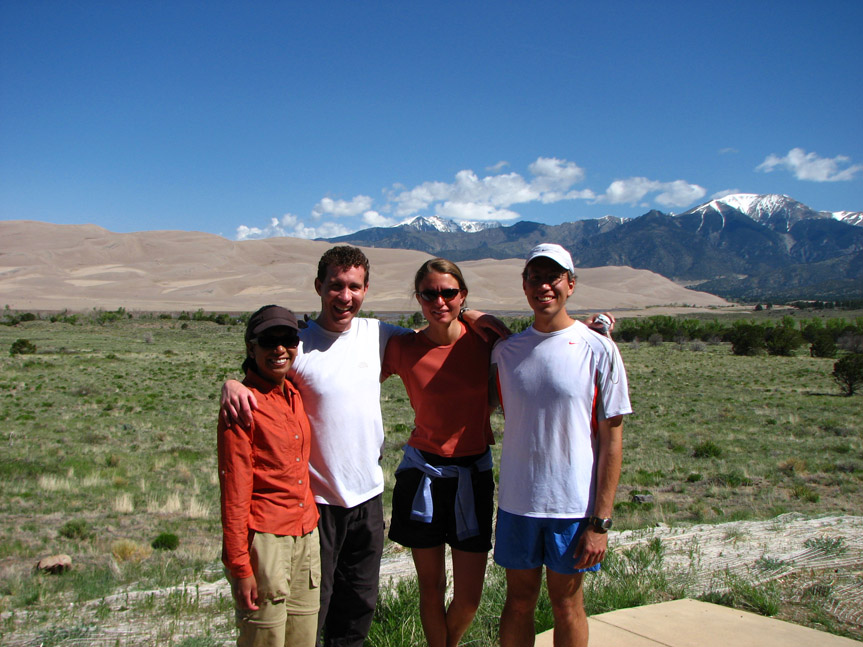 It was great to have this break in between our two peaks. Todd and Veronica headed back home and Ali, Eric, and I headed over to our next adventure: Challenger Point. Photo by Eric Sigler.
---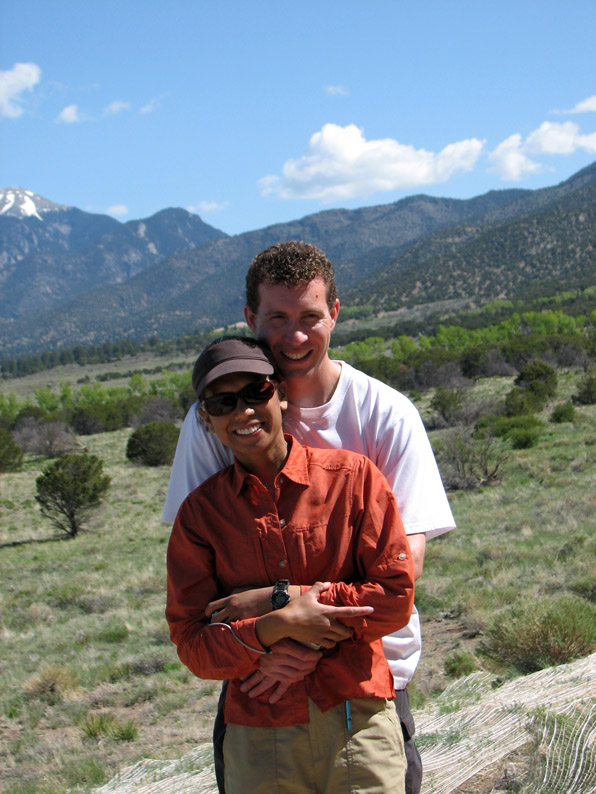 Todd and Veronica - very cute! They were married about a month later.
---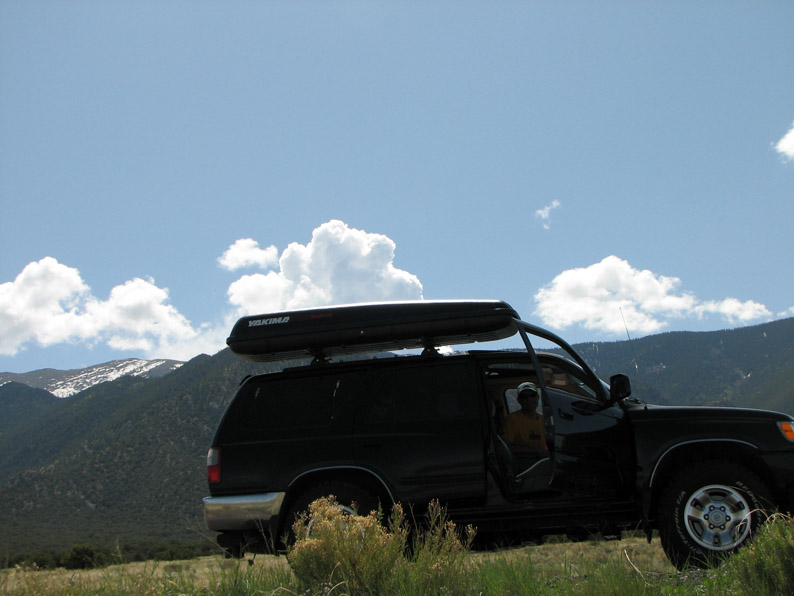 We piled back in the Adventure-mobile (Eric's Toyota 4-Runner) and headed back towards the mysterious town of Crestone.
---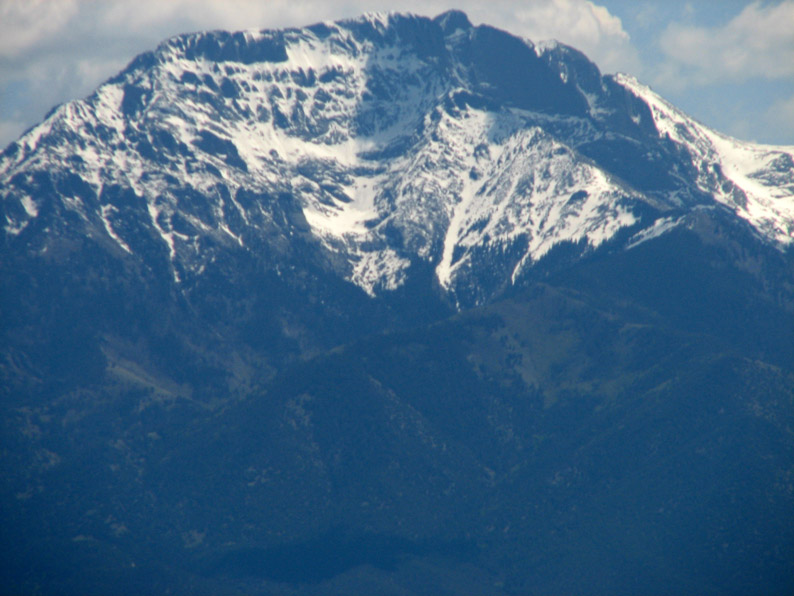 Our next nemesis looms high above . . .
---
Statistics
I guess we hiked a total of about 3 miles and climbed 450 vertical feet on this leg of the adventure. It would be hard to design an easier backpacking trip! I think overnight the temperature got down into the 40's or 50's with some wind gusts up to 25-30 mph.
This concludes Part III of this trip report. Part IV will feature our challenging ascent of Challenger Point and some amazing glissading.
If you'd like to subscribe to get notified when new trip reports are posted to this site,

sign up here.