2004 Horsetooth Trail Race
On July 13, 2004, I ran the Horsetooth Mountain Trail Race route for the first time. It was only my second trail race (first was Pikes Peak Marathon in 2003), and my first local trail race. My friends, Dan Turk and Jotham Matabi also ran the race.
My original goal was to run this race in 1h06m, but several factors interrupted my training. Finishing my MS thesis kept me from heavy training during March and April, and then I sprained an ankle less than 2 weeks before this race. Thus, I relaxed my goal for this race: simply to beat my PR of 1:18:11 which was set during my Pikes Peak training peak in July 2003.
---
Course Description
Click here to see my detailed description of the race route, including a map and elevation profile (map and profile courtesy of Dan Turk).
Briefly, the course starts at the Horsetooth Mountain Park Trailhead, runs up the service road for the first mile, turns left up the Horsetooth Rock Trail, jogs down the Wathen Trail for a couple tenths, then follows the West Ridge Trail to another service road. The trail runs circles back down the service road, joins the Herrington Trail to Spring Creek Trail, and finally, hits the Soderberg Trail back to the first service road and the parking lot. I've taken a GPS on the course several times, and come up with a distance of about 7.3 miles. The course has about 1800-1900 feet of elevation gain (and loss) according to my altimeter watch.
---
The Race
The race started about 15 minutes late. I had run up to the bend and back a couple times to warm up, but wasn't feeling completely up to snuff, given that I only had a bit over 6 hours of sleep the night before. I had woken at the early hour of 4:40 this morning -- I was probably excited about the race. I ate a small breakfast (cereal and a banana), and took 4 Gu Energy Gels about 15 minutes apart in the hour before the race. During the race, I carried a quart of Gatorade in my Camelbak.
All the runners gathered at the start line. I was surprised by the number of people who turned out. Most of them seemed local, but several were from Boulder and Denver. I started right up at the front of the start line -- I figured that it might be fun to start at the front of the pack, so I could watch all the rabbit-runners bound ahead. This was a pretty low-key race, and there wasn't even a starting gun. People took off relatively fast, and about half the runners passed me before the bend. That was fine with me, as I was just running to break my PR and see what I could do. After the first mile, the pack was pretty spread out -- the front runners were already far ahead of us. There was a bit of congestion when we got on the Horsetooth Rock Trail, but everyone was going pretty close to the same speed. Soon some of us were walking, including me. This was part of my strategy though, as I knew that it was more efficient for me to power hike up the steep hills, rather than burn my muscles out trying to run up. Besides, my level of exertion was already in the 'uncomfortable' range, with my heart rate in the mid 180's. I hit the first 1000 feet of elevation gain in 24:45, which is several minutes faster than I've ever done before on this course -- this was exciting, but also a bit worrisome, as I wasn't sure if I was conserving enough energy for later.
After the first two miles, the course is up and down for a mile and half. I felt like I needed some recovery after the last steep hill, so I backed off for a bit on the top of the West Ridge, arguably, the most beautiful part of the course. The view of Longs Peak was stunning. This stretch along the ridge top, through the woods and small meadows, is part of what makes this such a great run. By this time, the crowds had thinned out and there were only about two runners in sight. There are a couple steep downhill stretches, and I felt my ankle pop. I had sprained it just 2 weeks earlier, so I had taped it for this race. It didn't roll or feel sprained, so I kept on running. I was still feeling like I needed to recover when I hit the service road and started bending around to the downhill stretch. Normally, the downhill is my favorite part of any trail run, but given my potential ankle problems, I ran somewhat conservatively on the downhill. I caught and passed one or two runners, but soon developed a side stitch and had to back off. This was frustrating, but it soon went away. The last couples miles went fast, and soon I was back to the service road. My muscles were feeling pretty tired by the one mile to go mark, and even though it was downhill the rest of the way, I felt like I had better conserve some energy for the last half mile. My pace dropped below 7:00/mile, then 6:30/mile. When I rounded the bend, I knew there was only a half mile left, with a 270 foot elevation drop, so I bumped my speed up a notch. For about 0.3 miles, I think I was averaging close to 5:30/mile. The course leveled off for the last two tenths, but I had enough energy to keep up a full run. I crossed the finish line with gusto!
---
The Results
My official time was 1:14:48. This beat my old PR by more than 2 minutes, although the race course was slightly shorter than my usual training runs, since it started about 100-150 yards up from the gate. My average pace was 10:15 min/mile, giving an average speed of 5.9 mph. I placed 9 out of 10 in my age group M20-29 (or 8 out of 9, if the overall winner is taken out), and 44th out of 105 overall (M and F).
My two friends posted very strong times. Dan Turk bested his old PR by nearly 4 minutes with a time of 1:03:19! This was good enough for 10th place overall, and 3rd in his age group. Jotham came in a couple minutes before me, at 1:09:39, also a strong time -- good enough for 30th place, especially considering he hasn't been training on trails since he moved to Denver a month ago.
The official results have been posted on the Runner's Roost website: overall results and age group results.
---
Performance and Stats
Here are my mile splits during the race, as measured by my Timex Bodylink Speed + Distance System:
Mile 1: 11:10
Mile 2: 14:47
Mile 3: 12:09
Mile 4: 9:36
Mile 5: 7:58
Mile 6: 9:05
Mile 7: 8:32
Mile 7.3: 1:21
I averaged 5.9 mph, or a 10:15/mile pace. My max heart rate was 187. Best pace was 5:05/mile, but this was only for a short distance.
Here are graphs showing my pace and heart rate during the race. It is easy to see where the race start was. My heart rate quickly rocketed to the top of my aerobic zone within the first 5 minutes of the race. My strategy going in to the race was to try to hold my heart rate to 180. I ended up pushing a bit harder than that, sustaining periods in the mid 180's on the uphill stretches, sometimes backing off to 180. This corresponds to 90-95% of my max heart rate (typically a 10K race pace). I quickly concluded that there was definitely no need to run on the steeps if I could still keep my heart rate above 180 while power hiking these stretches. The steep downhill begins just before mile 4. At this point, it looks like my heart rate plunges, but actually the monitor was not getting a good reading because it was loose as I was running downhill. For some reason, the GPS briefly conked out for a few seconds, and a new log was started (second graph).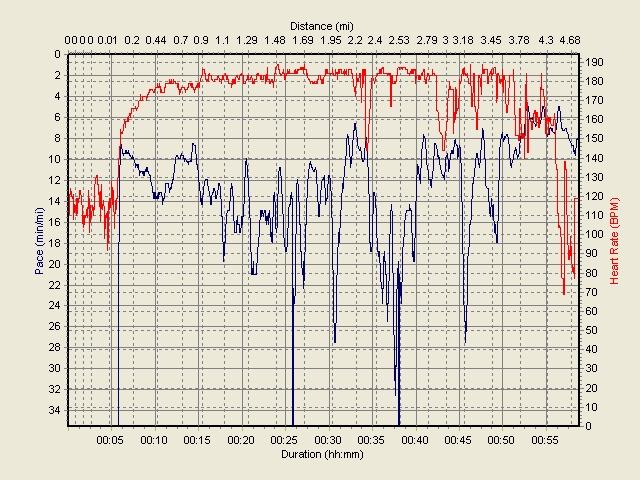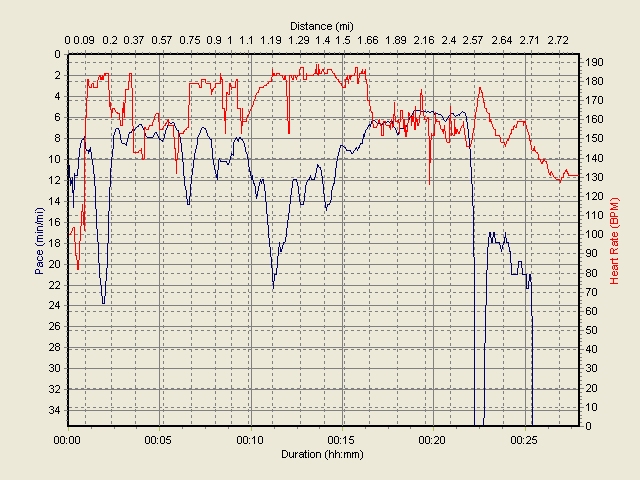 From the second plot, you can see the ups and downs. The last mile was downhill; during the last half mile I was pulling below a 6 min/mile pace! I sprinted across the Finish Line and kept on running to cool down. The race person had to come after me to get my bib tag! The last 10 minutes of this graph show my cool down as I walked around the staging area.
---
Closing Thoughts and Future Goals
Altogether, this was a fabulous trail race. I'm looking forward to running this race again next year. My goal for next year will be to cut 10 minutes off of this year's time. Based on this year's results, that would put me in about 12th place, but 5th overall. To get an age group award, I probably would need to run the entire course in under an hour. If I'm that good by next year, I will be very pleased indeed!