After crossing a few more steep snow fields, we gained access to the connecting ridge between Blanca and Ellingwood. From here it was just a few hundred more feet to the top. From atop one of Colorado's greatest mountain walls, the view down into the Huerfano Valley was breathtaking.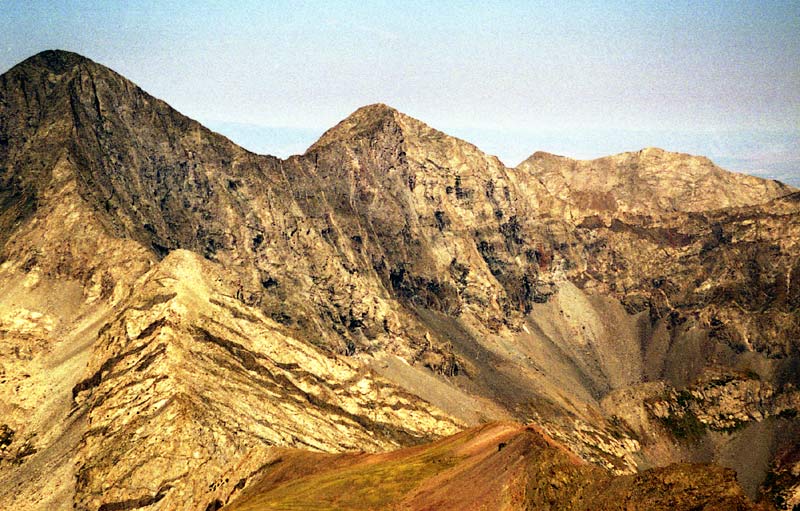 To get an idea of where we were, here is a picture taken from Mount Lindsey on a previous expedition looking towards Blanca and Ellingwood. Blanca is on the left and Ellingwood is the lesser peak in the middle. From this perspective, it is easy to see why Blanca is only approached from the west by the casual mountaineer. The eastern approach is only for the seasoned climber! Continuing up the connecting ridge, we finally reached the summit of Ellingwood, about two and half hours (and 2 miles) after leaving Lake Como.
Ellingwood Point Summit Experience
We spent about 15 minutes soaking in the awesome view from Ellingwood Point. This was my 19th Fourteener, Eric's 23rd, and Sara's 33rd peak. The sunshine was very warm and there was little if any breeze. We made sure to sign the trail register, apparently the first to summit this day. Only one other person was on the summit while we were there, although some others were on their way.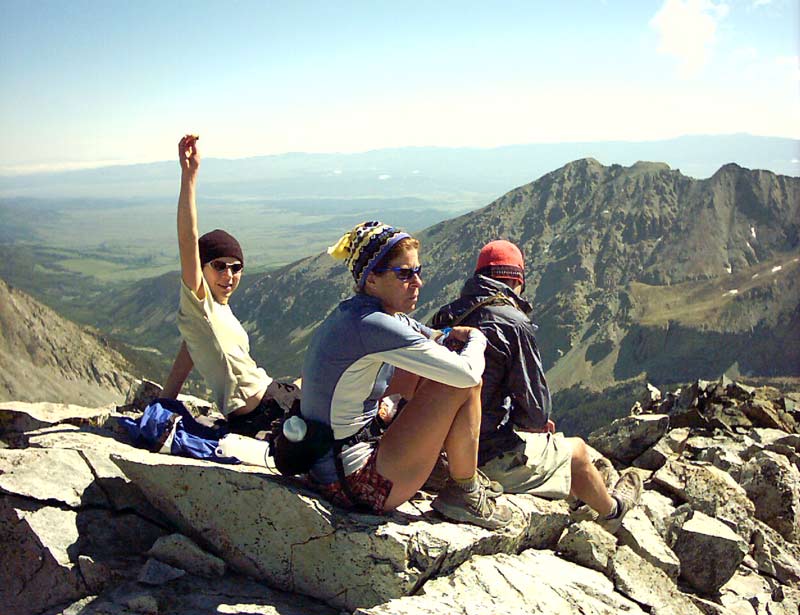 To get the full immersive experience, I've prepared a 360 degree panorama, viewable either as a picture or with a panorama viewer:

W N E S
Click on the panorama to see the full size [810 Kb].
Or you can view it interactively using this panorama viewer [2.48 Mb -- warning, this will take a while to load on a modem connection].
If you have trouble viewing this file, you can also download this executable, save it to your desktop, then double-click on it to view the panorama. The executable file contains a viewer that should work regardless of your web browser.
From left to right, the main features are:
1. San Luis Valley to the West, as well as several canyons
2. The Great Sand Dunes National Monument to the Northwest
3. The Crestone Group are in the far distance to the North
4. Mount Lindsey lies to the Southeast
5. Blanca Peak lies due South
6. and Little Bear, arguably Colorado's hardest 14'er lies to the Southwest at the edge of the panorama. Needless to say, we were not even thinking about crossing the astonishing connecting ridge to bag Little Bear -- that will have to wait for a separate expedition when we have much more rock climbing experience.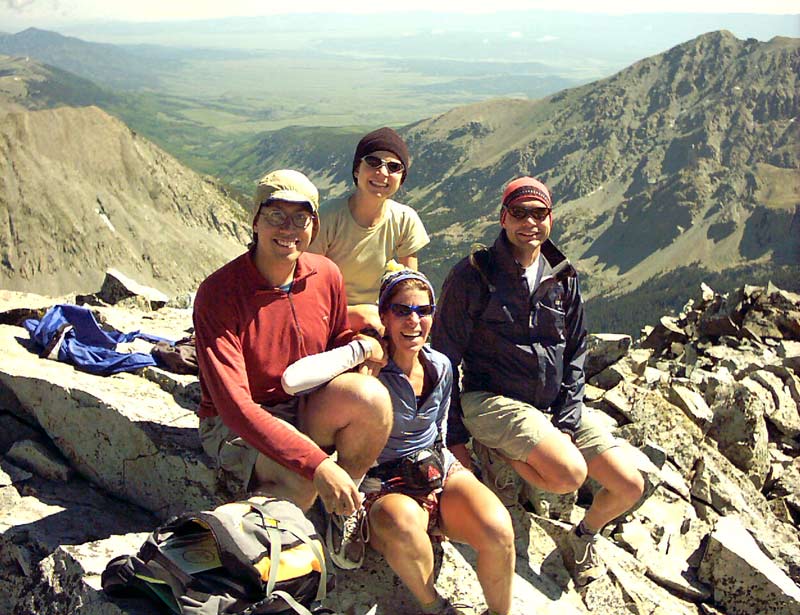 From here we spent some time contemplating Blanca's unbelievably steep north face. It was hard to imagine how we were going to get up it. In reality, it is not as bad as it looks, although it is definitely imposing. The rock up the ridgeline is surprisingly solid. The actual tricky part is near the low point of the saddle -- some class 3 scrambling is required to get across about 100 feet below the actual saddle. Then after a short scree climb, we just climbed up the ridge to Blanca's summit.

Traverse to Blanca Peak
After about an hour and a half of some careful route-finding, we powered up Blanca's steep northeast ridgeline and summitted about about Noon. Several other groups were already up there.

Blanca's imposing north face as viewed from Ellingwood Point, half a mile away and 300 feet lower.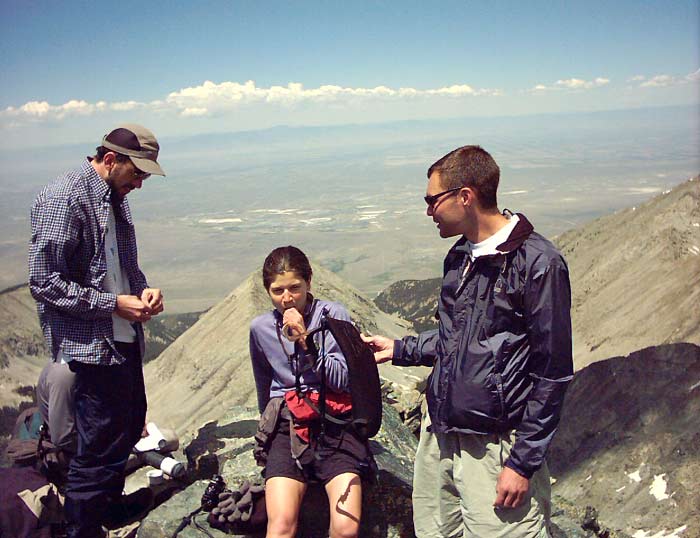 Sara is hydrating atop Blanca.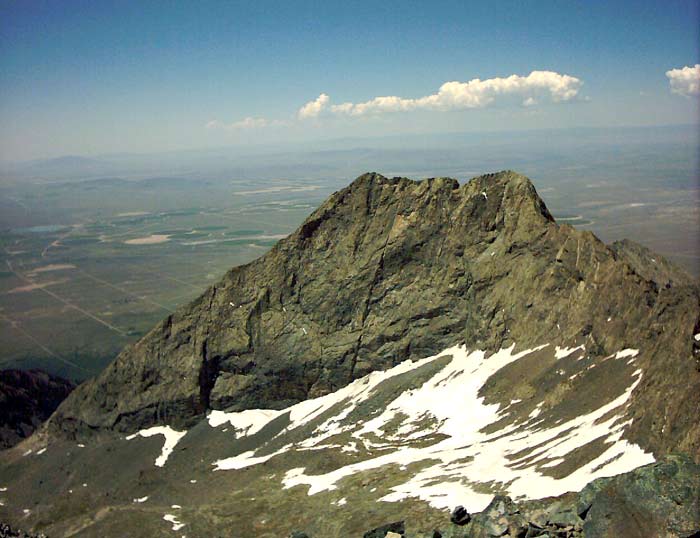 This is the view of Little Bear from Blanca's summit. From this picture it is easy to see why it has the reputation is does.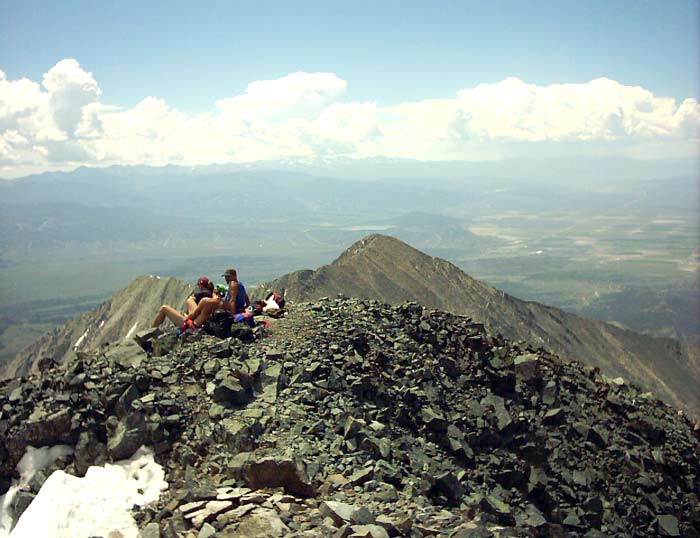 This is the view from Blanca's summit looking south. The southern approach is actually not very difficult but there is no trailhead and the land is private property.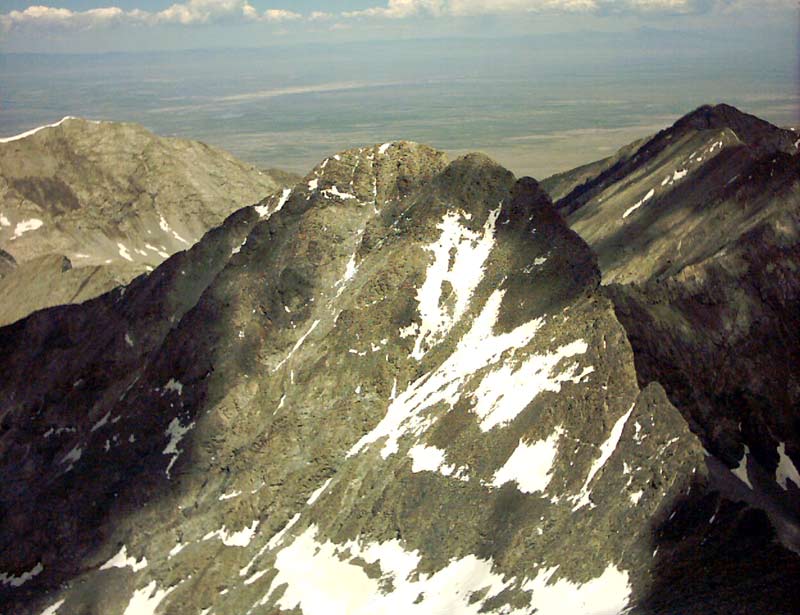 And this is the view of Ellingwood Point from Blanca's summit. More than 300 feet smaller, Ellingwood is still impressive. We ascended from the main snowfield in the center bottom up towards the ridge on the right and then along the ridgeline to the summit. The class 3 traverse across the saddle to Blanca is also partly visible. I had to take a major detour around the steep snow gully due to the large 50 foot notch in the ridgeline on the right hand side.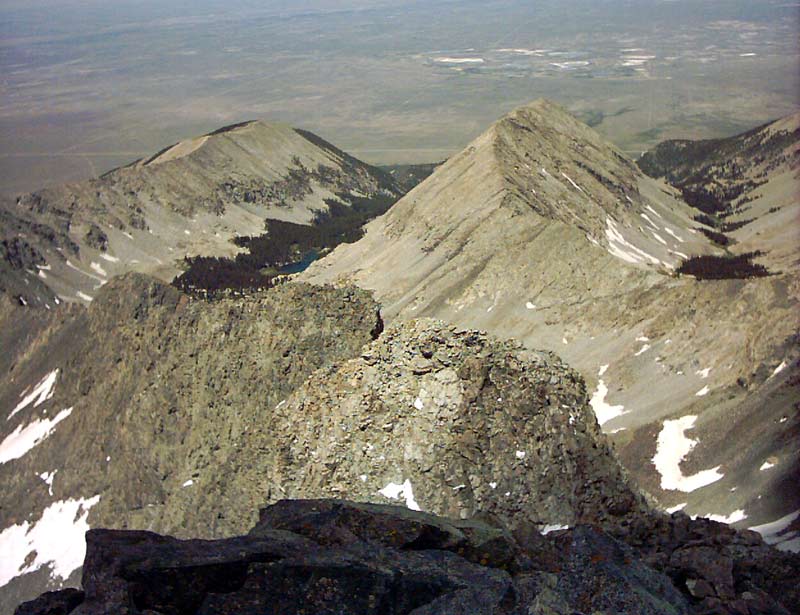 This last picture looks down the Lake Como Basin (can you see Lake Como?) through Chokecherry Canyon and down to the desert floor. Somewhere down there is the car! Only 8 miles and 6600 vertical feet!

The weather at the top was very mild with light winds. The temperature was about 46 degrees. Low clouds covered the Plains to the East due to a cold front which had moved through previously. While we were on the summit, an amazing event occurred. A huge parcel of air came up from the valley right past the summit forming an instant cloud which grew and billowed upward for thousands of feet -- all in the course of a few minutes. I took a couple video clips which may be viewed using Windows Media Player. If using a modem, the broadband version will take very long, so a reduced-quality dial-up version is available:
Clip 1: Broadband [2.10 Mb] or Dial-up [176 Kb]
Clip 2: Broadband [1.97 Mb] or Dial-up [180 Kb]
These files are in Windows Media Player format, so they should load automatically if you're on a Windows computer. There is no sound (in case you were expecting some).
Descent
By this point, I had used up all the memory in my tiny Aiptek camera, so I have not pictures to show of the descent. It was much faster going down than up, especially because I was able to slide down several hundred vertical feet on some snowfields, which was a blast. About an hour and 45 minutes later, I cruised back into Lake Como and started to pack up. After a snack, we headed down to the car.
I reached the bottom in an additional hour and 42 minutes, or at about 3:30 pm. For the last two to three miles and 2000 vertical feet, the car is visible from time to time, which is a bit discouraging. Not until the last mile do you start to feel that it is close. But if you pay attention, hot summer afternoons tend to breed a variety of dust devils out in the valley. These can be entertaining to watch as they take your mind off your aching feet.
Everyone was down by 4:30 pm, so by 5 we were on the road. About this time, some incredible storms built over the entire Sangre de Cristo range, and various circulations were kicking up dust across the San Luis Valley, making the drive home a little more interesting.
Statistics
If we had done this as a day hike, it would have been a VERY long grade III hike (very few of the 14'ners have a standard approach which is grade III). Over the two days (roughly 24-h), we put in 7700 feet of vertical climb and between 17 to 18 miles! Some of us may have gotten ourselves into Class 4 rock below the saddle, but the actual route is only Class 3 in that one spot, and Class 2 elsewhere in the upper basin. All told, this was a fantastic workout and a great climb. Someday we will have to come back and climb Little Bear.