Hurricane Katrina Impacts
Landfall in South Florida
The center of Katrina touched land at 6:30 PM EDT (Aug 25, 2005) on the Miami-Dade County/Broward County line. The official estimate put the storm's maximum sustained winds at 70 kt (80 mph), putting Katrina as a Category 1 hurricane at landfall. The eye of the hurricane passed just to the northwest of the National Hurricane Center / Miami WFO, which recorded a minimum pressure of 984.5 mb at 9 PM (EDT). Many residents and media have remarked that the winds were worse than what they expected from a Category 1 hurricane. This is consistent with the observation that hurricanes which are intensifying at landfall often pack a stronger punch (stronger gusts) than a storm that is of steady or decreasing intensity at landfall.
A total of 11 deaths have been blamed on the storm -- mostly due to driving around during the storm (falling trees). A couple deaths were from people in or near a marina during the storm. A missing boat with five aboard was reportedly found safely.
Public Information Statements from Florida (IWIN)
Wind across South Florida (taken from various sources, some probably not at standard heights)
sustained gust location
95 mph Key Biscayne
92 mph Port Everglades
87 mph Virginia Key
87 mph National Hurricane Center / Miami National WFO
60 mph 82 mph Fort Lauderdale International Airport
81 mph Tamiami Airport
60 mph 78 mph Miami International Airport
36 mph 43 mph West Palm Beach International Airport
Katrina did not weaken as much as expected as it moved across the swampy Everglades, with maximum sustained winds only dropping to 70 mph. As it moved off the peninsula, it began a period of intensification, bringing strong sustained winds to Key West. A NOAA ship in the harbor reported sustained winds of 59 mph with a gust to 86 mph.
Due to the slow storm motion and unusual southwest track across South Florida, the storm dropped prodigious amounts of rain in the regions that were raked by the south part of the eye. Miami reported a daily record 4.18" the day of landfall, but Key Biscayne, Homestead, Cutler Ridge, and areas in the Everglades experienced much heavier rain. The Everglades Station (EARF1) reported about 29" in 7 hours (and a total of 33" in 20 hours). The peak 1-h rainfall accumulation during this time was 7.2"/h. NEXRAD radar-derived precipitation totals showed a swath of 20+" rainfall in this area, so the measurement may be real, although the official post-storm report has discounted this station. Brian McNoldy produced a time series plot of the rainfall accumulation.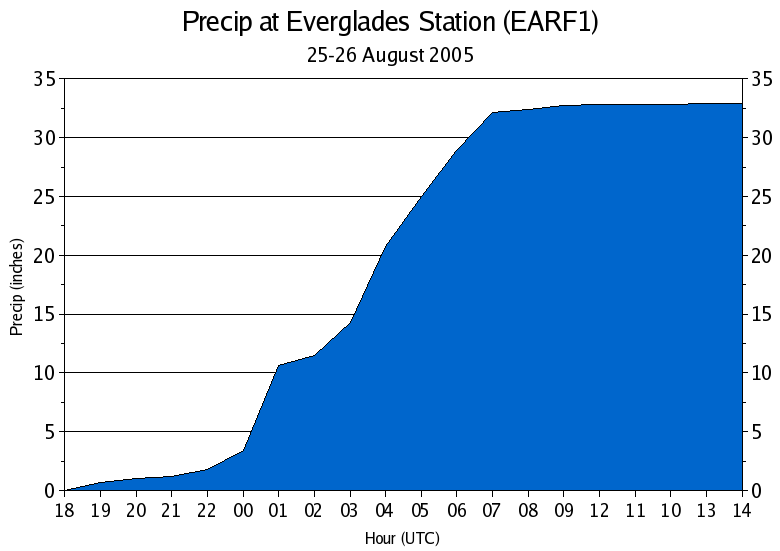 ---
Landfall in SE Louisiana and Mississippi