Skiing at Telluride
March 23, 2009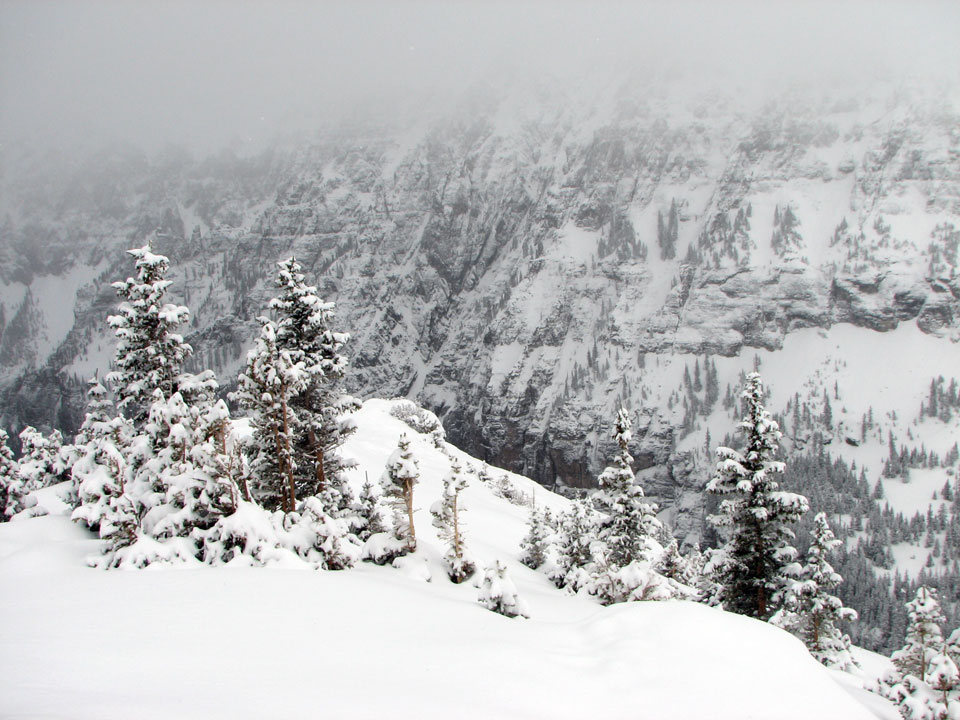 People in this trip report: Michael Campbell and Jonathan Vigh
This trip report features photos from a day of skiing at the amazing Telluride Ski Resort. This report includes 47 pictures and 4 short video clips. Enjoy!
This trip report was posted July 21, 2009.
---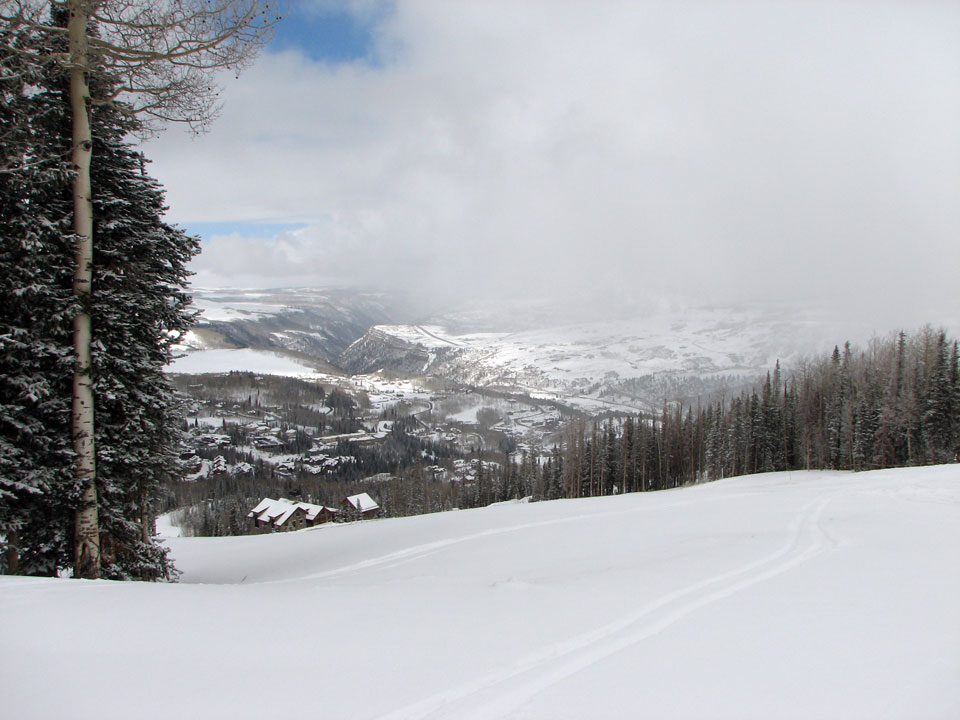 Getting warmed up for the day - yesterday's ice and slush at Beaver Creek stripped the wax off my skis, so they barely had any "go" speed in today's heavy powder. I went down to the base and the kind folks at the ski shop gave my skis a free hot belt wax - they glided much better after that! That made my day right there - isn't Telluride a great place?!
---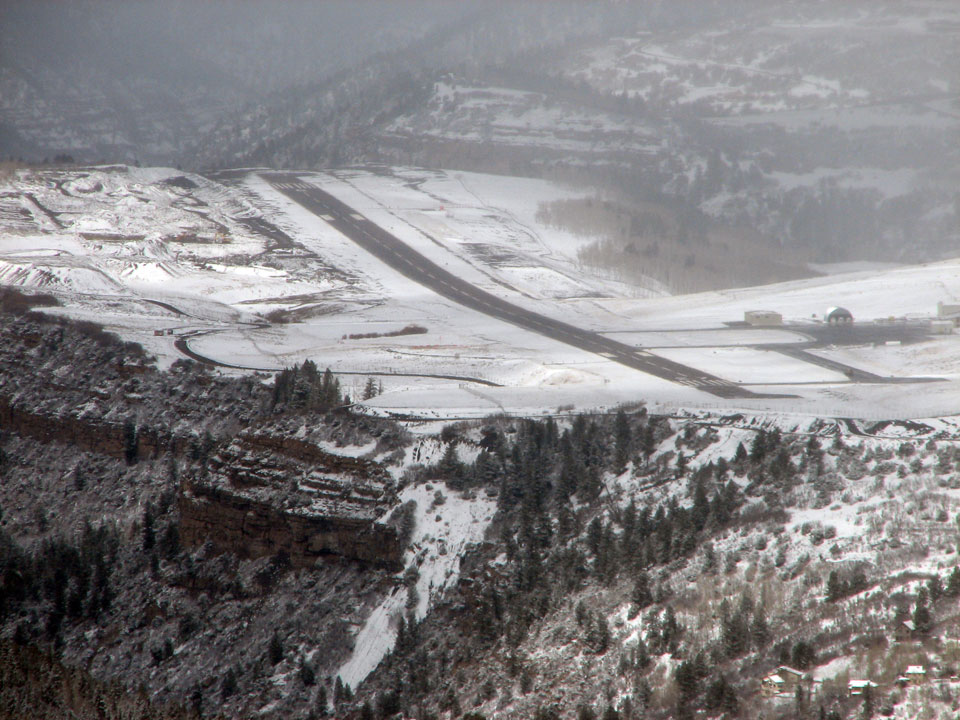 Telluride's airport is the highest commercial airport in the United States, and the 8th highest commercial airport in the world (elevation: 9078 feet). It is located on top of a mesa, with a big drop-off at the end of the runway and a dip in the middle! You can fly into this airport on commercial carriers during ski season, but I think most of the traffic is private jets of the rich and famous. The common folk mostly fly into Montrose or Grand Junction.
---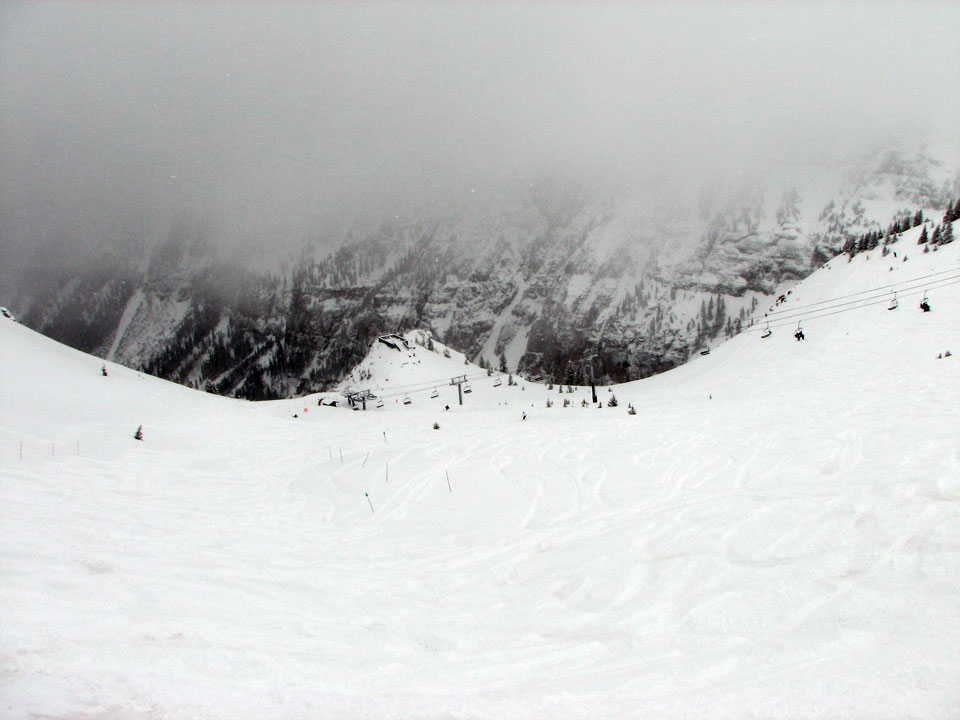 Looking down into Revelation Bowl on a "flat light" day.
---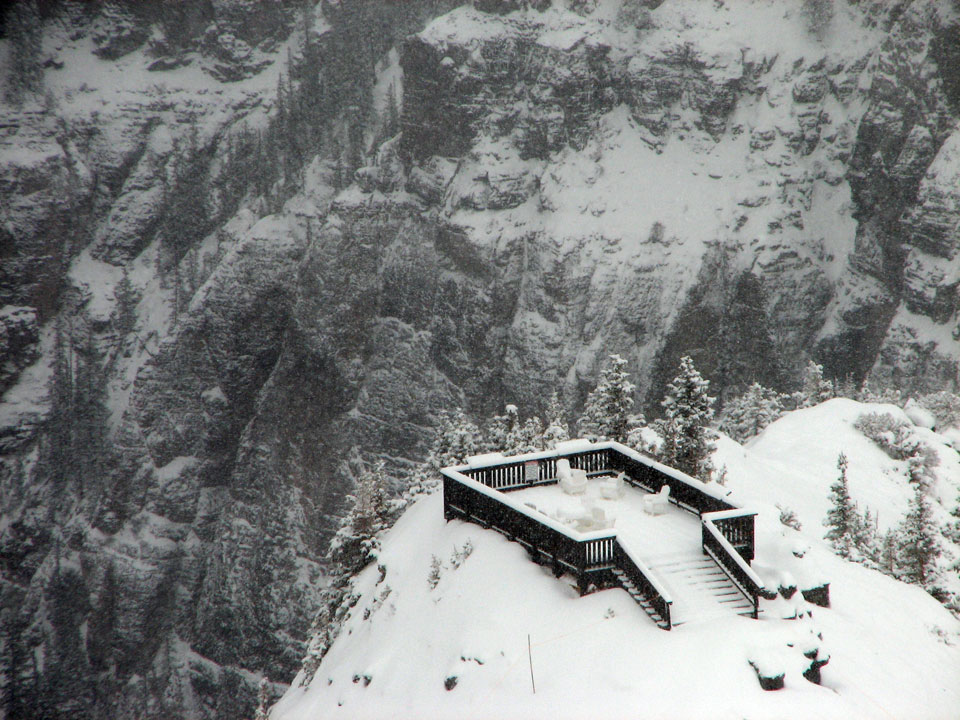 Bear Creek Overlook - we headed straight here for lunch (we got a bit of a late start).
---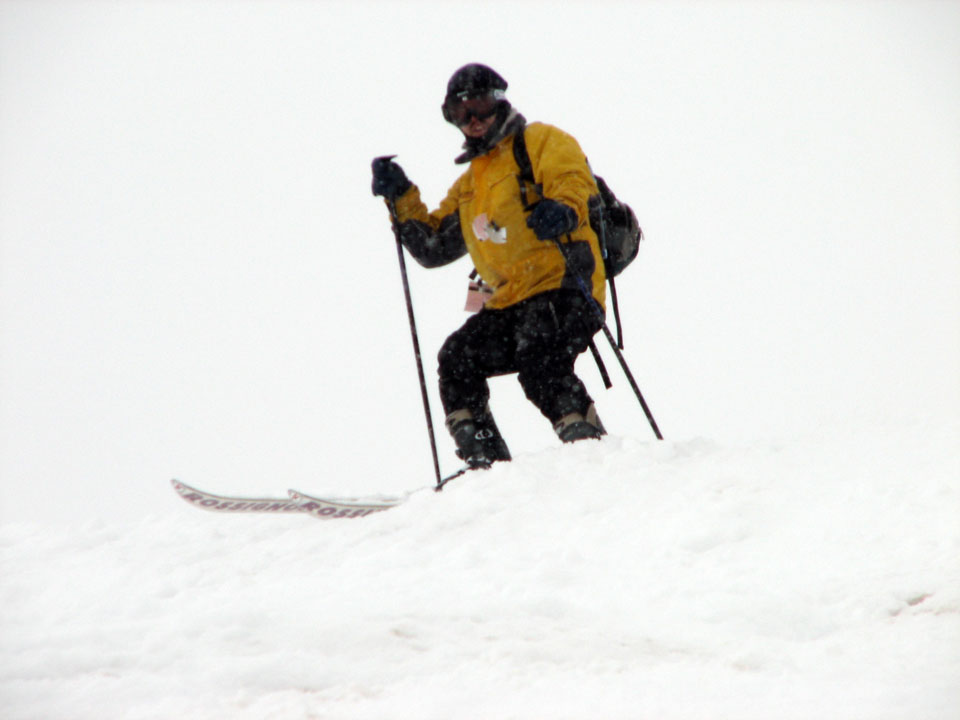 Michael perches on the precipice.
---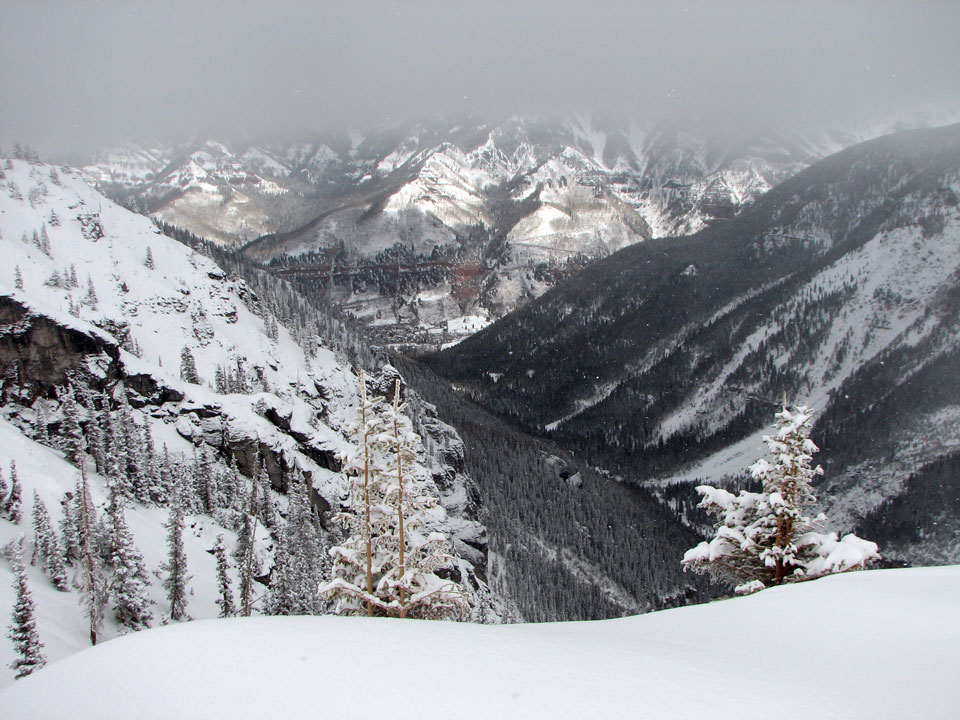 Telluride has some of the most amazing mountain scenery of any ski resort in the world! This is the view from the Bear Creek Overlook.
---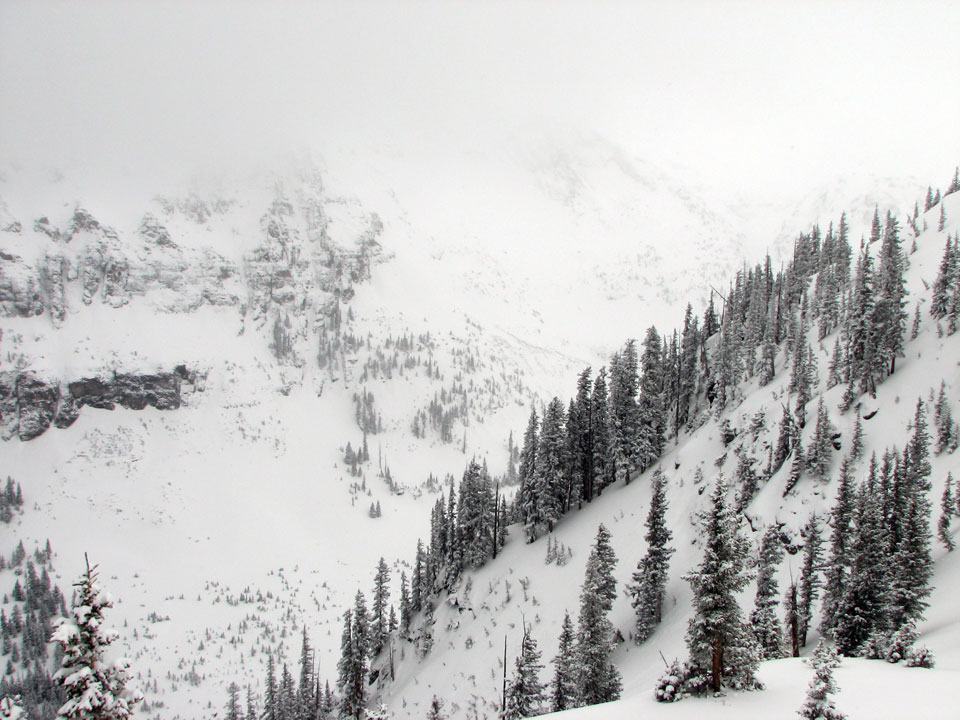 This is outside the ski boundary folks - but looks like some amazing steeps! Not sure, but there might be unskiable cliffs below.
---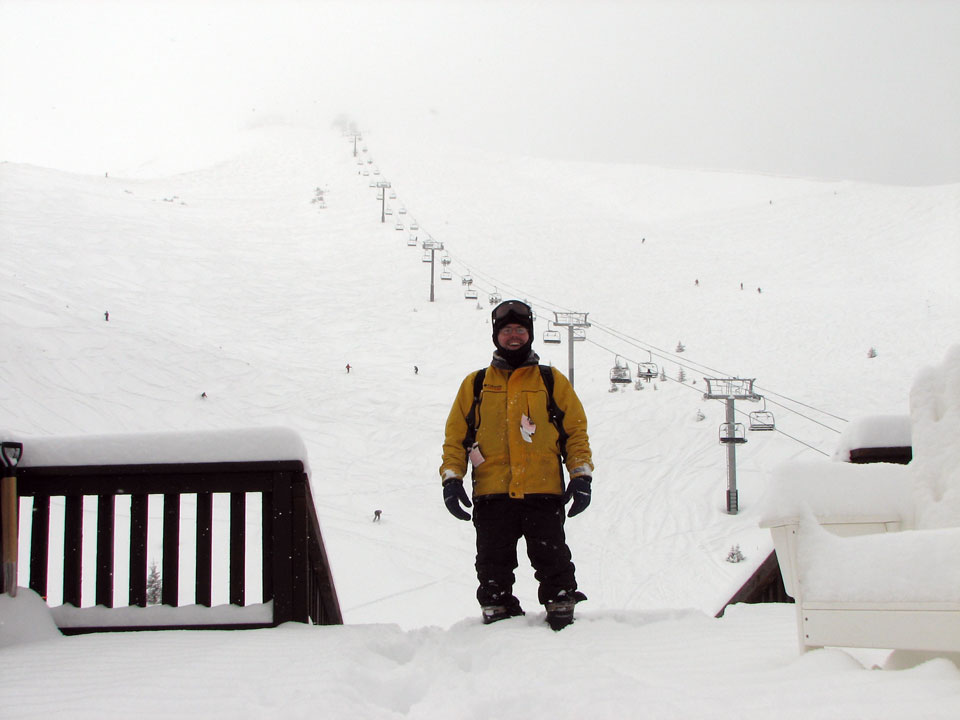 It's a little climb to get up to the overlook - tricky in snow boots!
---
---
---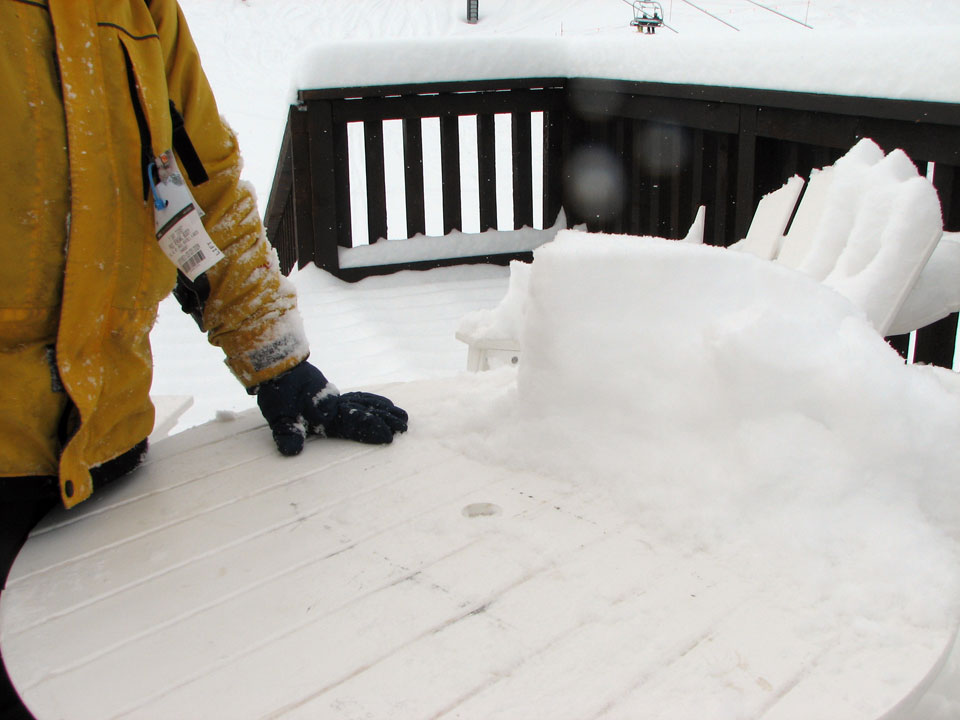 Before eating lunch, we had to clear away the 10-14" of fresh snow. What a chore . . .
---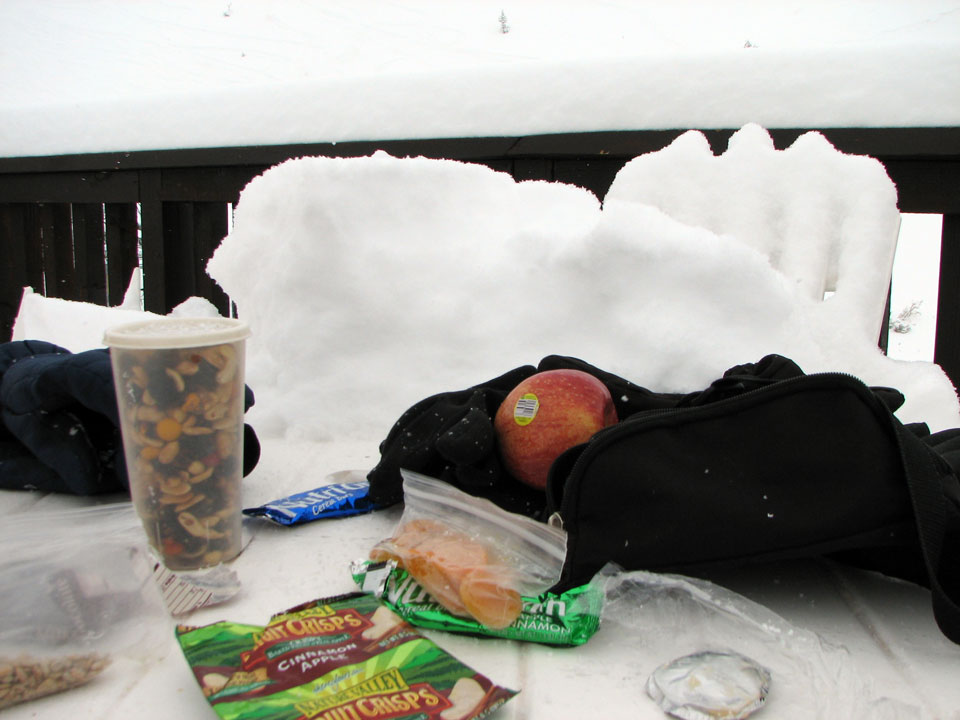 Mmmm, snacks make the ski day better!
---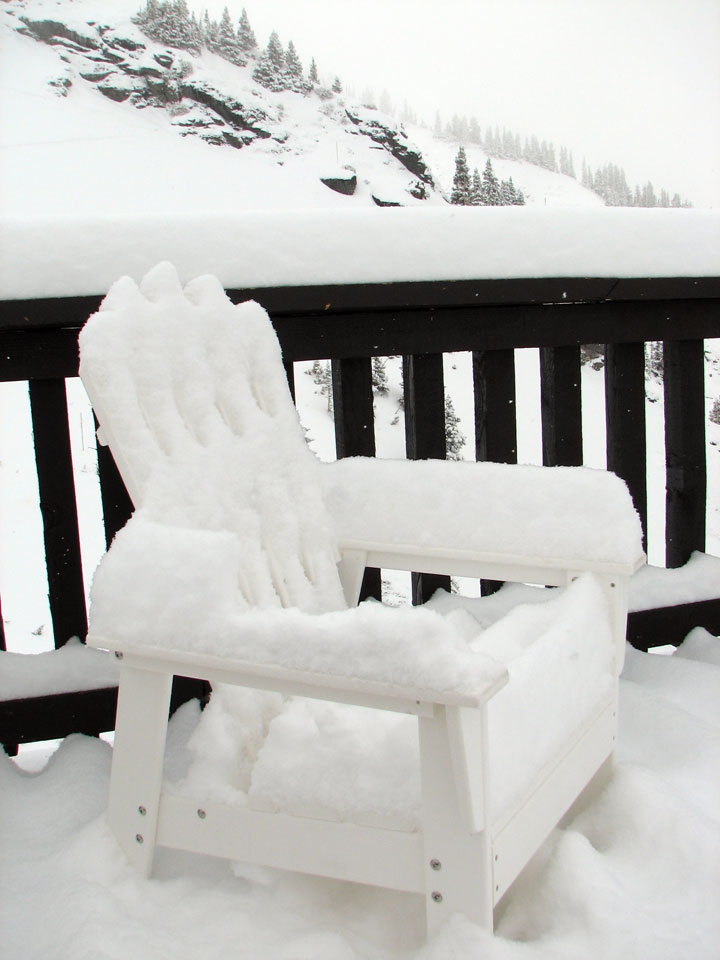 Plenty of seats available here! We were the only ones taking lunch at the overlook.
---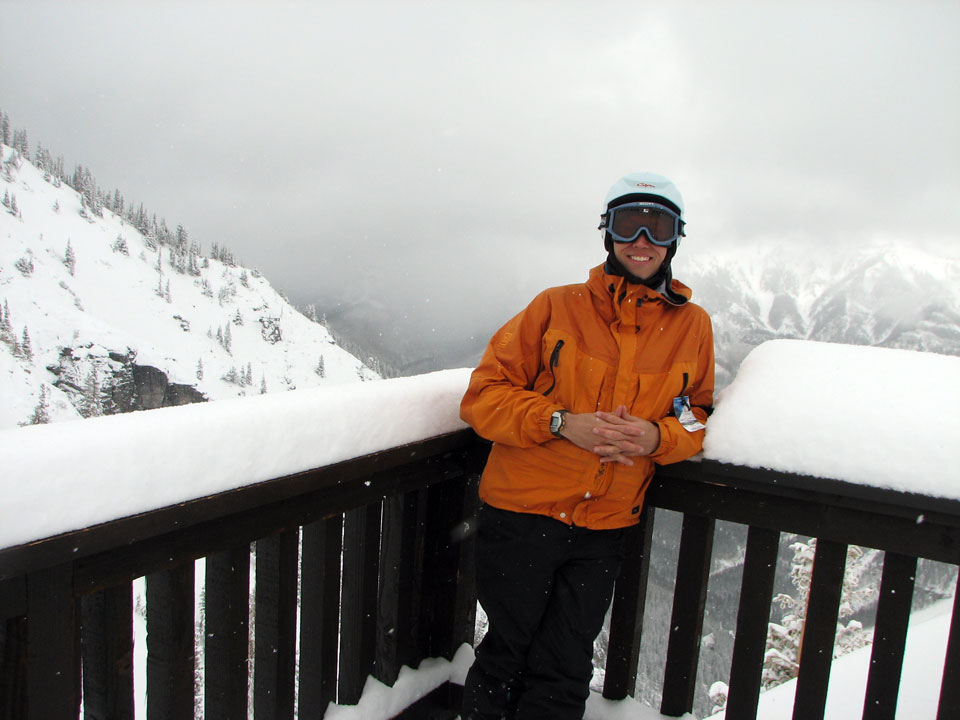 Yours truly.
---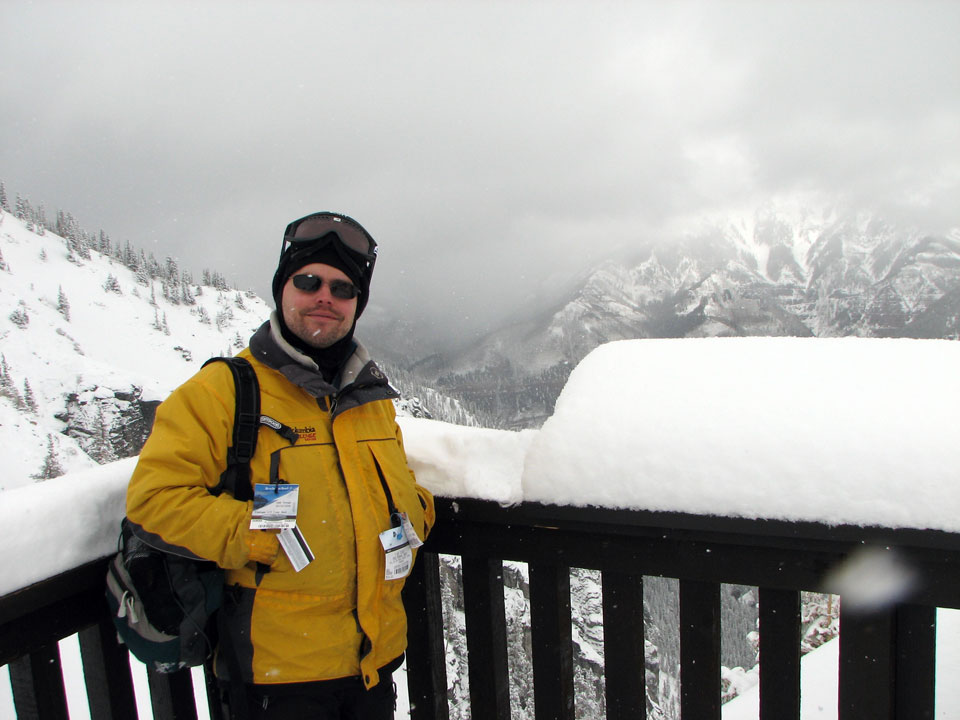 The skiing gangsta' pasta'.
---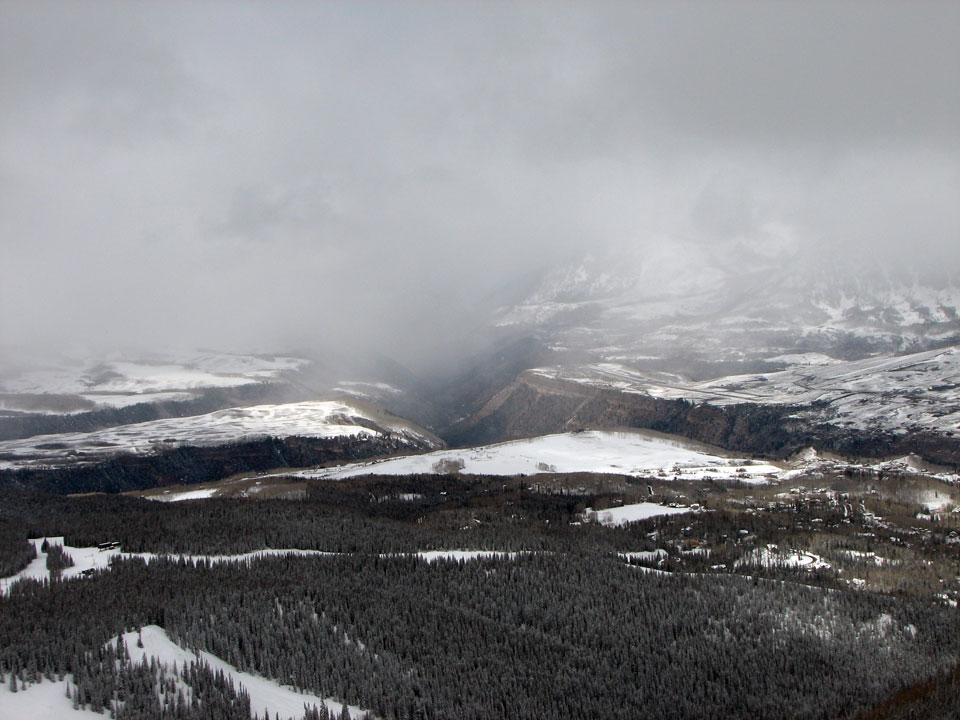 The ultra-rich live in the outlying parts of Telluride, somewhere on these mesas.
---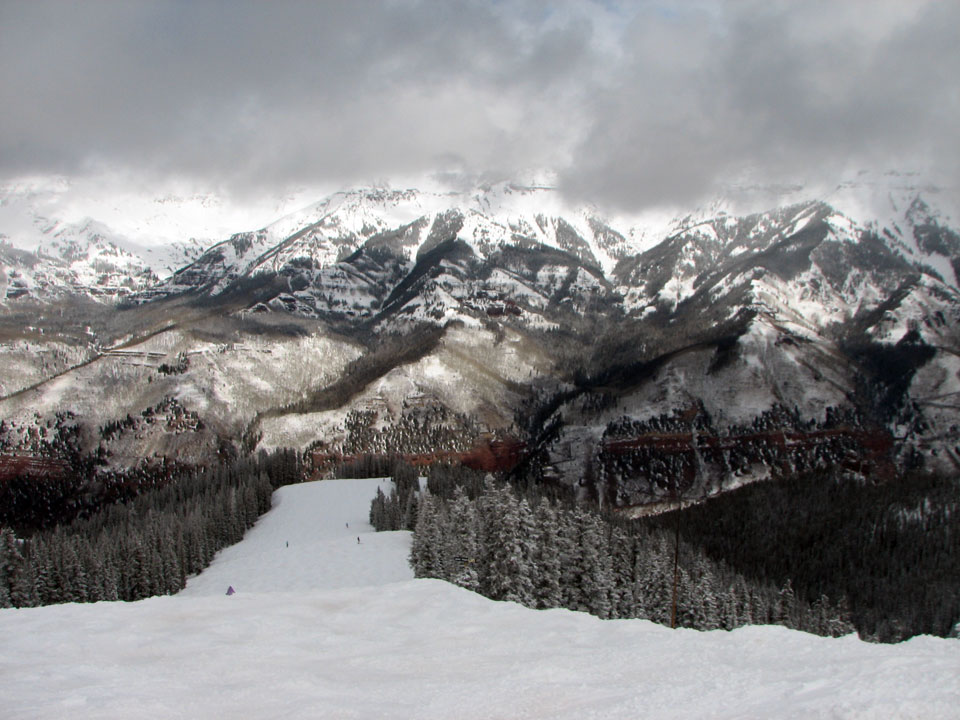 See-Forever. This is the side of the mountain which goes down towards the town of Telluride.
---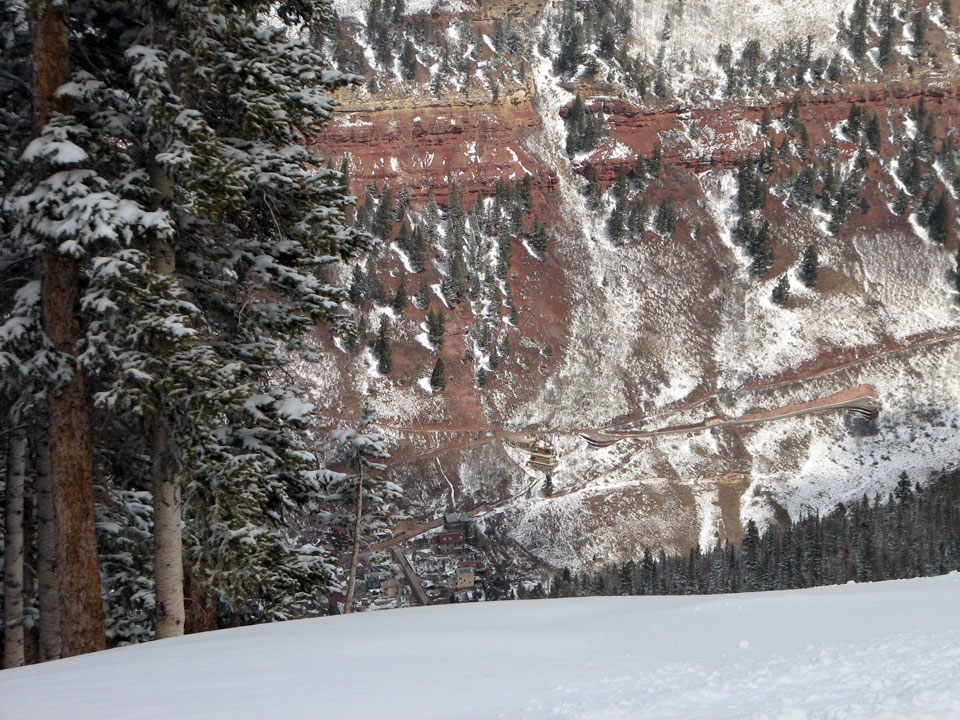 There's the town, yep, right down there! If it looks steep, that's because it is! You can ski all the way down to the town.
---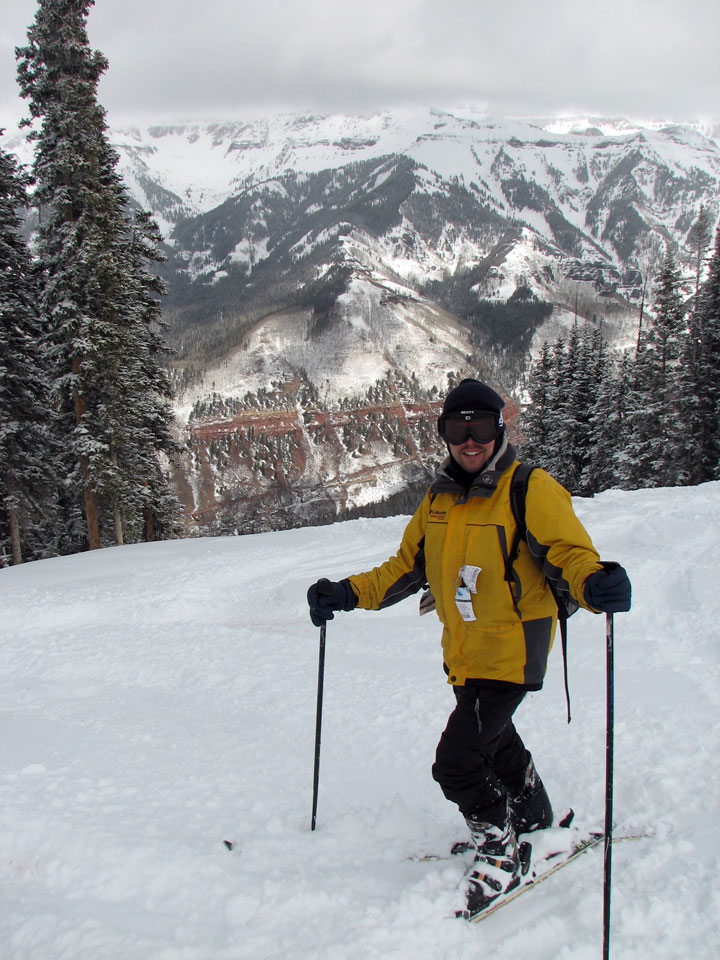 Michael strikes a pose before we start down 2000 vertical feet of moguls.
---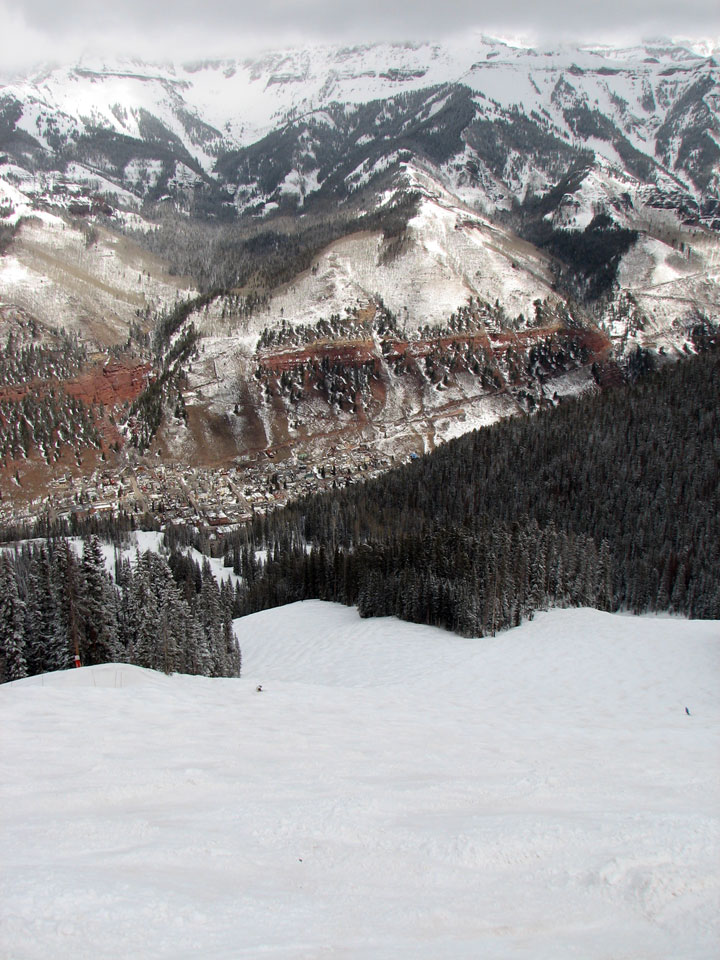 Looking down 'The Plunge' (I think).
---
Telluride is a mountain with views that take your breath away at just about every turn.
---
Looking down onto the town of Telluride (from the top of Bushwhacker). This view could give you vertigo! And yep, we skied down it.
---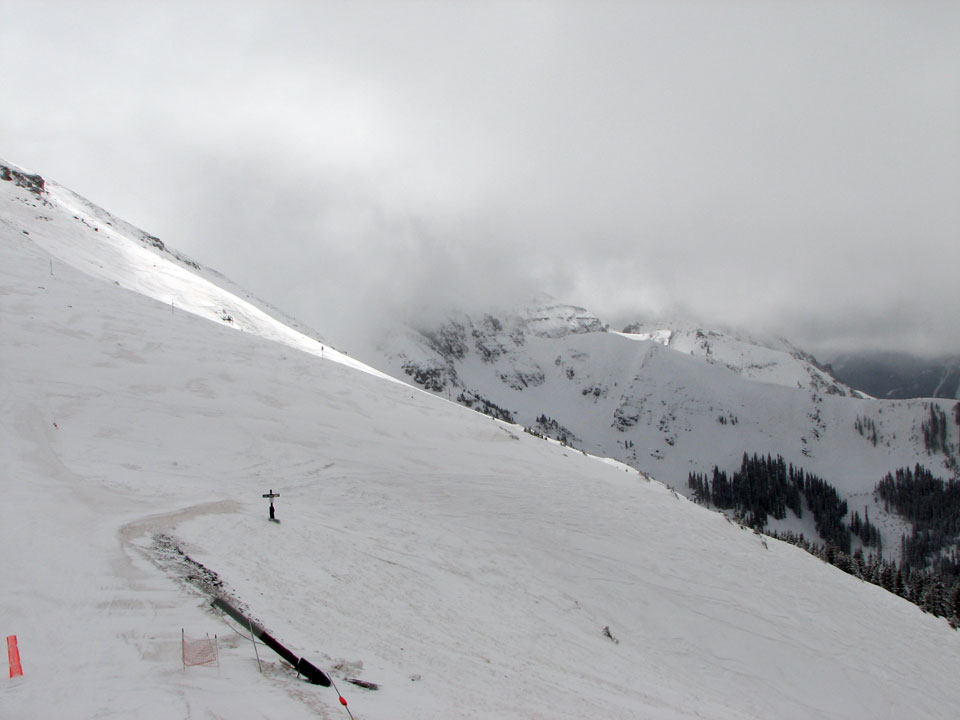 We decided to head over to Andy's Gold for a little double black diamond action.
---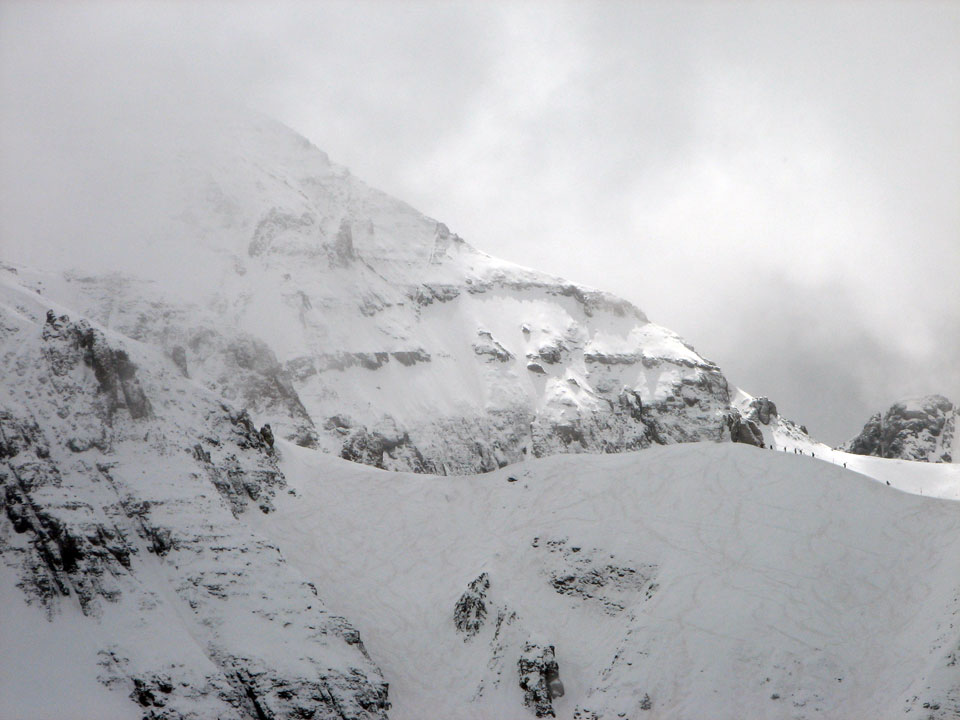 Looking over to the shoulder of Palmyra Peak (El. 13,320 feet). When the snow conditions are right, you can actually climb all the way to the top and ski down.
---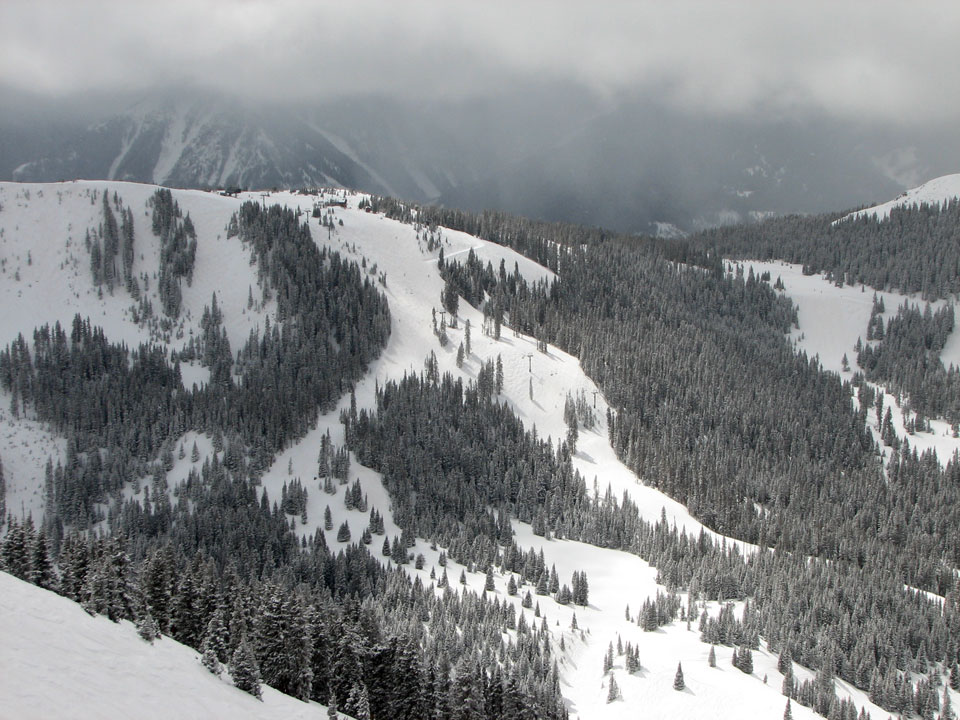 Looking across Prospect Bowl from near the top of Gold Hill Express lift.
---


Here's a short video clip of heading over to Andy's Gold.

File size: 14.2 MB Length: 0:52

Unfortunately, it turned out that the 10-14" of fresh snow that fell last night and today was on top of bare ground here (the base had recently melted). So some nasty rocks were hiding underneath, and I had to get my skis repaired (for $43) after we were done today. I wanted my skis to be good for the powder at Vail tomorrow!
---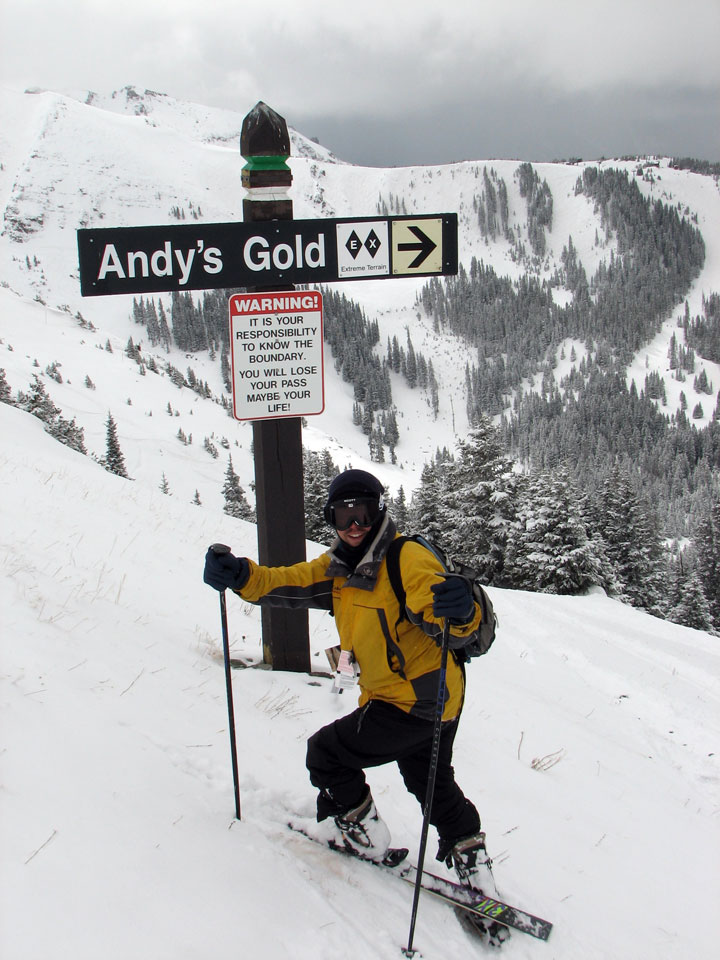 And here it is, not only double black, but double black ET (extreme terrain) - kinda like triple black.
---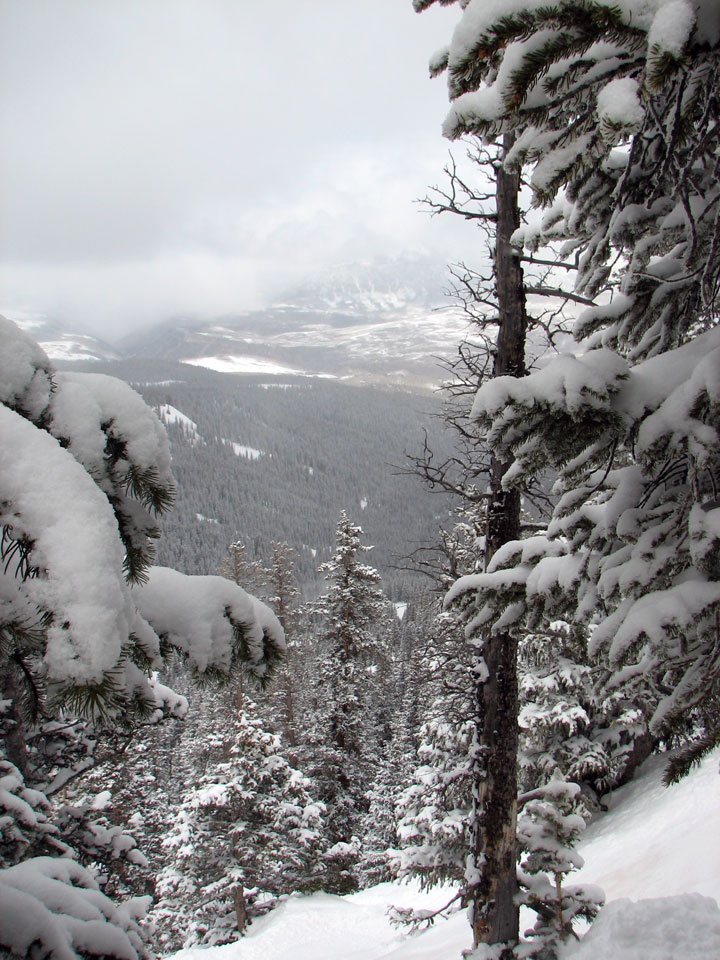 Solitude - there weren't many people on this part of the mountain.

---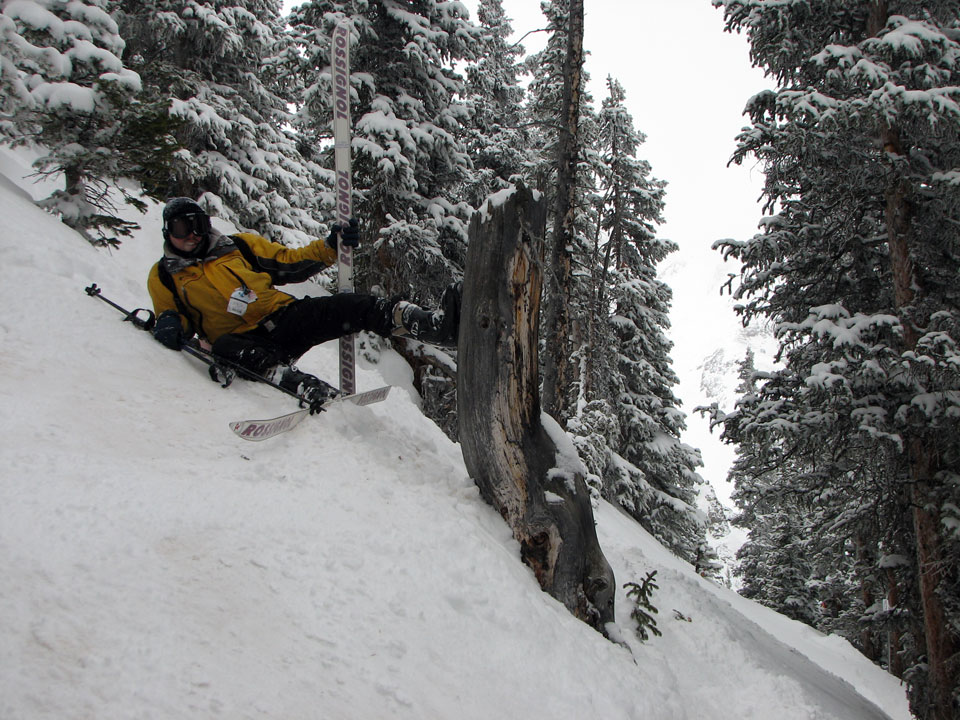 Michael had a humorous fall, getting caught between the stump and a steep place!
---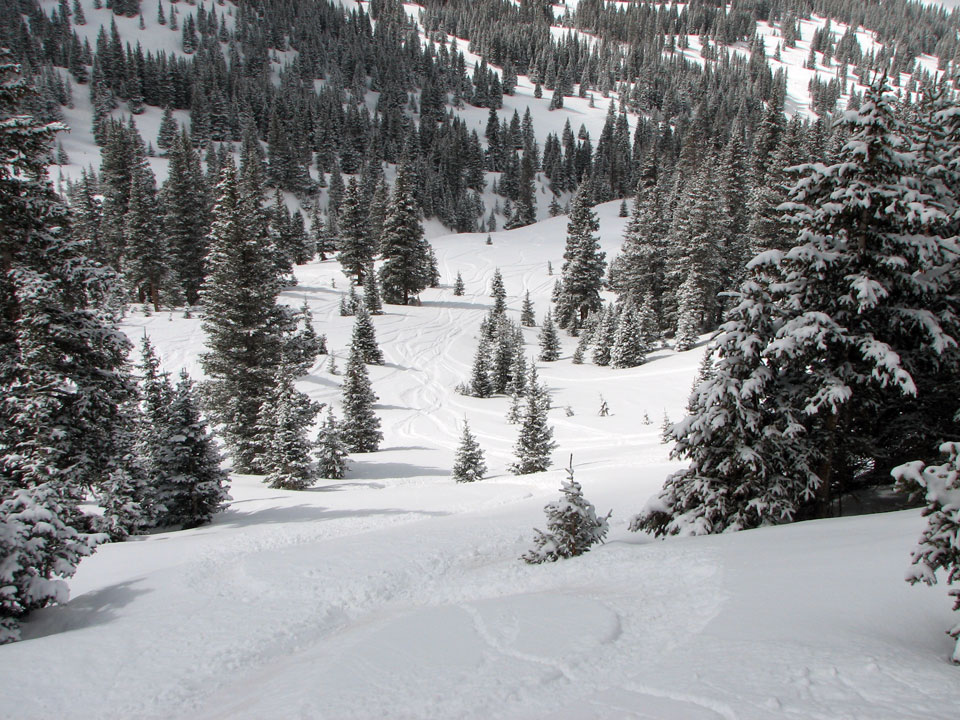 Fresh tracks in the middle of the afternoon - is this heaven or what?
---
In this short video clip, we are heading down into Prospect Bowl in some nice powder!
File size: 17.9 MB Length: 1:04
---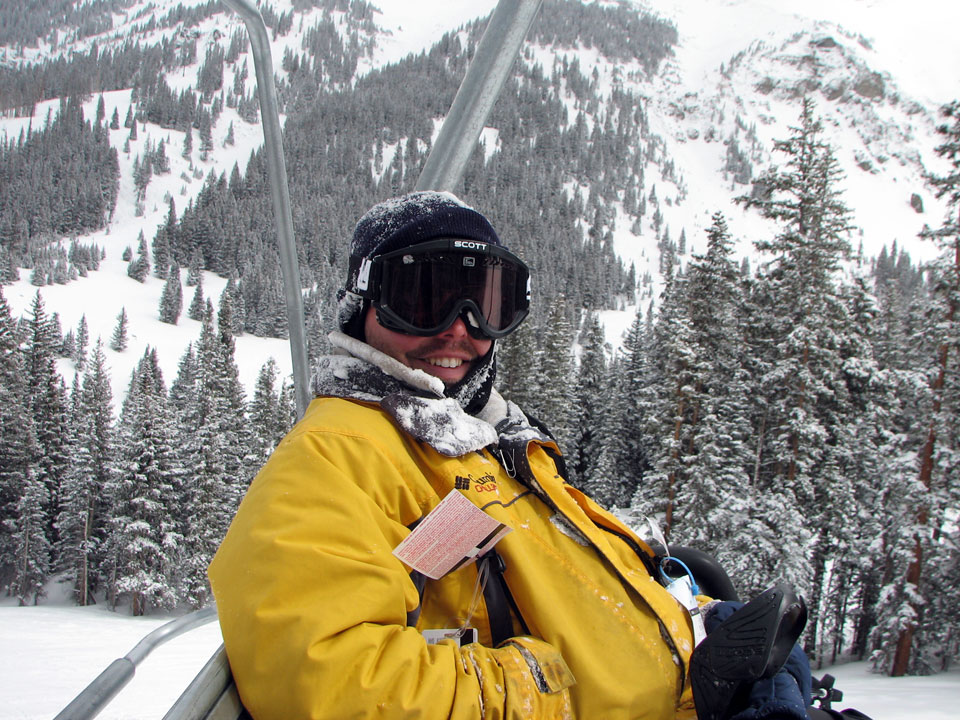 Recouping on the lift and deciding where to go next.
---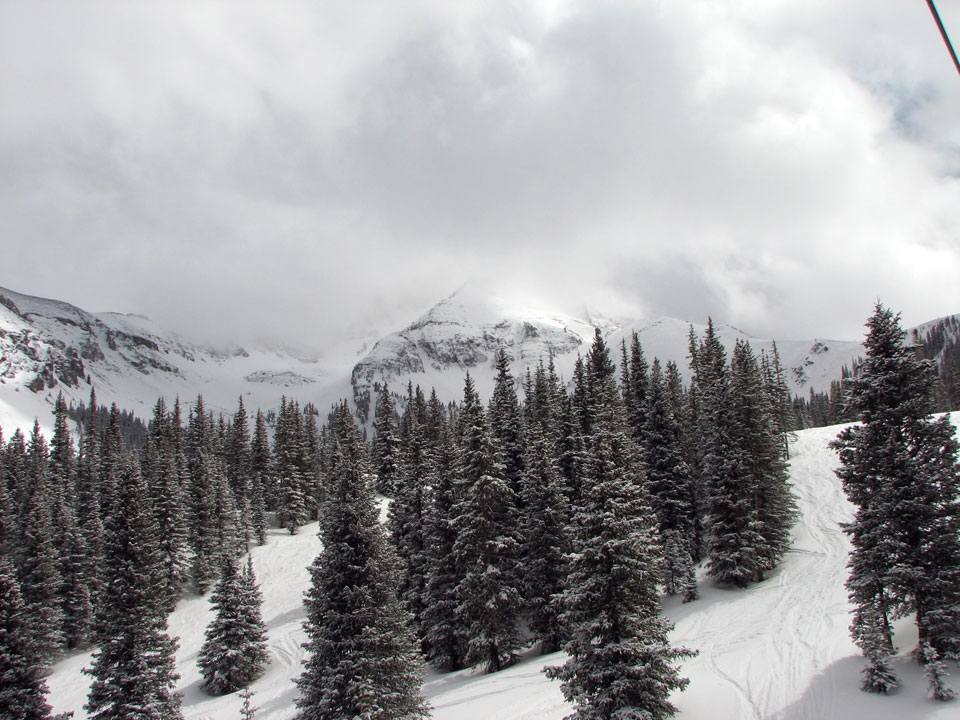 Looking up toward Palmyra - she was being shy today.
---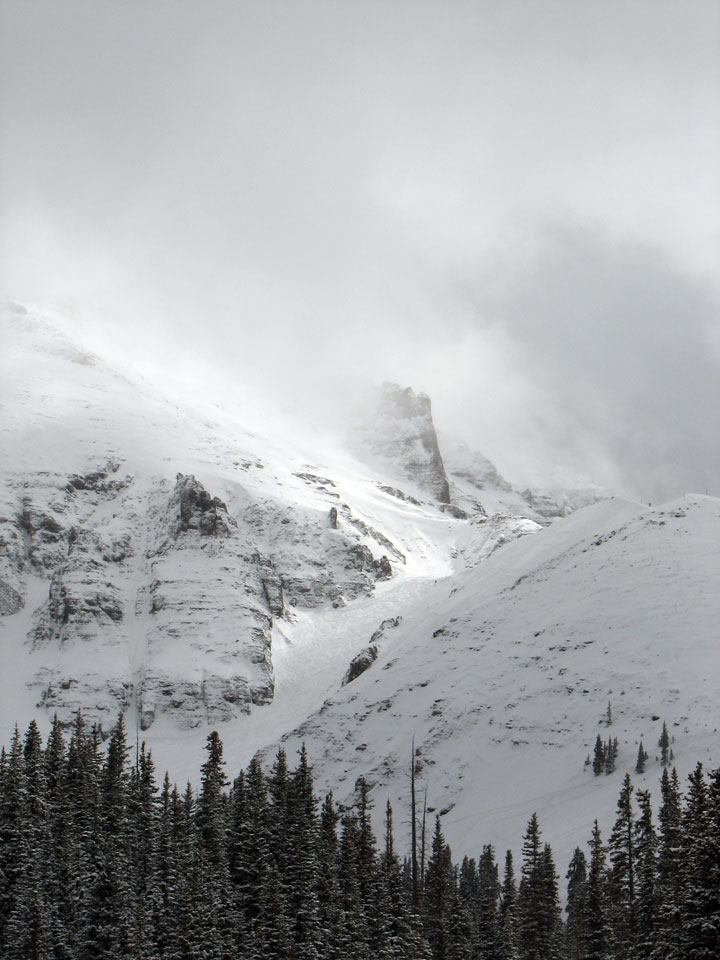 I need to come back here when there's more snow and try her out!
---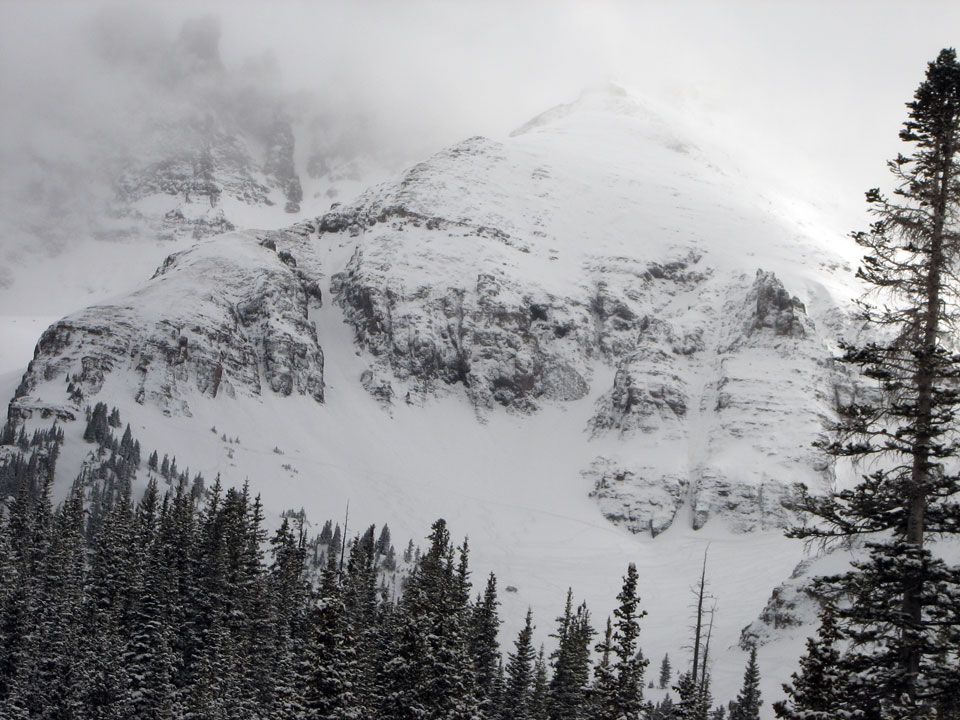 Well, there's not too many ski areas on the continent with scary mountain views like THIS, right above where you're skiing. (Sunshine and Lake Louise, up in Alberta, come close though).
---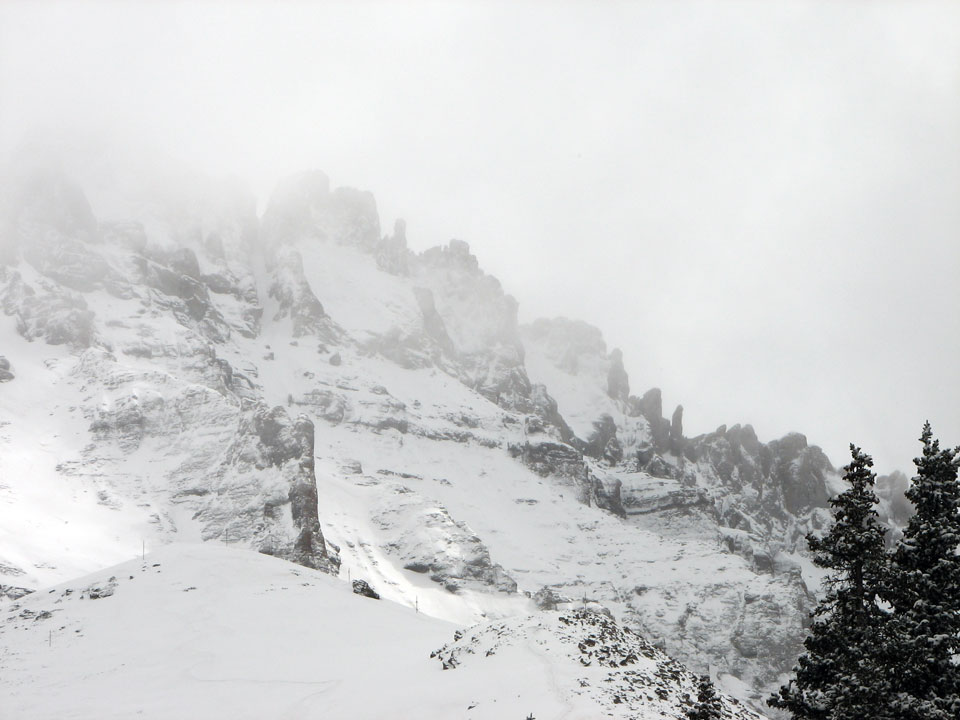 Pretty craggy! I'm not sure where you're supposed to ski down this - maybe the far left?
---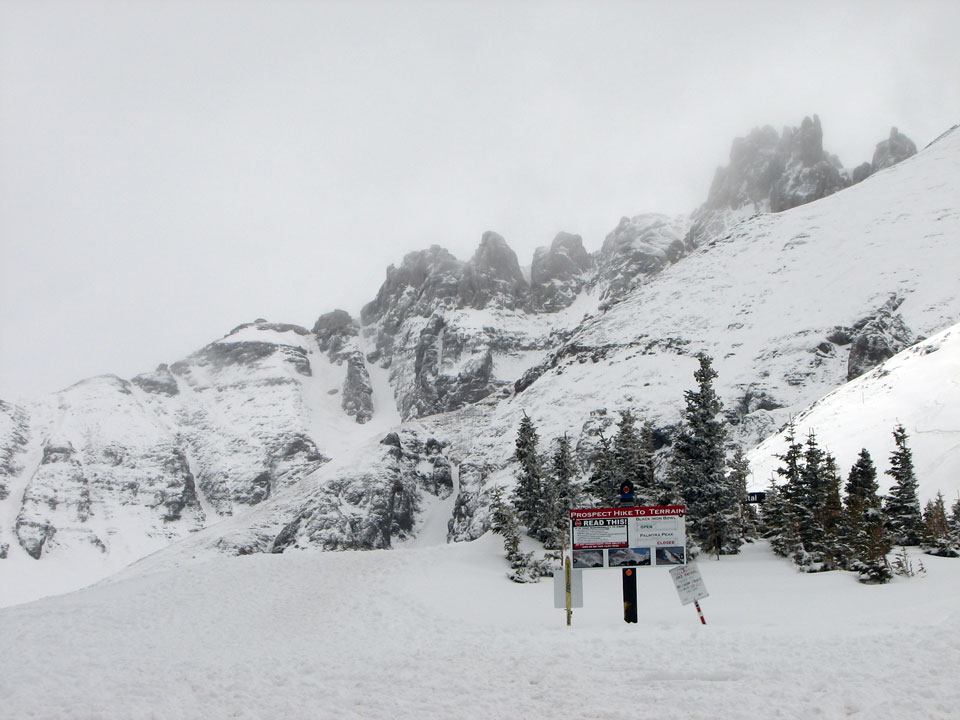 Here's where you start hiking to go up Palmyra Peak - about a 1500 foot climb which takes maybe an hour to an hour and half - or you can also hike just a few minutes to Black Iron Bowl.
---
We are heading back down towards Bushwhacker and The Plunge on See-Forever. Time to get back to Montrose - Michael was really tired, so I took one last speed run down Bushwhacker.
File size: 12.2 MB Length: 0:44
---
But first another neck-craning view! Telluride, you're an amazing little town! About 3000 people are lucky (or rich) enough to live here.
---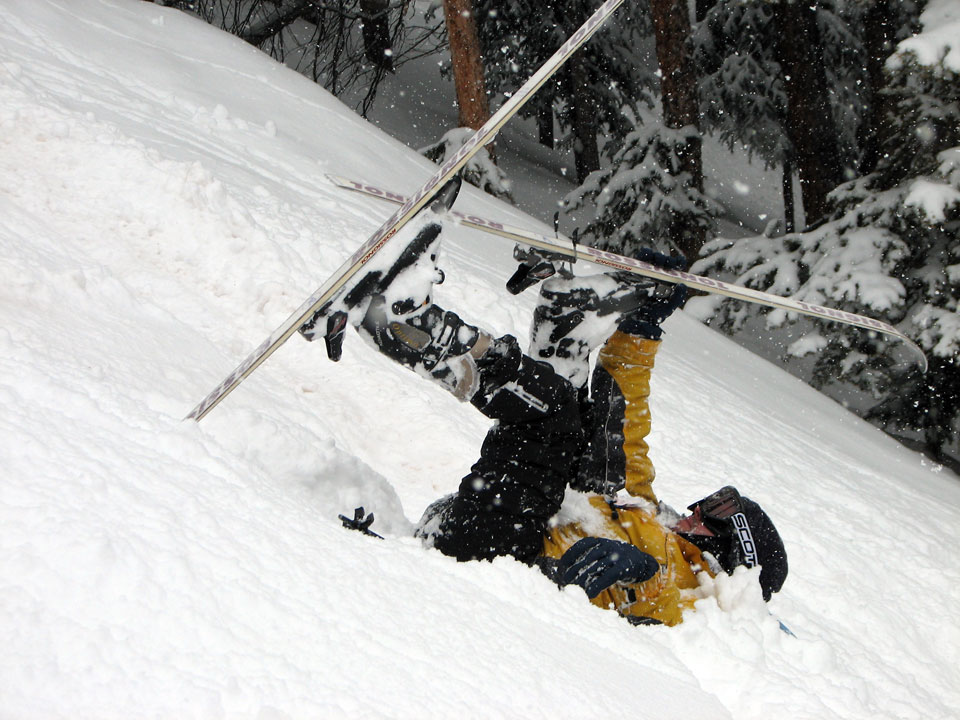 Can't say this is the most graceful way to go down steep slopes - but hey, whatever works!
---
Here's a very short clip of Michael demonstrating the "Turtle Back" technique!
File size: 3.9 MB Length: 0:12
---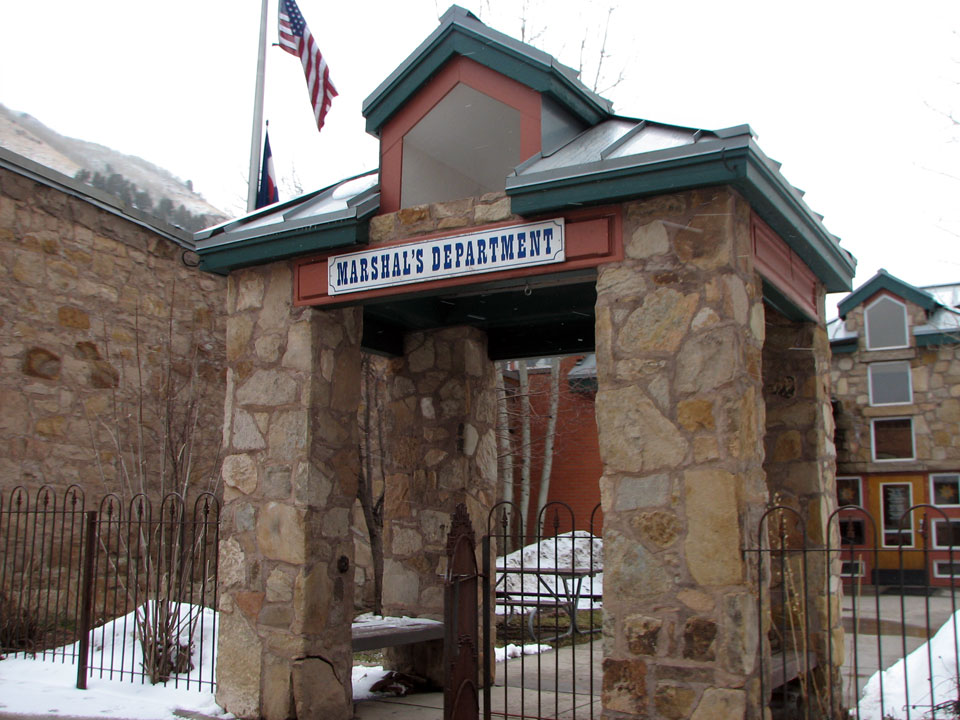 They want to make sure the citizens here are law abidin'.
---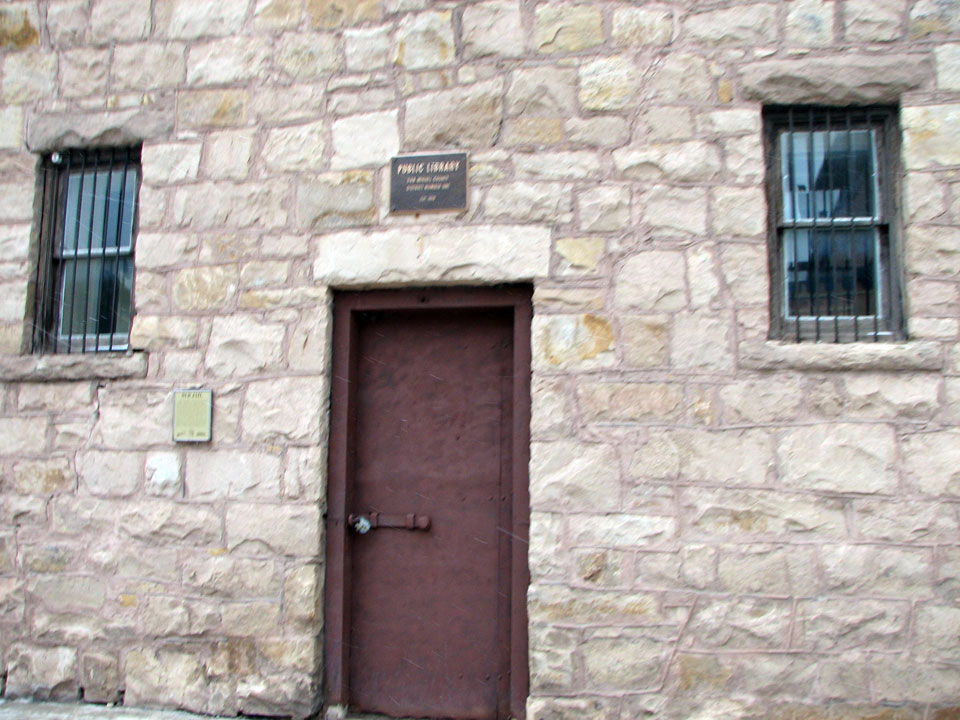 The town library was locked up - I guess they just want you to ski in this town!

Wait - actually, this also looks like the town jail! I guess when you're a small town, it's more efficient to have multiuse buildings. So at least the inmates are getting some book learnin'.
---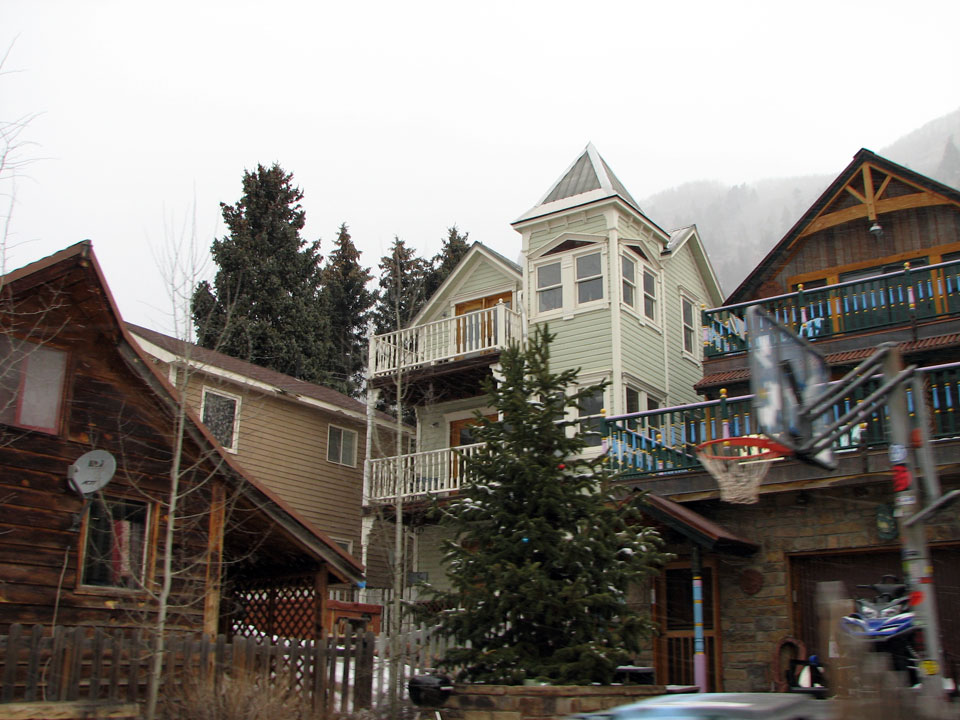 After skiing, we went through town for a little house hunting - figure it's never too early to start, right? Telluride has the most expensive real estate in Colorado, with an average price of $3,000,000. Once I get a couple businesses off the ground and make a few million in the stock market, I too can live here!
---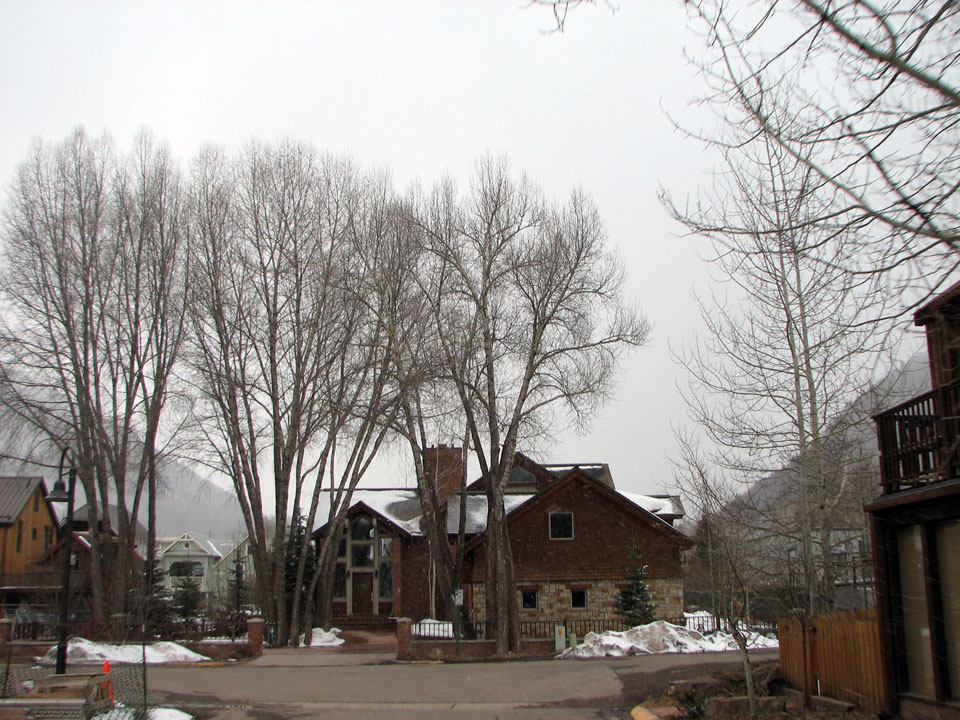 Actually, the average house price is skewed upwards by the $15,000,000 homes owned by all the movie stars. I'm sure the home prices here in town are a bit less.
---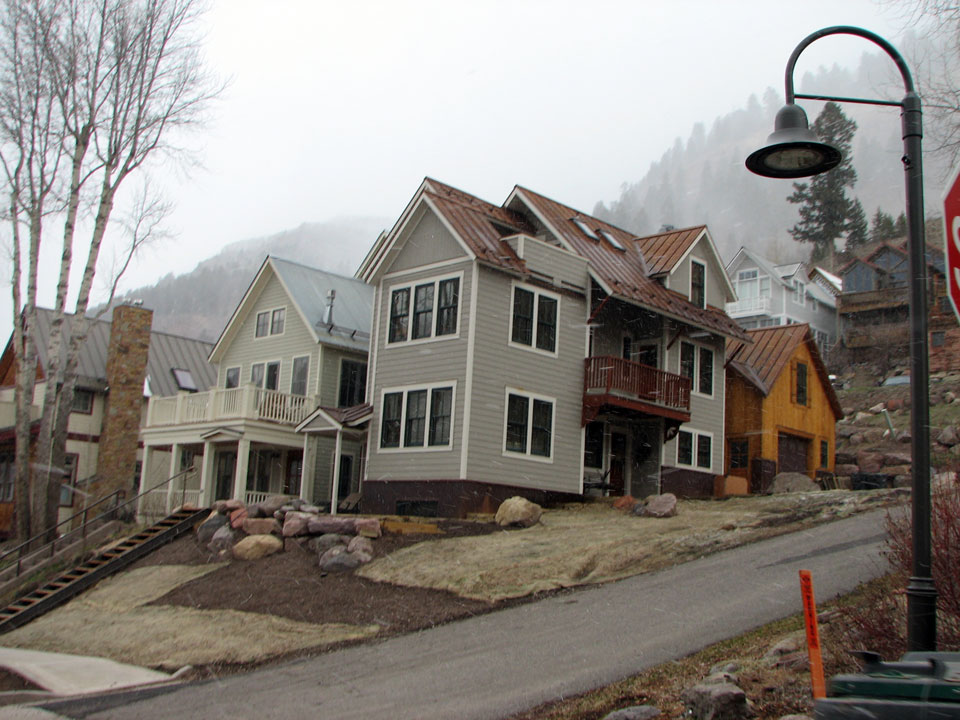 But the yards are so small!
---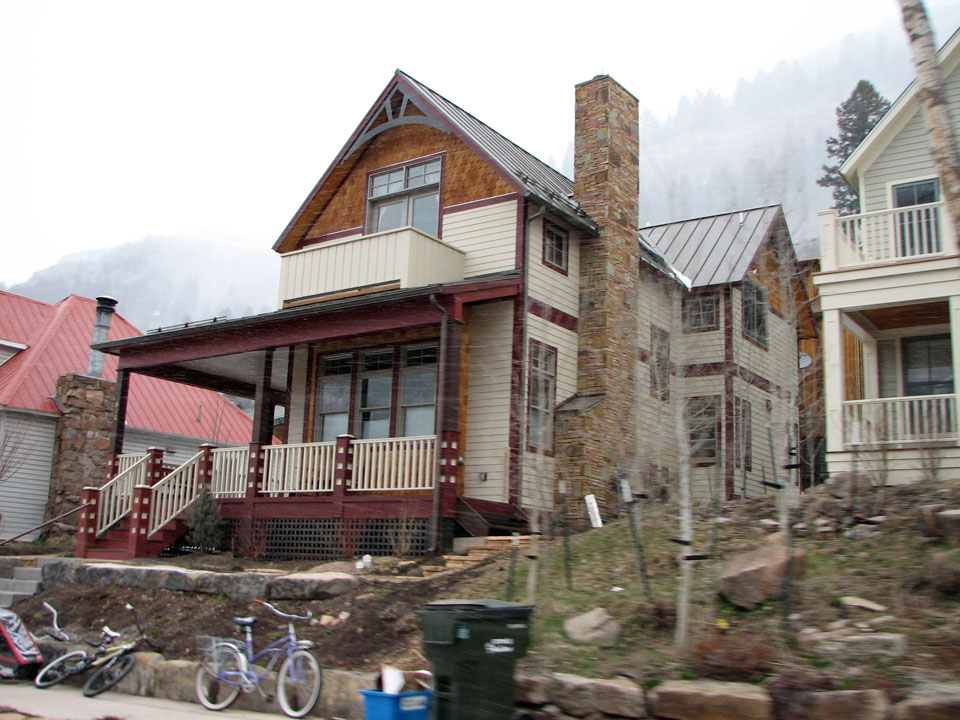 At least there's not much to mow. And you're really close to your neighbors - hopefully they're friendly folk.
---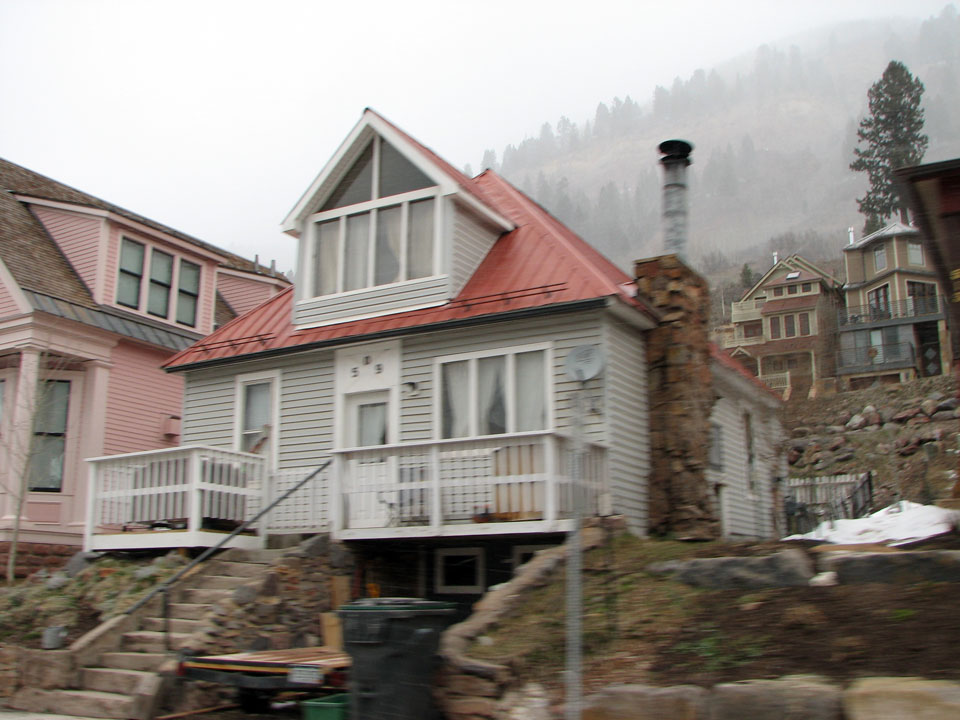 Note the avalanche arresters on the roof - this keeps people from getting buried when they walk out their front door (it happens!).
---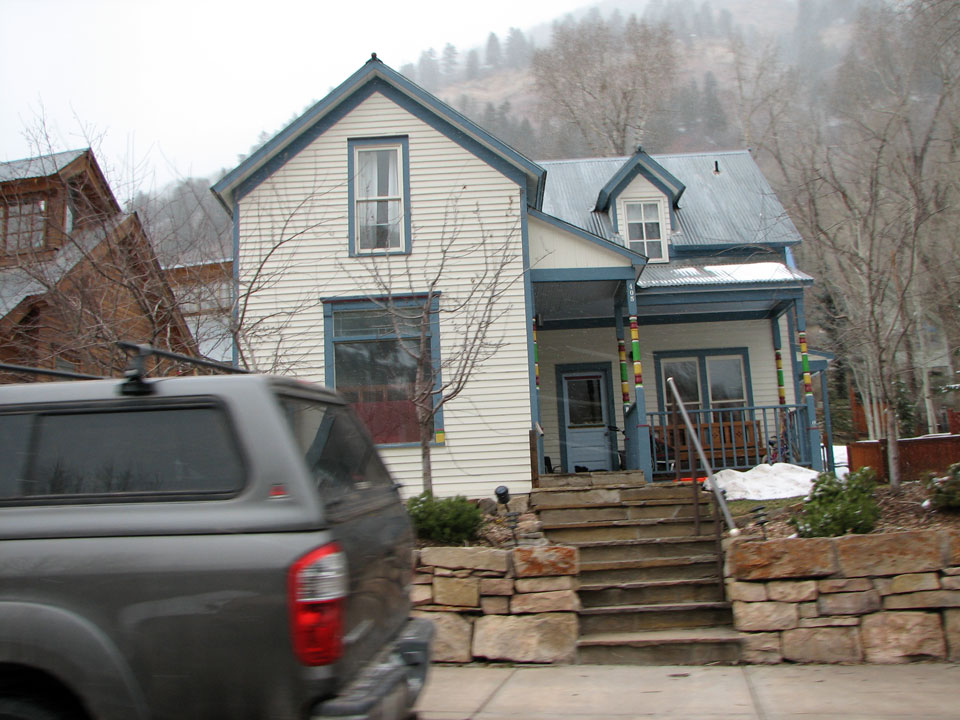 A nice touch of color.
---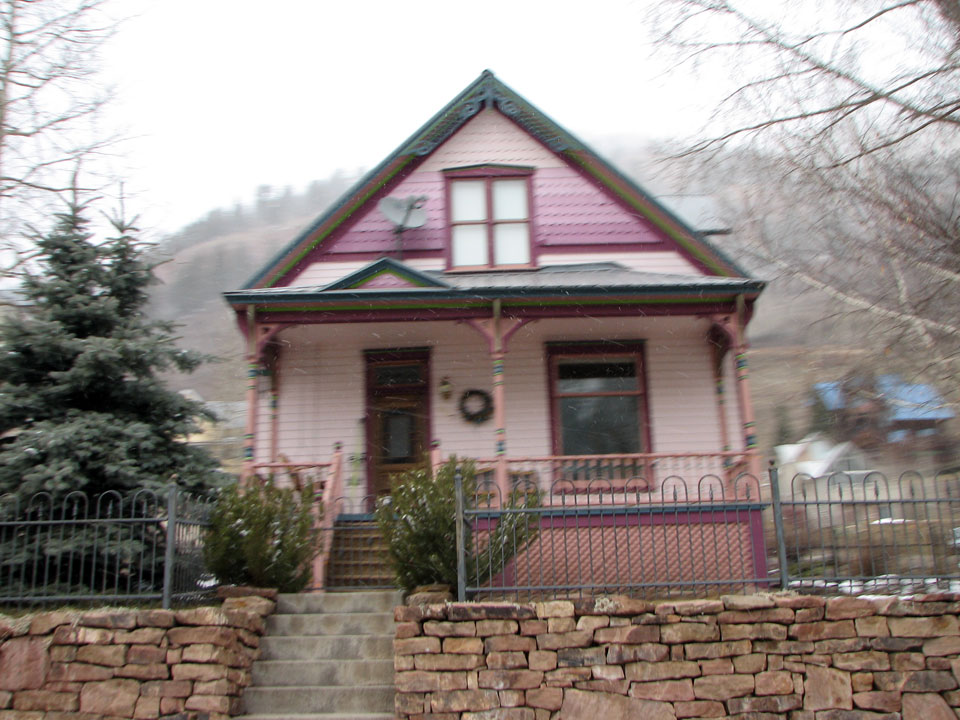 Ohhh, I like this one. How much?

Actually, the place I'd really like to end up was about 8 miles out of Telluride towards Placerville. There was a beautiful little valley by the river with several homes and enough land for horses. And I think the average house price in Placerville is only $800,000. So maybe in 10 years . . . you never know!
---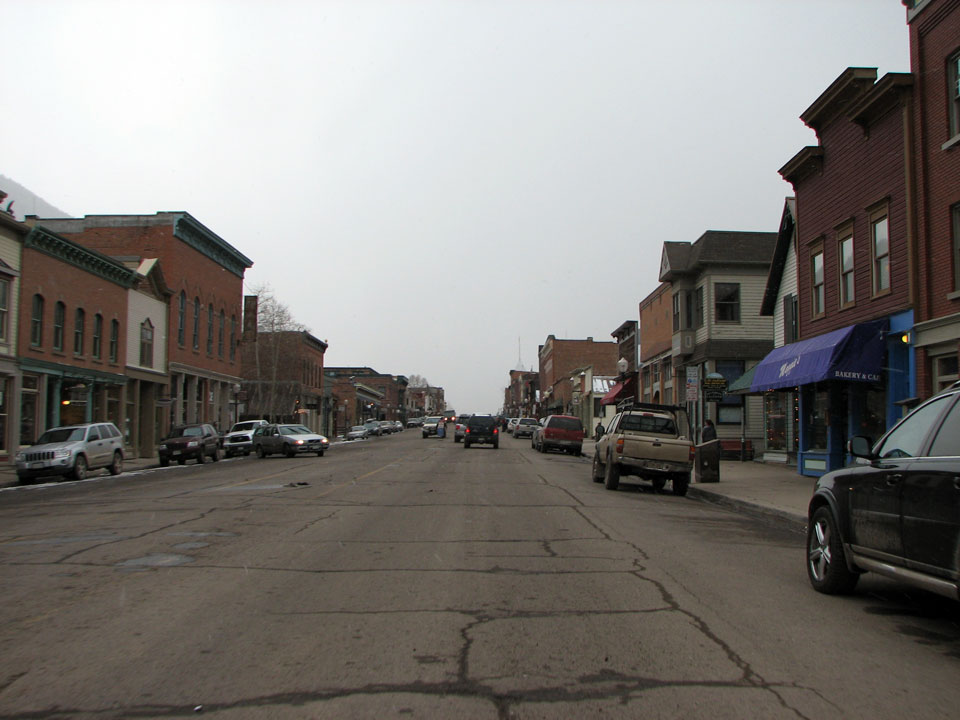 Heading back to Montrose . . .
---
---
Hope you enjoyed this little taste of Telluride!
---
If you'd like to subscribe to get notified when new trip reports are posted to this site,

sign up here.