Skiing Field Trip with AT 707 Class
I recently went skiing with the members of the AT 707 class (atmospheric waves and vortices). We had a wonderful day skiing up at Copper Mountain in awesome snow. We had some very interesting and enlightening conversations on the drive to and from the mountain, while riding the lifts, and during lunch and dinner. Topics included the vorticity equation, downslope windstorms, tropical cyclone dynamics and in situ data observations, weather modification, global climate change, the current state of science funding, and other related topics. We also took meteorological surface observations at the bottom and the top of the mountain. During our actual skiing we utilized a GPS to record kinematic details of the ski runs for further analysis. The purpose of this web page is to share some of those details and show a few pictures during the day.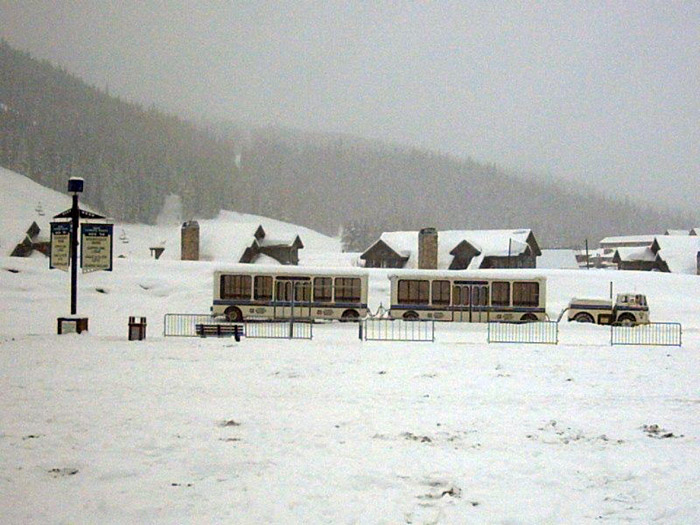 Vertical bliss is only a short bus ride away (this picture was taken at the end of the day)
---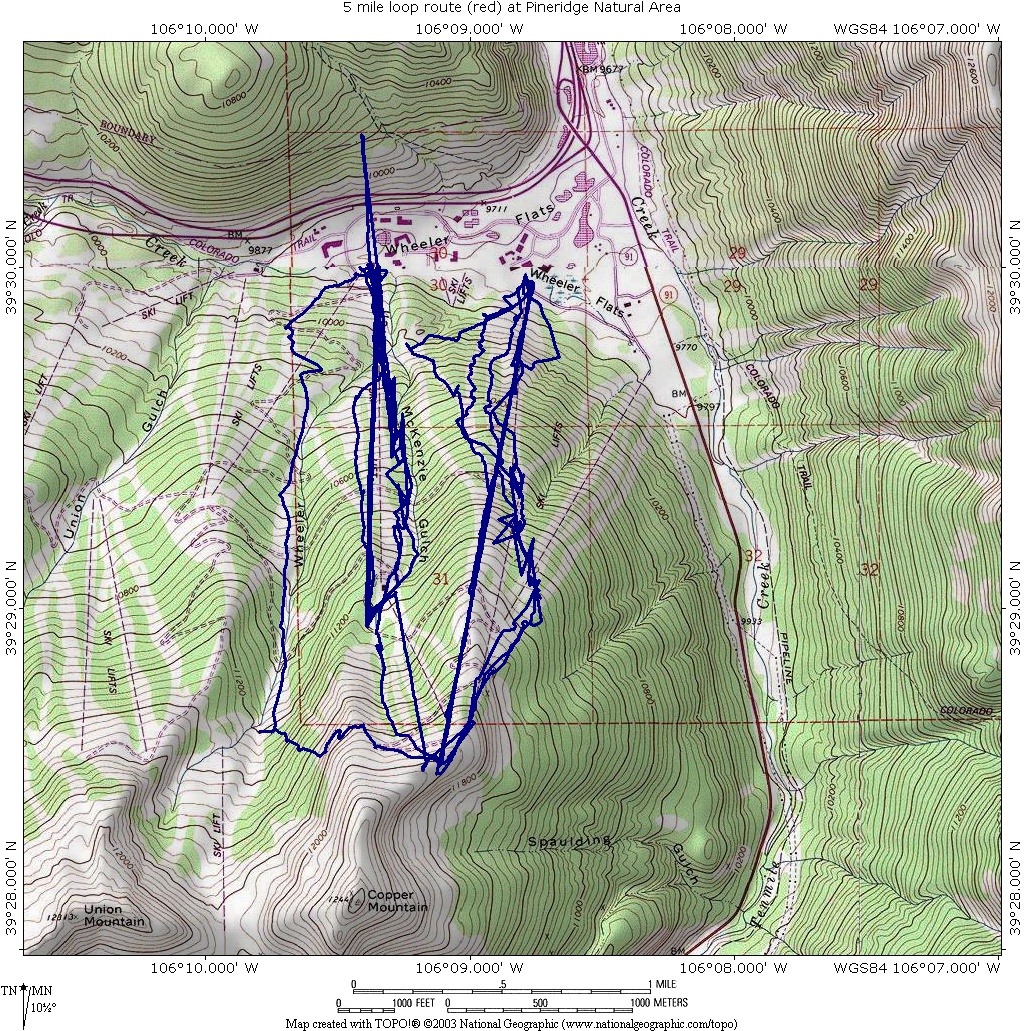 The unedited plot of all runs during the day.
---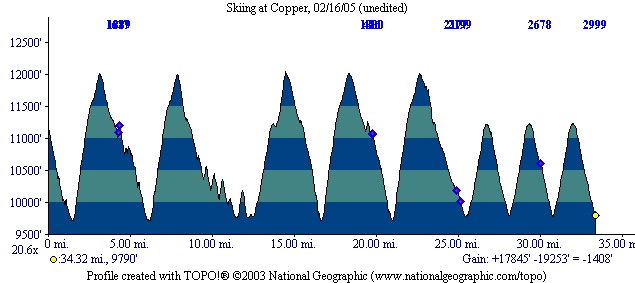 The unedited elevation profile of all runs during the day.
---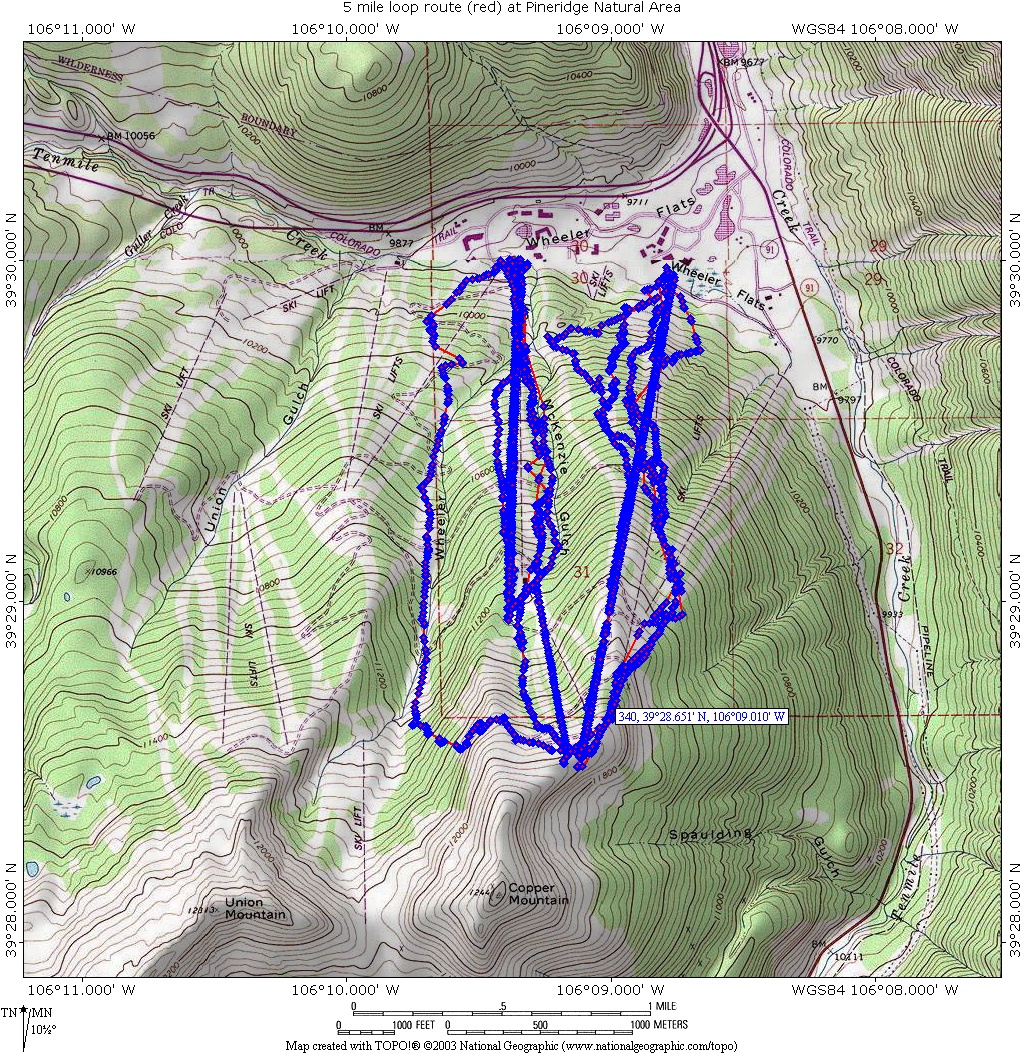 Edited map of all runs (subjective editing -- I just took out waypoints which were obviously wrong).
---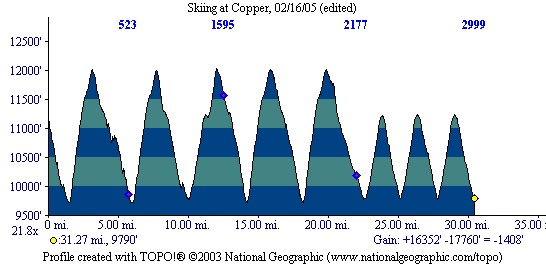 Edited elevation profile of all runs.
---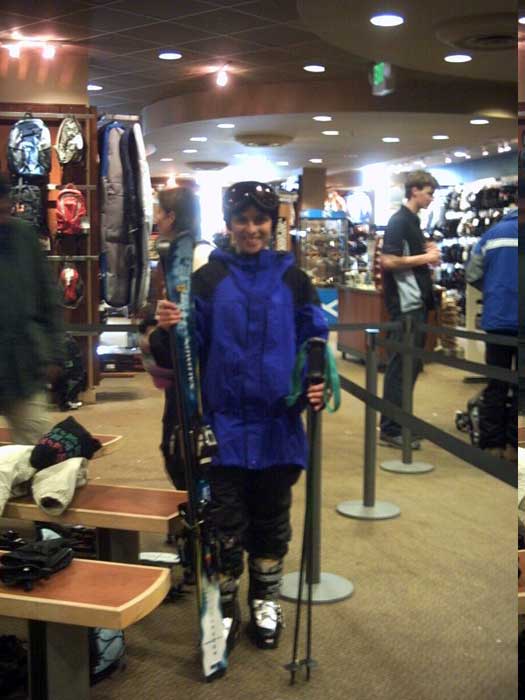 Gabriella Mora Rojas is ready to tear up the slopes on her first day of skiing.
---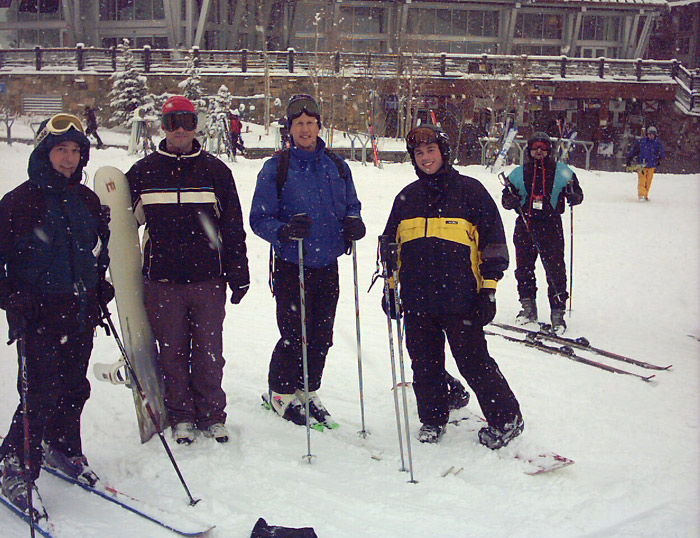 (From L to R) Mel Nicholls, Matt Masarik, Bob Conzemius, Lyle Pakula get ready to hit the slopes.
---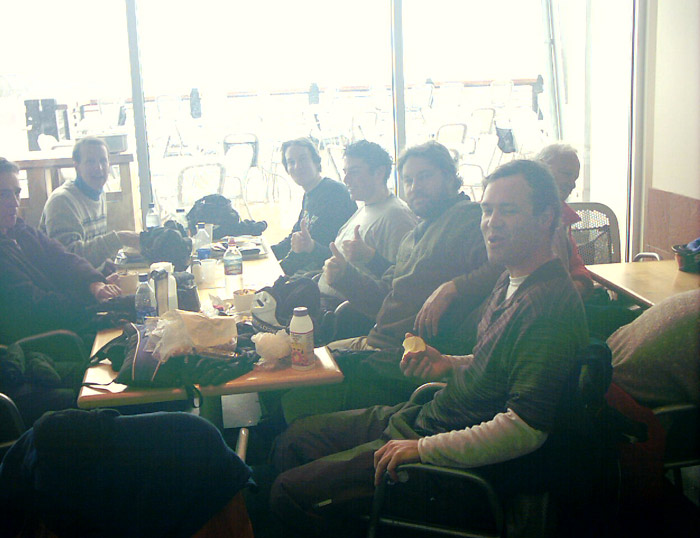 The illustrious class enjoys lunch at the base lodge. The camera lens seems to have been affected by condensation (aptly described mathematically by the Clausius-Clapeyron equation.
---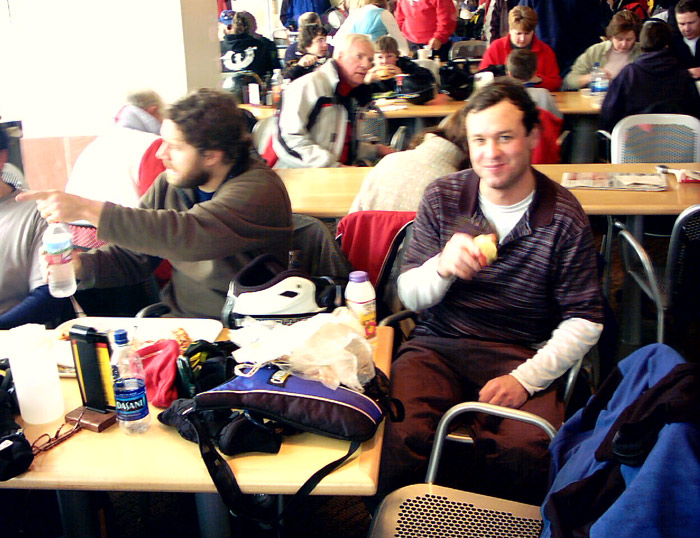 Michael Montgomery gets fired up about dynamics while Matt Masarik enjoys a good apple. Ah, The simple joys of life.
---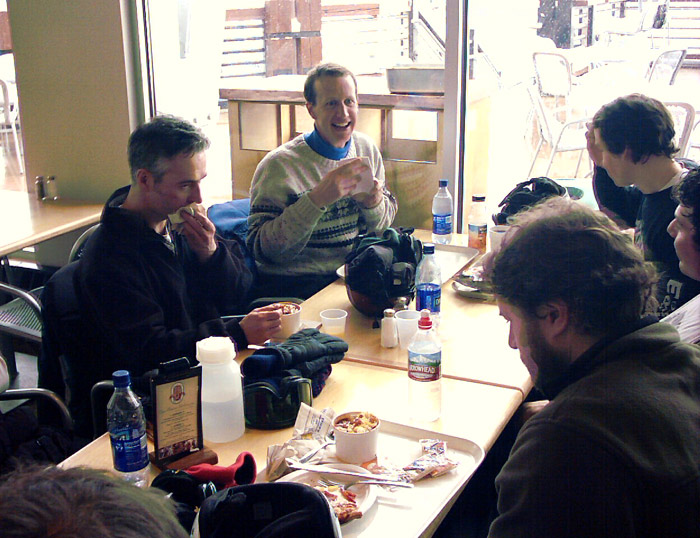 Mel Nicholls, Bob Conzemius, Michael Bell, Lyle Pakula, and Michael Montgomery commiserate about various topics in Dynamics over a hot lunch.
---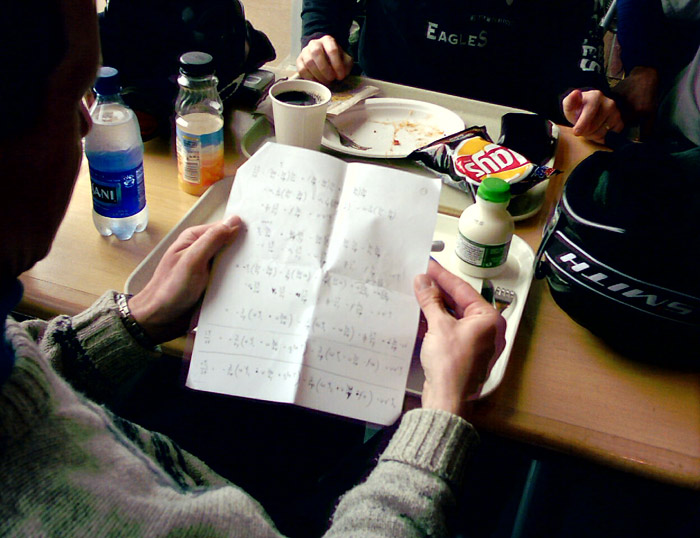 Bob Conzemius works with the vorticity equation during lunch.
---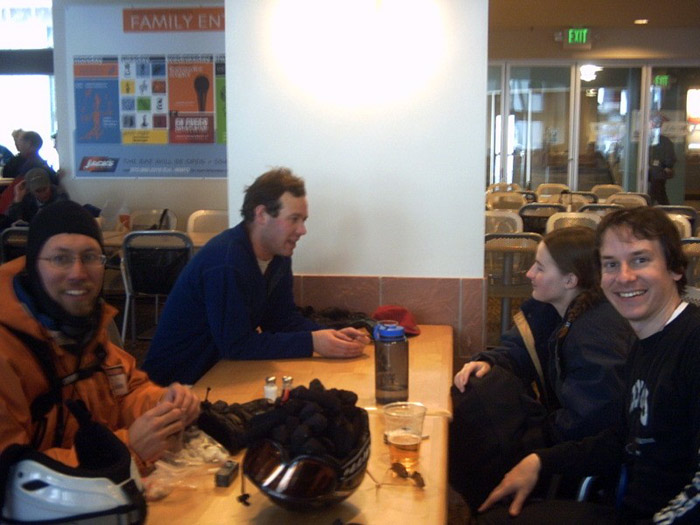 Jonathan Vigh, Matt Masarik, Kate Dolan-Musgrave, and Michael Bell at the end of the day.
---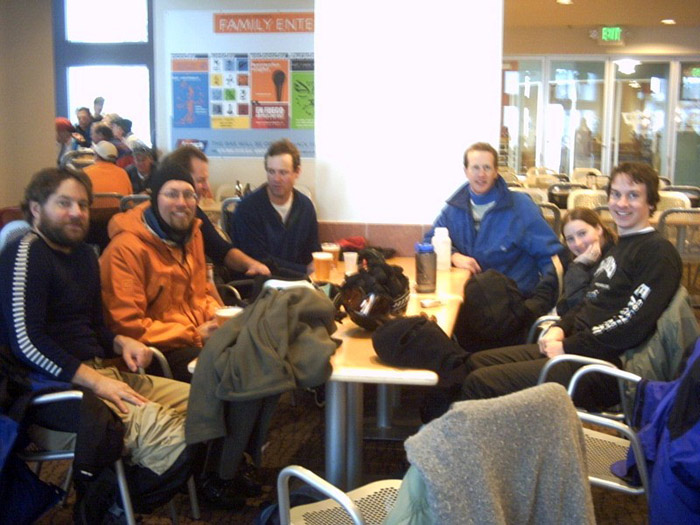 Relaxing to the sounds of awful karaoke . . .
---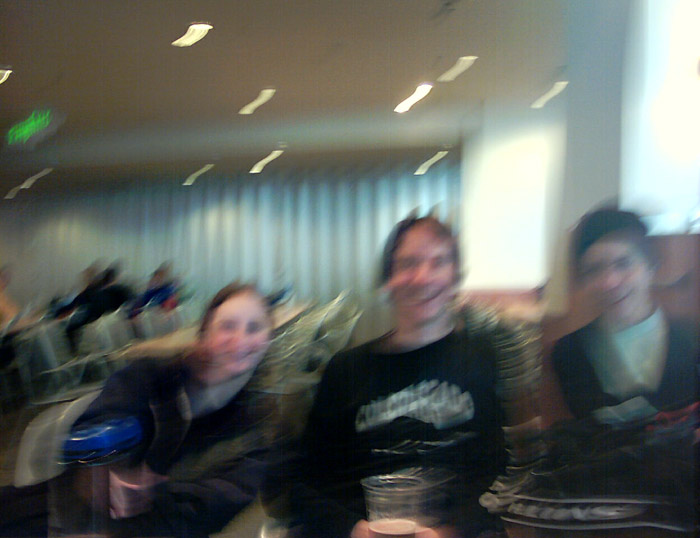 Kate Dolan-Musgrave, Michael Bell, and Gabriella Mora Rojas kick back after a day of excellent skiing. No, the cameraman didn't have one two many beers (I don't drink), this is just what you get when you buy a $50 digital camera :)
---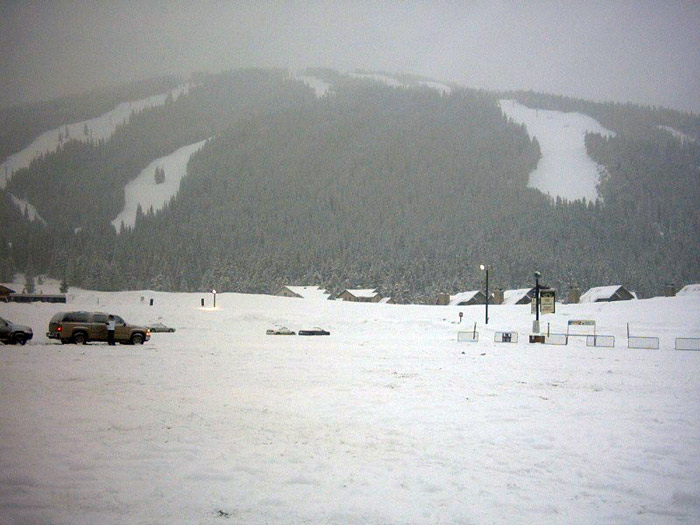 Copper Mountain. What more is there to say?
---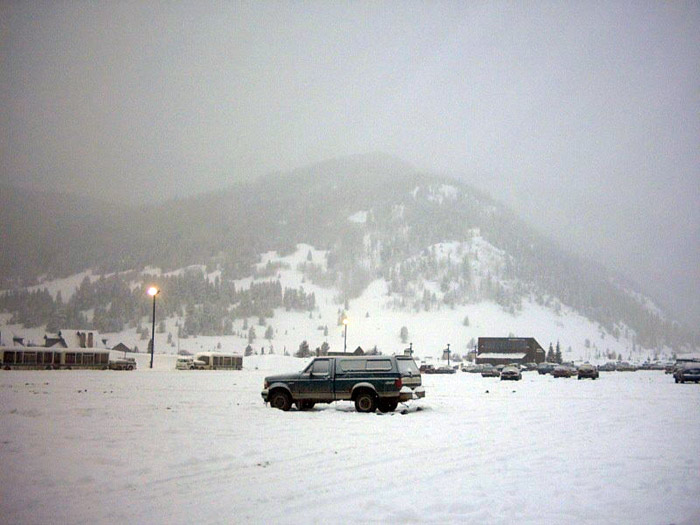 It snowed ALL DAY LONG. Here is the view of the parking lot by sunset.
---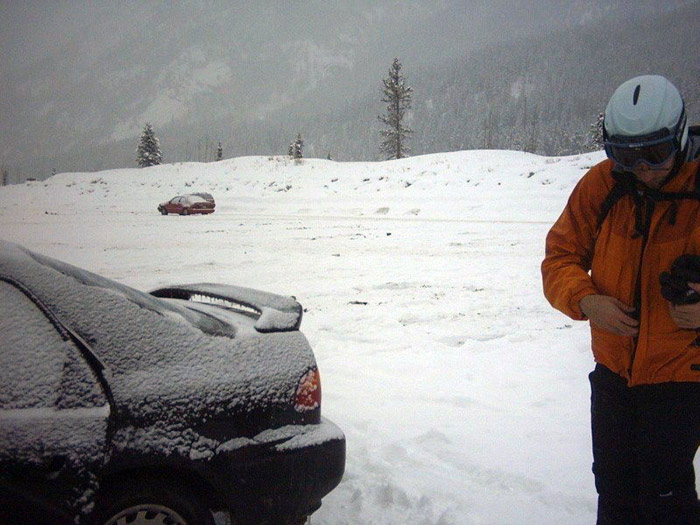 Jonathan Vigh gets ready for the drive home.
---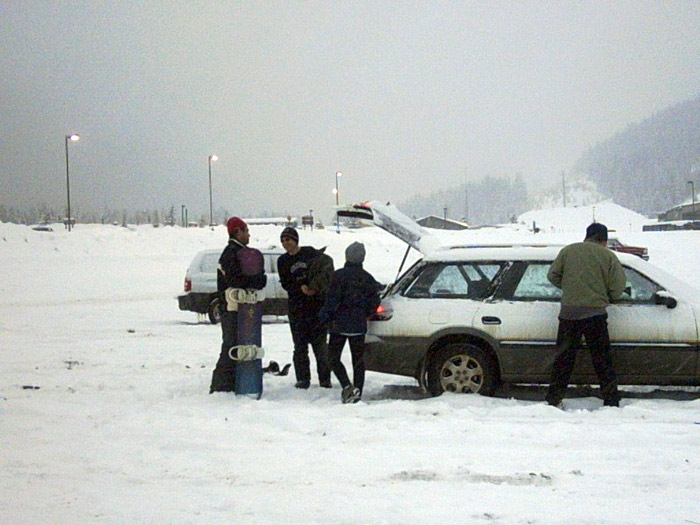 The dynamics van gets ready to roll.
---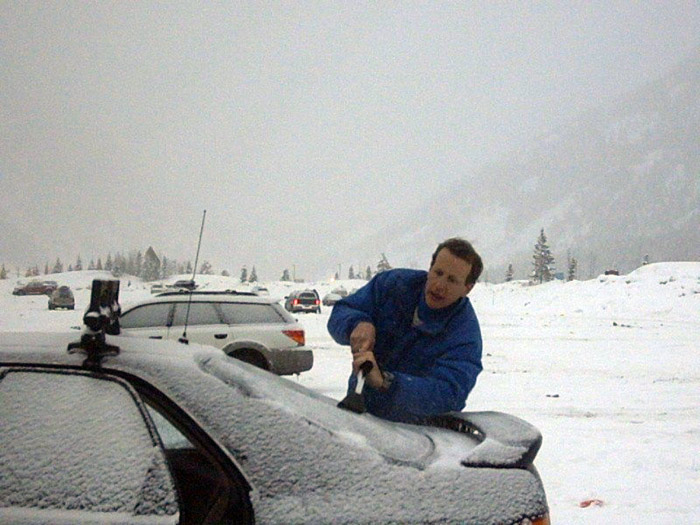 Time for the drive back home, but not before some scrumptious Buffalo burgers (veggie pasta for me). We stopped in Idaho Springs for a lengthy dinner conversation and good eats.
---