Fellow Adventurers: Earl and Christina Ellingson, Jonathan Vigh, and Bob.

User note: the entire page contains many pictures and will take about 10 minutes to load using a 56 Kb modem. The pictures should load from top to bottom. If you're connection is really slow, have a cup of tea while you wait, or go ahead and get that high speed internet access.
About the Mountain
Mount Massive is Colorado's second highest mountain, at 14,421 feet. But as it's name implies, it is more than just high. It truly is a massive mountain, with more acres above 14,000 feet than any other mountain in the contiguous United States. In fact, there are five 14,000 summits along its three mile ridge! One of these, North Massive, nearly qualifies as a separate 14'ner!
Approach
We drove up from Fort Collins on the afternoon of July 5, 2002. It was a beautiful drive, with some rain showers around Leadville. The last 15 miles or so are on dirt road of varying degrees of roughness. A couple miles before the trailhead, the road gets quite rough, but was passable to my Mercury Sable. Finally, at about 0.4 miles below the North Halfmoon Creek Trailhead, the road became more than my car could handle (or at least more than I wanted to try).
Initial Ascent
We climbed Mount Massive as an overnight backpacking trip. We started (El. 10,250 feet) at about 5 pm, planning to stay near the North Halfmoon Lakes.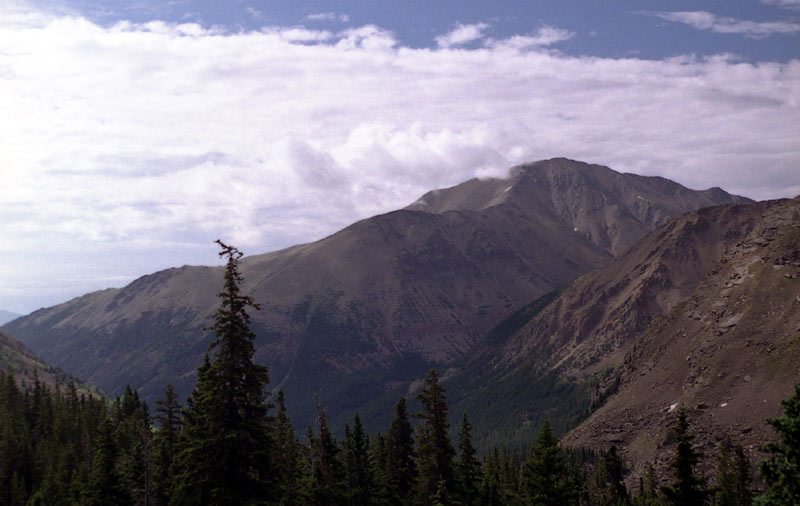 Here is a view of Mount Elbert (El. 14,433 ft) through the trees. We had some great views of Elbert and the surrounding valleys.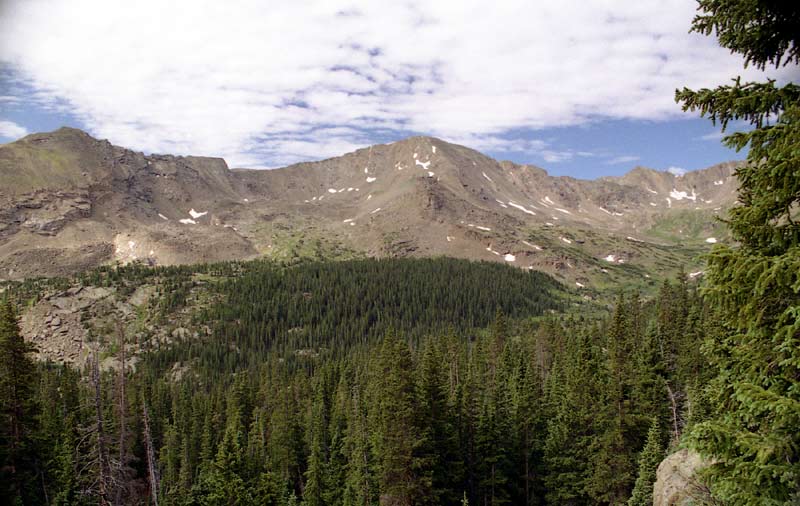 Here's a view of the ridgeline to the west. By this point, the trail was getting quite steep.

Earl takes a break and watches Bob struggling with his ~60 pound overnight pack.

Overnight
We ended up stopping to camp at about 7 pm, after 2 hours and nearly 2000 feet of climb. Our campsite was at 12,000 feet, about 350 feet lower than the lakes. Most of the reason was that we were just plain tired of the grueling ascent. Backpacking is one thing, but packing at high altitudes is in a whole different realm of difficulty. We picked a nice spot in the trees just off the trail and a gurgling brook. One of the more amusing events of the evening was our hour-long attempt to secure our food safely between two trees, hopefully out of reach from the bears.
Final Ascent
The next morning, we packed up camp and started hiking at about 9:30 am. It wasn't long before we reached treeline and could see the lakes.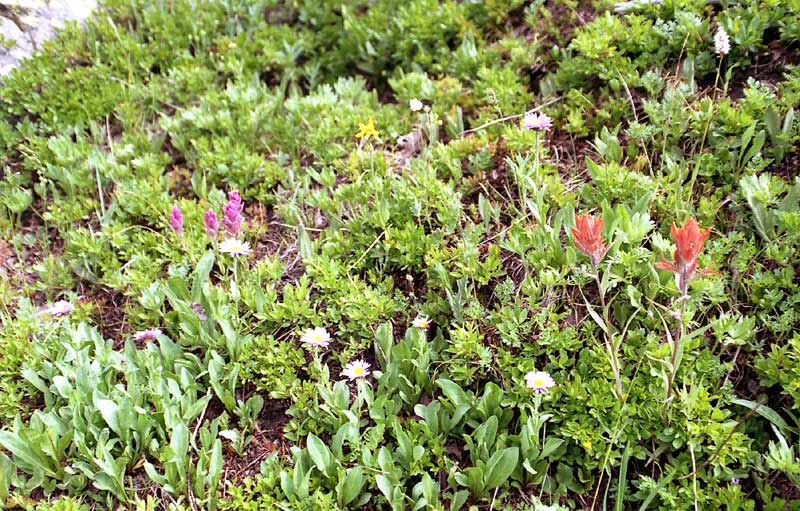 Delicate alpine flowers lined the trail in spots.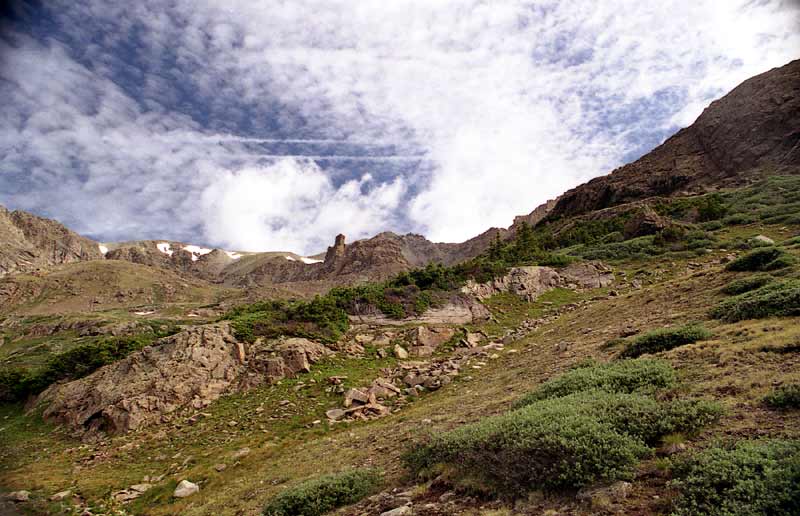 As we ascended above treeline, we were greeted with spectacular views of the upper basin. The large basin to the west of Massive is a wilderness area, and the scenery was wild indeed. This view looks up toward the NE.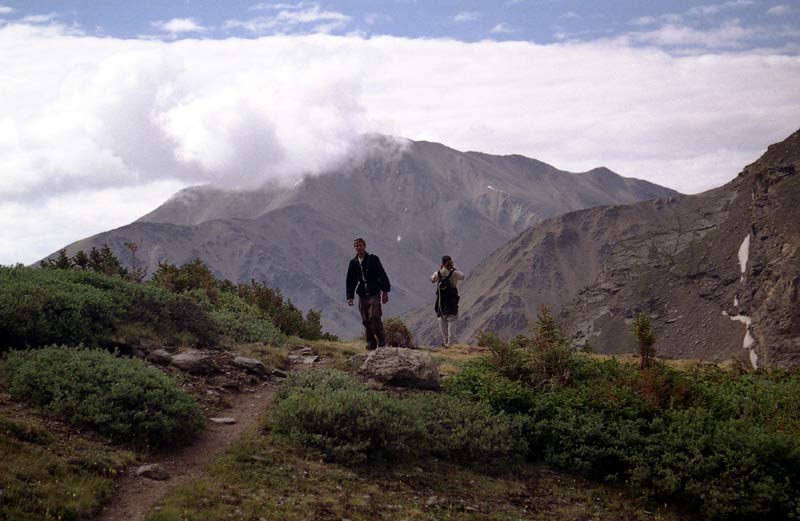 Bob takes a minute to admire the grandeur of the cloud-shrouded Mount Elbert while Earl plods onward. Without our backpacks, we were able to make good time.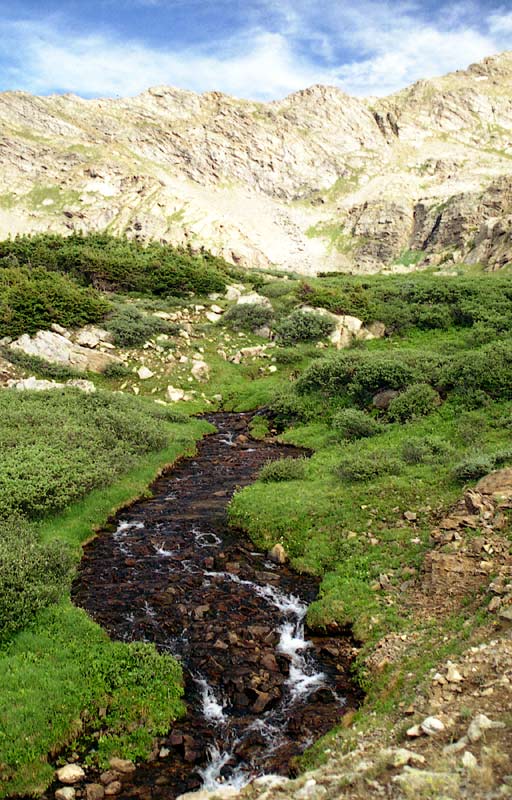 At about 12,400 feet, we left this beautiful stream and started ascending a bench to the north.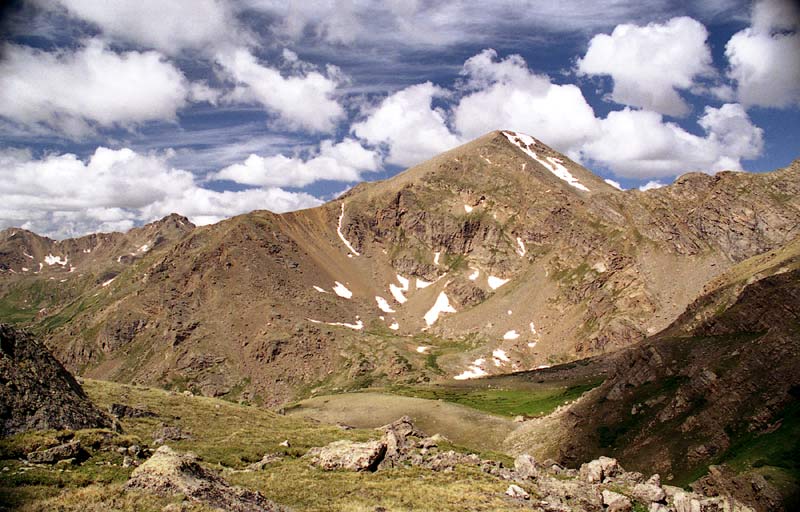 As we climbed the bench, we had some great views of Mount Oklahoma (El. 13,845 ft) to the west.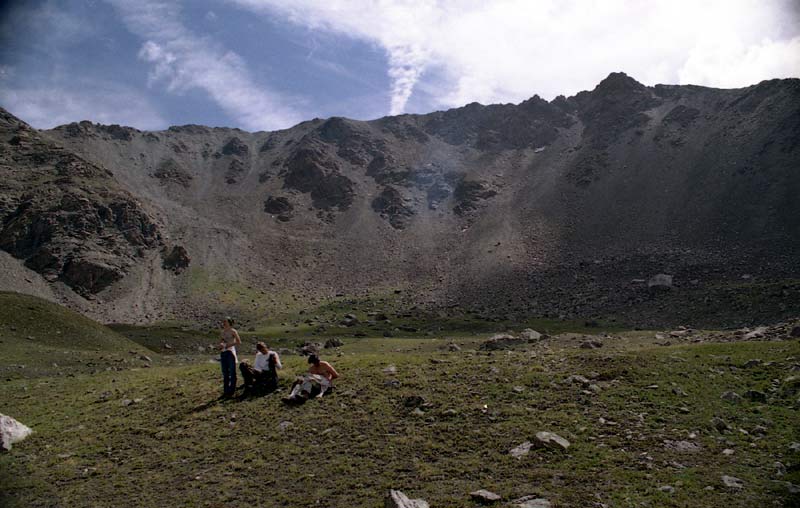 At the top of the bench, we had to make a route decision -- whether to climb straight up the loose and very steep scree field behind us, or angle left out of the picture further to the north and up some foreboding looking couloirs. Since the summit was in plain sight, we opted for the more straightforward scree climb, following a line near the buttress to the left of the picture. About halfway up, I angled over towards the summit, which is just to the left of center.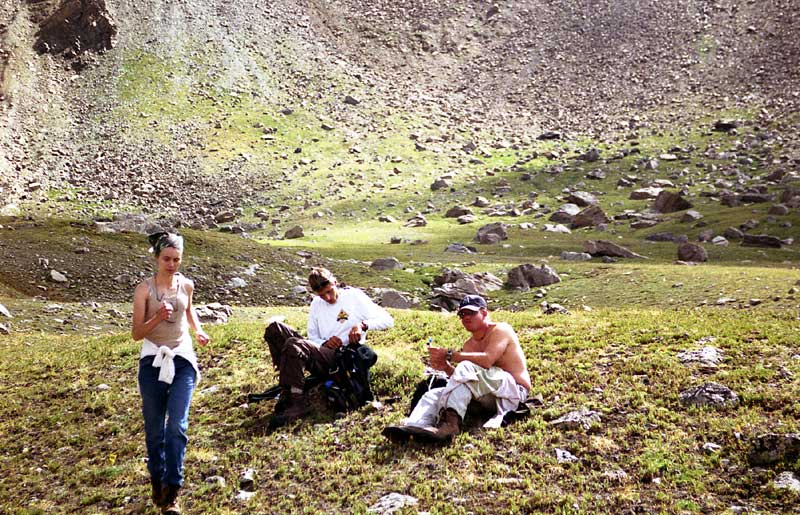 We stopped for a quick nutrition break before starting our final assault. Usually, the last thousand vertical climb of a 14'ner is the hardest, due to tired muscles, thinner air, and steepness. We knew this would be no exception, with a 1400 foot climb up loose scree.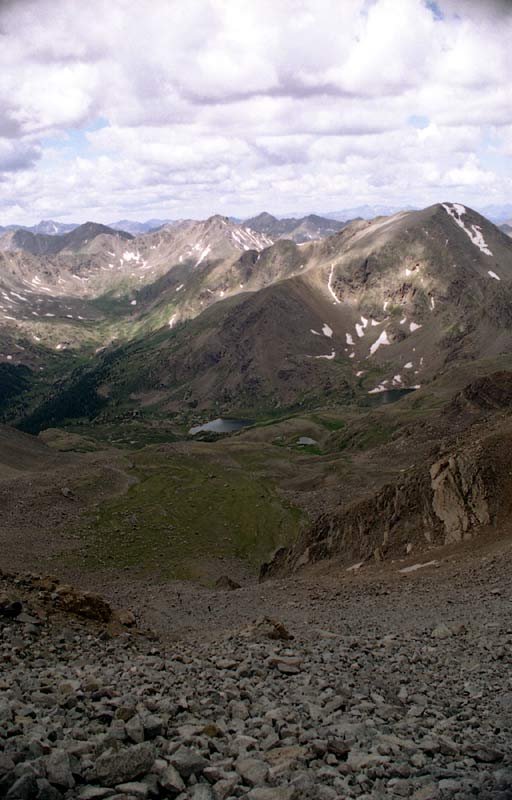 This is about halfway up the scree climb. Look carefully and you'll see the rest of the group. This was Bob's first 14'ner and he was taking it slow because of the altitude. If you've ever climbed a scree climb before, you know the difficulties that are involved, but for the most part, it's just hard and unpleasant. A good strategy is to try to climb upwards on the larger rocks, because they tend to be more stable.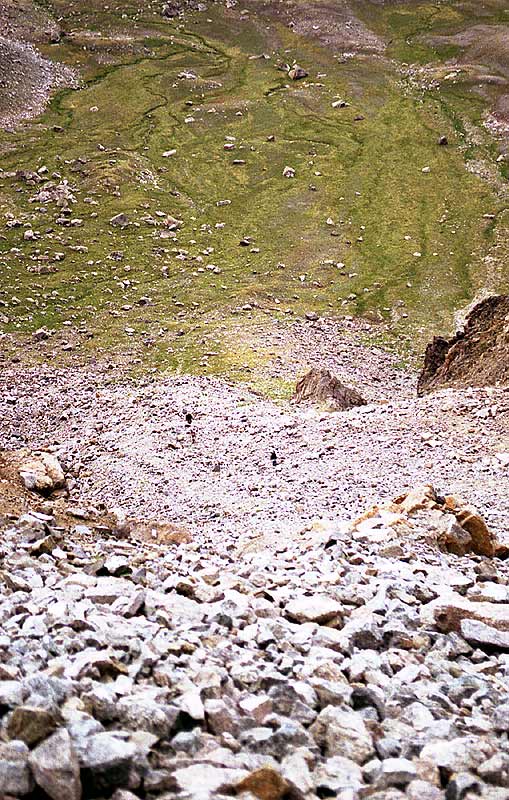 Even though it looks like the group is near the bottom, they are actually several hundred feet above the bench. On a long scree slope, it's easy to lose perspective. It's also hard to guage progress, with the scree seeming to continue on forever.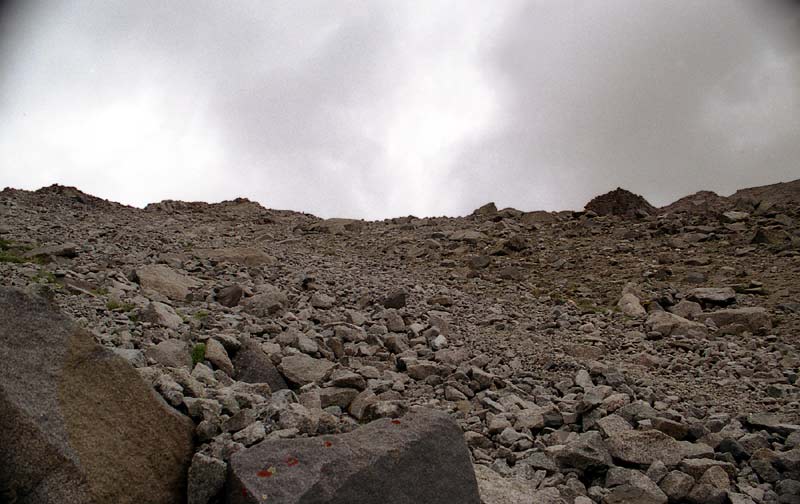 Still a few more hundred feet to go . . . It was encouraging to see people walking around on the summit. Given the steepness of the scree and a small cliffband to climb over, I'd give this route a class 2+, which means that you occasionally reach for a handhold and are taking more thought about your upward movement. This route was not very exposed, but you certainly didn't want to fall, even if for a few feet!

Summit Experience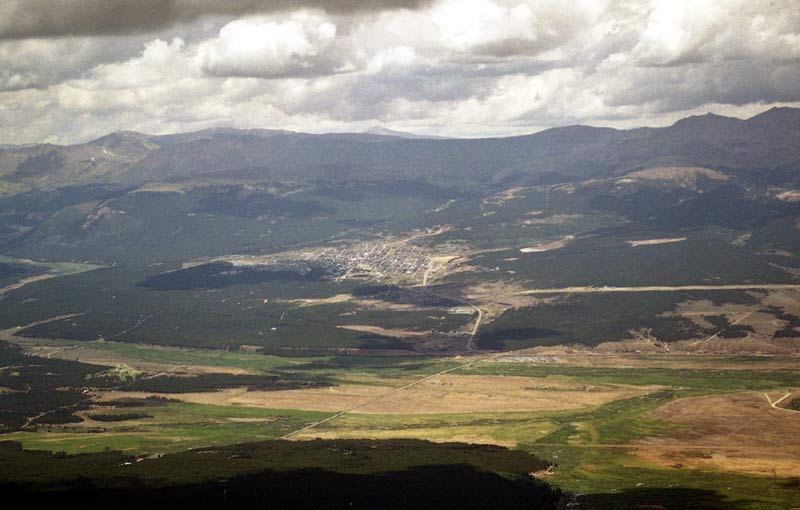 Ahhh, the joy of the summit. I was feeling energetic and climbed ahead of the group, reaching the top about an hour before they did. This view looks east out over Leadville.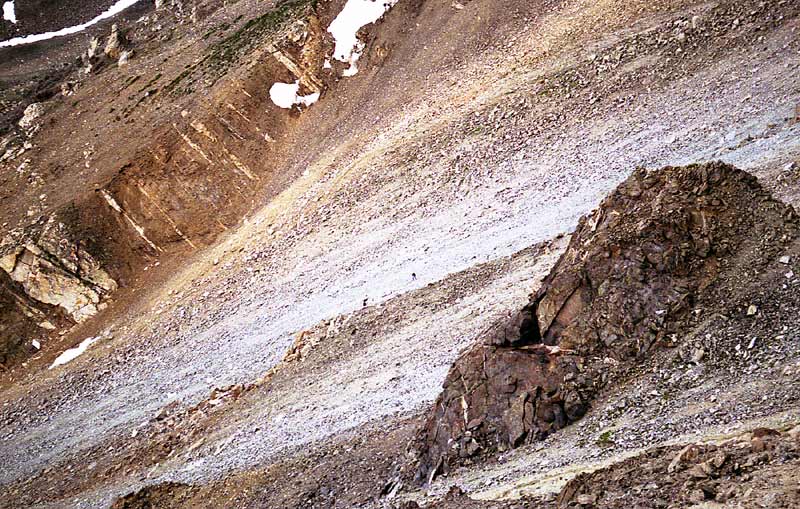 Only another 500 feet to go Earl and Bob! From the summit, you can see the scope of the massive scree gully.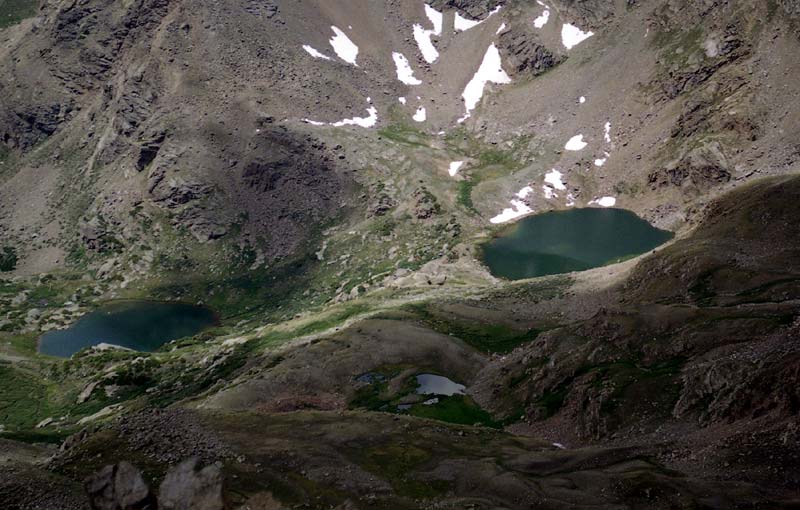 Looking down at the North Halfmoon Lakes to the west. The bench we climbed is clearly visible in the bottom center.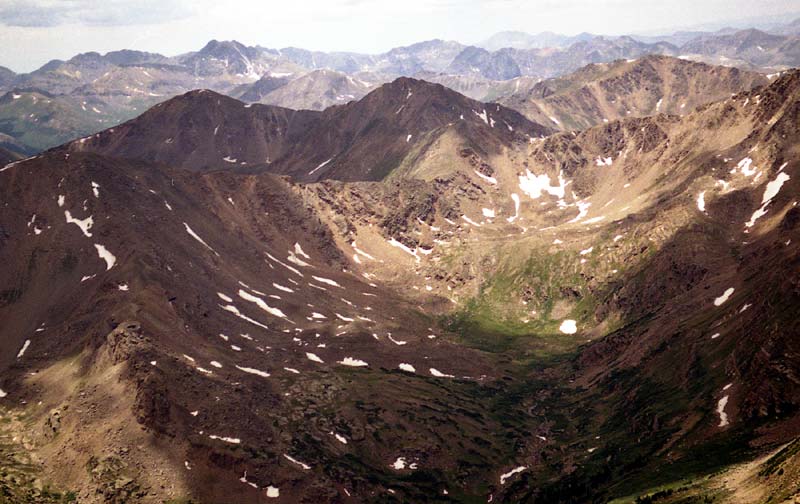 Here's the view to the west, looking out over the upper North Halfmoon Basin.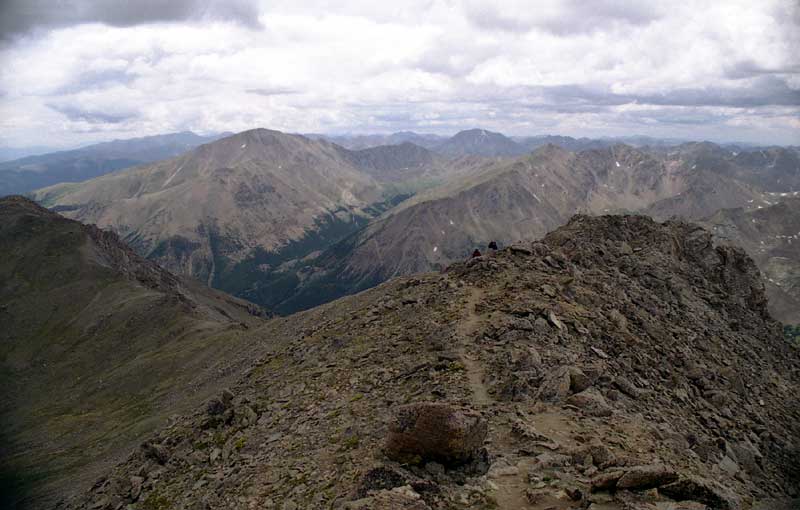 Here's the view off to the south. Mount Elbert almost shrinks into insignificance from this perspective. La Plata (El. 14,336 ft) pokes up just to the right of center. South Massive looms to the left at the edge of the picture.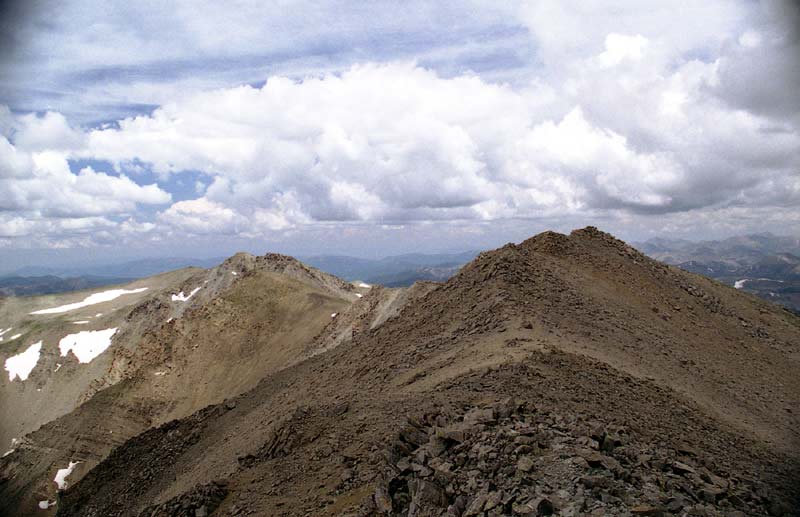 Here's the view looking north towards Massive Green and North Massive. At 14,340 ft, North Massive is Colorado's fifth highest peak, and nearly qualifies for official 14'ner status (it rises 280 feet above its connecting saddle -- another 20 feet would make 'count' on most lists as a separate peak).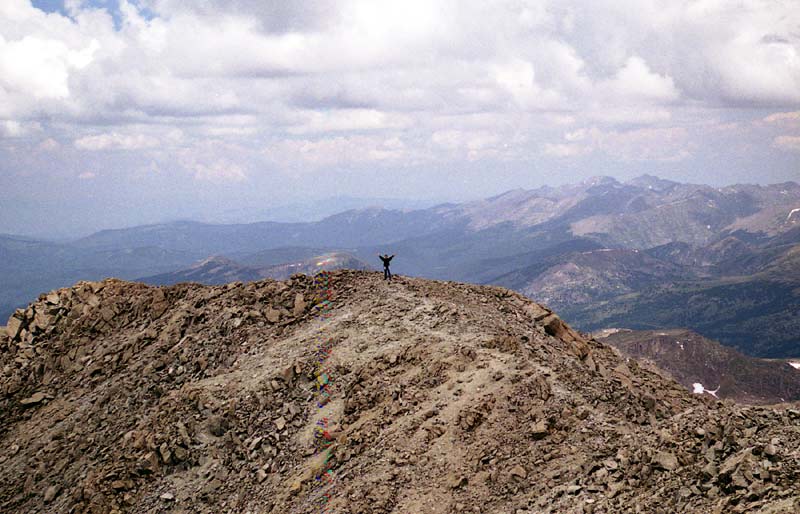 Christina celebrates success as she reaches the summit ridge.

And here's a picture of me reveling on the summit, taken by Christina (not scanned yet).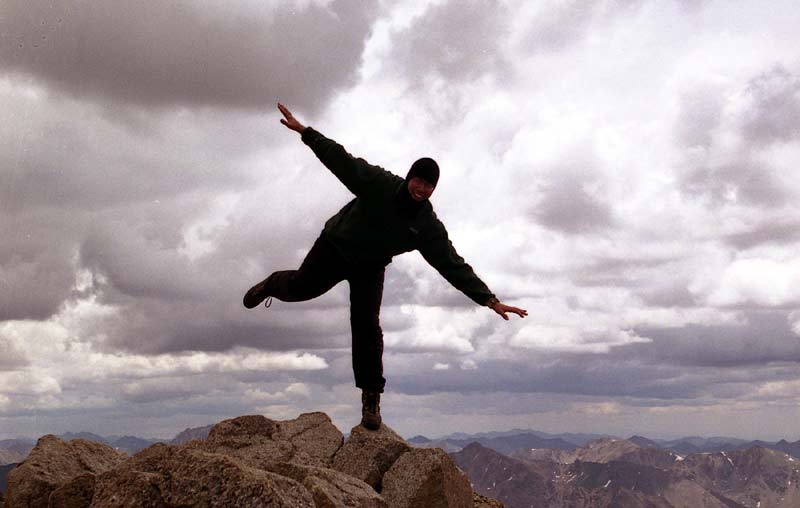 With all of the time I spent on the summit, I had some time to fool around. Is it really as precipitous as it looks? Yep, there's a smart drop-off behind me -- a fall wouldn't feel very good!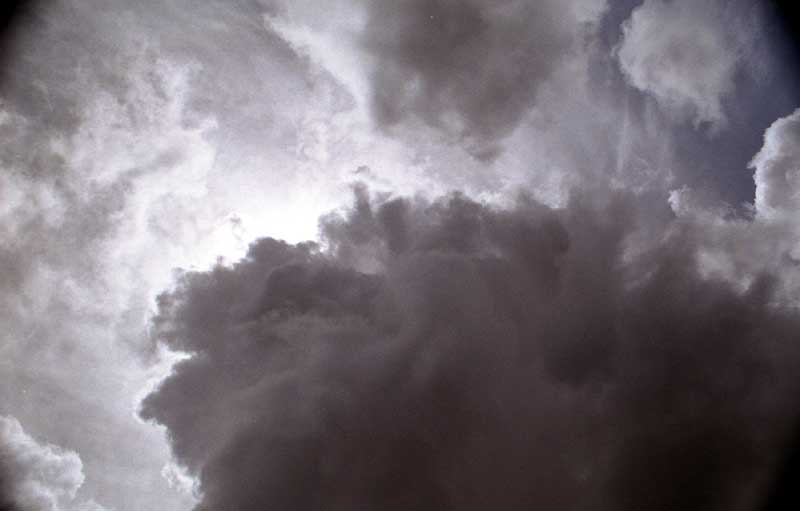 This is a picture of the dark clouds building overhead, normally not a good sign. Thankfully, the storms developed after they had already passed over. We could see a good rain shower towards the southeast.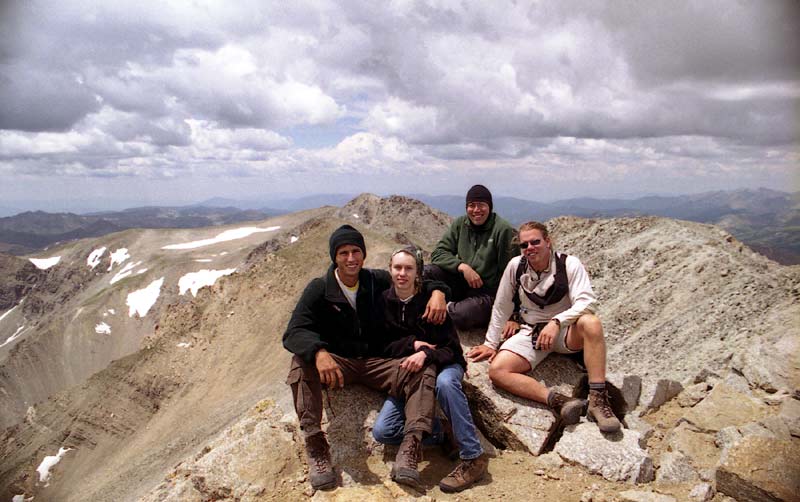 And here's the group! We all made it with no mishaps. Although tired, you can se from the smiles on our faces that it was definitely worth the exertion!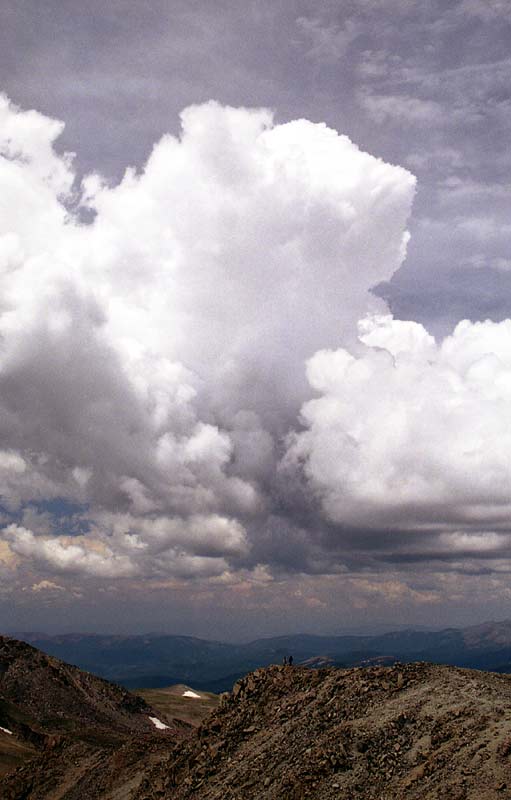 The clouds started building even higher -- time to descend. Being on a 14'ner during an electrical storm can be a hair-raising experience, literally. Lightning is one of the most dangerous aspects of climbing 14'ners.

If you have a high speed connection, or the time to download more pictures, check out this gallery of a summit panoramic:

While I was resting on the summit, I noticed a cumulus cloud to the NW rapidly building, sometimes a sign of an impending thunderstorm. Here's a time sequence, with about 2 minutes between pictures:
The cloud of interest is partly hidden by clouds in the foreground. The cloud rapidly sprouts an anvil during the eight minute span. Since it is higher, the distant cloud is advected more to the north than the other clouds in the picture, due to a turning of the winds with height.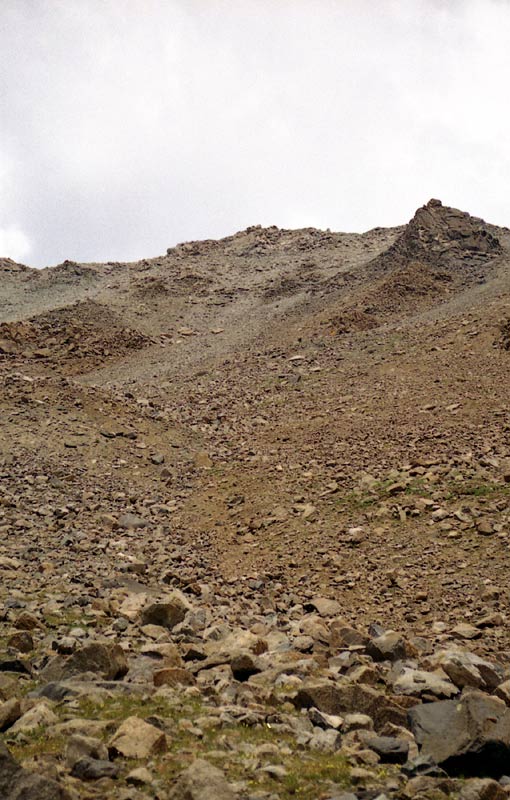 Coming down the scree was much easier than going up, if you took care to look for the loosest rock and utilized 'skiing' or glissading technique where you don't pick up your feet, but stay in control by counterbalancing as the small loose rocks and soil slide with your feet. If you get on a hard-packed dirt stretch, the small rock particles can act more like ball bearings. You can easily loose your balance, which can be hazardous to your hands and behind, so protection is advised! I descended the first 1000 feet in only 12 minutes, nearly a personal best. The entire 1400 feet scree slope took about 18 minutes for me to descend.

The landscape of the bench below the scree field looked prehistoric. There's nothing in this valley that would make you think you were living in modern times. This is true wilderness!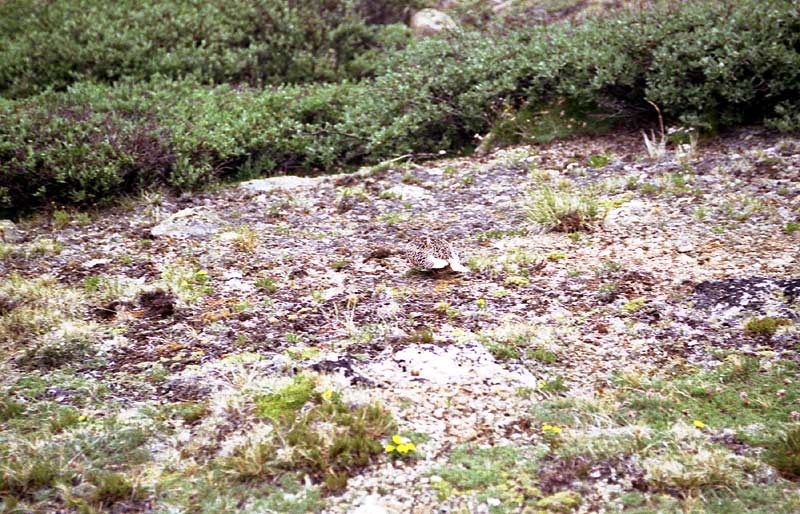 As I was descending the bench, I heard a sharp clucking and flurry of activity near my feet. A mother ptarmigan and her brood were scattering and I nearly stepped on them! The mother frantically made a commotion and tried to distract me while her chicks ran for cover. Even with the camera aimed directly at her, the ptarmigan's summer camouflage allows her to blend in quite well.

It only took an hour or so to get to the campsite, and I decided to head back to Fort Collins that evening. The rest of the group stayed another night and came back on Sunday. All in all, I found Massive to be a place of tremendous beauty.

Stats
Total distance was 8.6 miles round-trip, with a total vertical climb of 4450 feet. We went off route a little, so the difficult was about 2+, with a few handholds used for comfort and safety. For more route info, see 9.4 West Slopes in Gerry Roach's 'Colorado's Fourteeners: From Hikes to Climbs'.